My oh my… it's been a hectic few weeks, I have this week to unwind, which isn't going to happen… as I have the whirlwind that is Sarah Gregory coming over to the UK next week. There is a joint shoot planned with the amazing Amelia Jane Rutherford while she is over here so I am looking forward to that. Anyway, back to today's updates from various sites, I thought you would like to see what is currently being viewed and downloaded at the various paysites of extreme interest!
It's good to see Leandra James getting her bottom spanked again in her native Holland… if you can't wait for some amazing films with her at my site (coming soon, I promise they are achingly good) then check out Real-Life-Spankings.com that has a fantastic catalog of her films with that delicious derriere getting a good solid spanking courtesy of Mike… this latest film sees her spanked for smoking in his office, which happened to be a non smoking zone… she was too lazy to go and use the correct room – oops! Cue the punishments!

***************************************************
What happens to naughty daughters that are easily found out by their irate dads? Well, foolish Stevie Rose should have known better than to try and pull the wool over her daddy in this latest film from Sarah Gregory Spanking – it's a good hard OTK spanking film with some great scolding, chastisement and tears from Stevie! Stills images below are reduced in size as they are now uploaded at 1500 pix wide and screen grabs are a whopping 1920 pix wide as the films are HD1080.
Daddy is not happy when his daughter Stevie arrives home on the back of a motorcycle. He is waiting on the couch looking out the window when she pulls up and he knows that she shouldn't be riding on the back of such dangerous contraptions. Daddy gives Stevie a chance to tell the truth as she doesn't know that he has installed a new video security system. Of course Stevie lies and daddy is very disappointed. He gives her a hard over the knee spanking bringing her close to tears.
************************************
A new long play film (a feature of this next site) is well under way and the next parts are due (I have seen the full film and it is classic Dana Specht/Sarah Gregory) as you would expect from MommaSpankings.com – Dana plays a very strict school teacher… one of the best scolders alongside one of the best "bottoms" in the spanking biz, how could this ever go wrong? Check out the teaser images of this film "Spanked at school, Spanked at Home" early on…
Did you grow up in the era when, if you were spanked at school you got spanked at home? Well Dana Specht did and when Sarah and Dana do a school-girl themed video this is how it is played out. Dana takes the role of Sarah's teacher who finally has had enough of her bad behaviour and turns her over her knee for a spanking. When she gets home and faces Momma (also played by Dana) she gets another spanking.
Join up to see the full bare bottom correction of Sarah Gregory by Miss Specht HERE

****************************************************
Staying on the schoolgirl theme, Dean Masterson at Real Spankings Institute takes no nonsense in his detention punishments as both Monica and Jordyn discover to their cost! These images are taken from the film so you get to see what actually happens… look at their bottoms turning red before your eyes!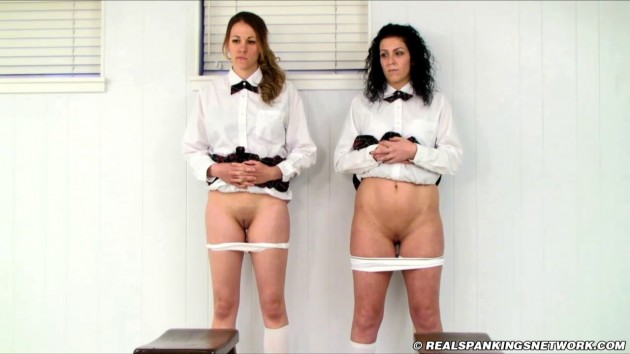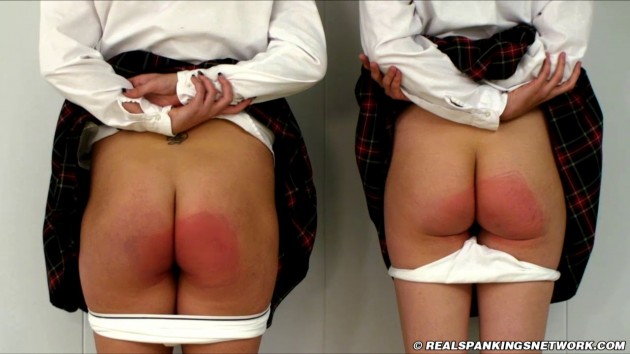 Monica and Jordyn  have endured a long and embarrassing cornertime… now they both have to receive a severe 50 swat leather strapping each in front of the other, each girl takes her turn as the other girl is made to see the punishment unfold and watch her reactions as their bottoms turn angry and red from the strapping.
************************************
& to strappings of a different kind which the following site is infamous for… check out Spanking Server and you will see many girls getting a pussy strapping in the Gyno chair… I love the quick build up as each girl is placed in the chair and their legs partsed in the stirrups… it is quite embarrassing to be filmed in such a way… and even more so knowing that your pussy is about to be strapped! The nerves and hesitation on the girls faces are what helps make this a good viewing… it also helps that Peter who administers the short sharp shock strappings has brought in some fabulous looking girls, take a look at 2 recent examples of what I mean…
New girl Marianna takes her 1st Pussy Strapping
Then Tess takes her 1st punishment in this unique style…
Check out MORE unique punishments like this only from Spanking Server
************************************************
Finally today from My Spanking Room Mate an office discipline special with a couple of my fave girls from this site who are featured often over the course of this long running spank sopa opera…  Madison Martin and Veronica Ricci (who I swear has an even bigger and more spankable bubble butt – must be all that spanking she receives, I guess) with a very welcome re appearance of the lovely Mary Jane!
Madison Martin and Veronica Ricci team up to spank Mary Jane's big round bottom at the office, with hand and paddle. Mary Jane struggles, but it is two against one, and they make her bottom really, really hot and sore. But Madison and Mary Jane decide Veronica is also due, and she goes OTK for a hard hand and paddle spanking until  her amazing bubble butt is bright red too!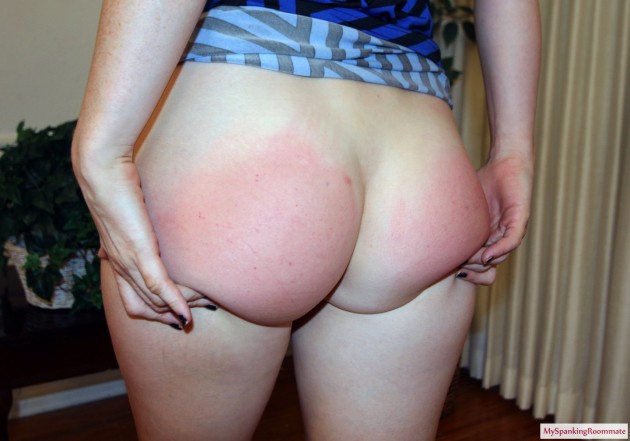 See MORE at this site HERE or join it as part of the top value CLARE FONDA PASS Network

***********************************************
Back soon with more updates, my recounting of my time at BB-Dubz later this week and my very latest new film coming out tomorrow which stars the awesome Joelle Barros as possibly one of the sexiest spanked maids I have ever had the privilege to take over my knee!