I had always intended to introduce this film as a surprise to everyone so I hope that is what has happened… I tend to drone on sometimes and bleat about what's coming, I'm not so sure that it's a good idea, personally, so I will avoid doing that in future… I would rather you are genuinely surprised and delighted, of course I will let you know what is coming from time to time, but I think telling you every week is not necessarily so good for me or my site, personally (therefore I hope you understand!)  – Yes, I have 2 new full HD films starting this week… I had forewarned you of the recent Amelia Jane Rutherford film alongside Sarah Gregory… well, I honestly think it is one of the best films she has appeared in anywhere and the quality of the film, the lighting etc etc is outstanding, you'll have to wait until near the end of the week for that to appear and I will no doubt blog about it BEFORE it appears in more detail, but in the meantime, please do check out this new film I released earlier today at AAAspanking.com with a fantastic twist… spanking AND diapering starring Adriana Evans – I love this girl, she is awesome, she can take virtually anything you can dish out to her… and she is genuinely into the diapering fetish too, being a leading light on the subject with her own successful C4S store (check out the diaper tags on clipsforsale and you'll soon find Adriana's films as hers are pretty much number 1 all the time!)
Anyway… as I was saying, Adriana is given a humiliating diaper position spanking… after her PJ bottoms are removed… this is just the start of her bedtime punishment and the images/storyline below should better explain what happened!
Spanked and Diapered – starring Adriana Evans
Adriana had one too many accidents in her bed recently. John was upset that at her age she shouldn't be wetting the bed and thought it could even be due to her late night sessions at the bars, sneaking in so drunk that her mishaps happened as an unfortunate result of this. The latest incident had forced him to think up a quite suitable and demeaning punishment that she would want to avoid at all costs in future, so he provided a reality check by bringing in a grown up diaper which he was going to make her wear like a little baby. What was more, she would get a humiliating spanking as part of this unusual punishment. Adriana was ashamed and shocked that it had come to this and she reluctantly accepted that she needed to be punished but had no idea just how humiliating this would all be! Spanked hard in the revealing diaper position without her panties and PJ bottoms, she was then diapered like a little babygirl before getting one final spanking in her new uncomfortable safe underwear and made to go to bed wearing her new Diapers of Shame!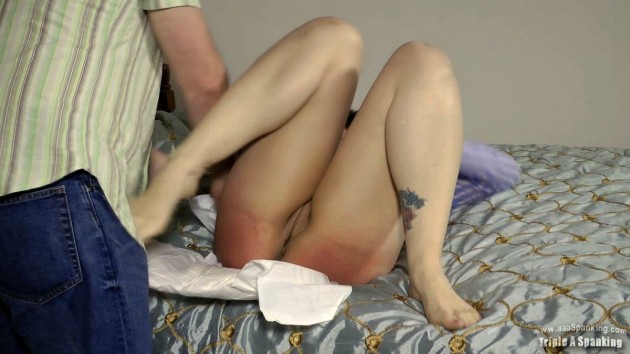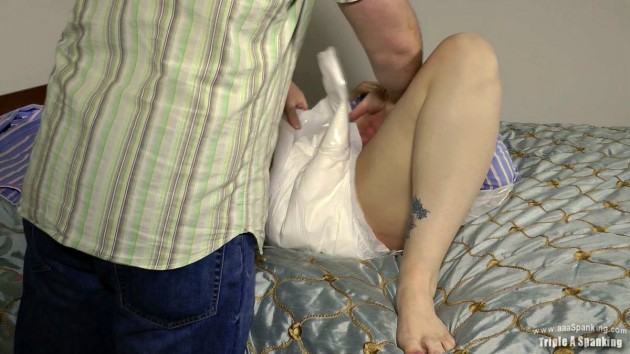 CLICK HERE TO VIEW THE LATEST FREE HD SPANKING CLIP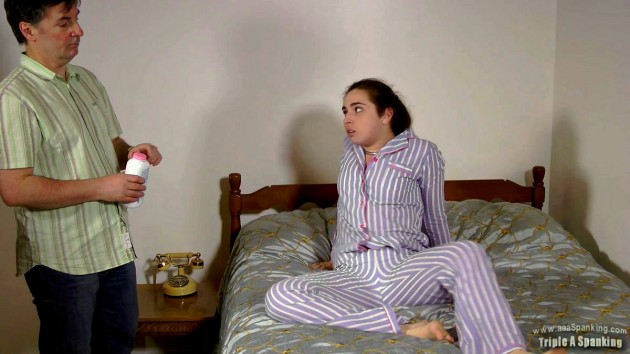 Some purists will hate this, others will love it… either way, it was a cracking film to make and Adriana taught me how to diaper a grown woman… which I rather enjoyed! Spanking her in the "Diaper Position" was my idea, I thought I'd stay with the theme… it's a cool film and rather humiliating and full of embarrassment for Adriana! You can view and download it now at AAAspanking.com
THIS FILM IS ALSO AVAILABLE AS A ONE OFF DOWNLOAD AT THE CLIPS STORE
(click image below for direct access)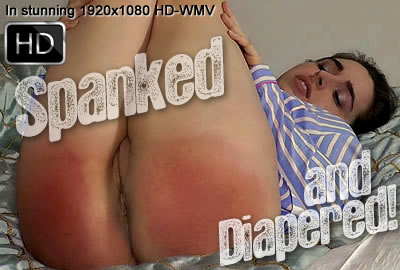 ***********************************************
Good night!!!