As a distraction from the football… yes, I know, England lost (narrowly against one of the best sides in the tournament and I wouldn't be surprised if we met each other again in the final, we will only get better away from the oppressive heat of the Amazonian jungle which levels things somewhat as it would allow for our young quick team to counter attack far more effectively… anyway, enough of the footie talk, I am again upbeat of our chances to progress realistically!) – This next up is the stuff of spanking legend…. really hot spanking updates from across the world wide interwebs – these are among the most recent releases that I am currently enjoying personally… and I know that you will too! Today they are mainly F/F focused… but not all, and I promise that you will like what you see today!
First today I am featuring a bang on film from my baby, Sarah Gregory at MommaSpankings.com – seriously this is probably her best ever shot film at the site, as you will see from the images below, the lighting was spot on, the spanking actions and scoldings by momma Dana excellent and this also co-starred the awesome Joelle Barros at this site for the 1st time to compliment what was a great bedtime punishment film! Yup, I helped direct this but I am seriously pleased with the results of this one… Images below are actual screen grabs, not bad, eh? & actual size to just show you just how damned good this film was, I also supplied the costumes so you pajama fetishists, like me, will get off to that too! These are some early scenes you can see right now from this long play 40 minute film! Epic!!!
All Her Fault – starring Dana Specht, Sarah Gregory & Joelle Barros
Momma has taken Sarah and her friend Joelle on a weekend getaway and the girls made a stupid mistake. They hired a male stripper to come to the hotel room while Momma was out, and ordered an expensive bottle of Champagne and charged everything to her room. Momma storms into the room with bill in hand and demands an explanation. Her innocent little Sarah wouldn't do this, would she? Did Joelle put her up to it? "It's all her fault!" they say as Momma tries to get to the bottom of the added room expenses. And get to the bottom she does by taking each naughty girl over her lap and giving each one a hard hand spanking. Imagine the embarrassment of being spanked in front of your best friend then watching her get the very same thing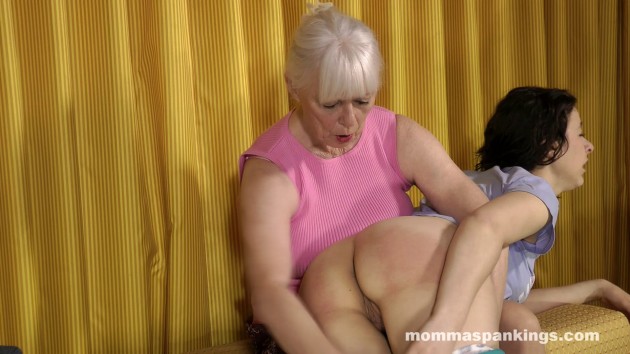 CLICK HERE TO VIEW MORE FROM THIS AMAZING NEW MOMMA SPANKINGS MOVIE

or get access to both Sarah's sites for less (see how below)

******************************************************
If you have not read a preview post regarding the Strict Aunt Jessica series now showing at GirlSpanksGirl.com – then check out a FREE Gallery HERE or the image below of the punishment that Snow mercy saw of her friend Ashley Rose… and she liked what she saw a lot – it turned her on, she wanted to know and experience more of what she had just seen!
Well, Snow need not fantasize anymore as she gets her darkest wish and nervously involves herself in a double spanking session experiencing what it's like to be spanked over a woman's lap and also get a chance to spank an already sore well spanked bottom too! Talk about dreams becoming reality… and of course this is the stuff of a certain narrator's "Wet Dreams"! Images below are reduced in size from originals and are totally exclusive to GirlsSpanksGirl.com
GirlsSpanksGirl.com is also part of the awesome 5 Site Clare Fonda Pass Network
(Giving you all featured sites for a fraction of the combined cost of them all)

**********************************************
One of the sexiest and naughtiest spanking updates coming out this week is featured at SpankingSarah.com – this really is good, and… unless you didn't know, Mr Stern, (Sarah's other half featured here) has not been too well and had a spell in hospital but he is making a fine recovery and will be back to fine form like this below as a near tempted Vicar when Sophie thrusts her ample bosoms in his face! The naughty temptress! #mmm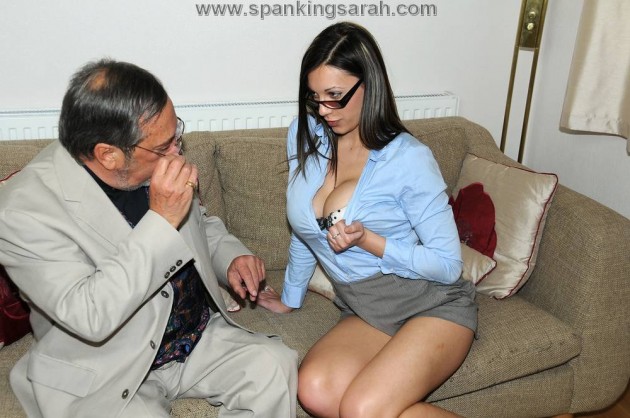 Sometimes even the best behaved of young ladies can fall down. Sophie had been very nasty to the other girls and it had come to the attention of the gentleman in charge of the spiritual well being of the girls at Katie Didit's house of correction. As much as it went against all that he knew to be right he felt he had to hand out a severe paddling to young Sophie. And make it hurt. She tried to persuade him that he would be much better taking advantage of her ample charms… Will he be able to resist the allure of those unctuous breasts? Find out below!
Check out MORE of Sarah's fantastic naughty spanking site HERE
***************************************************
Firm Hand Spanking do it again with another of their new recent additions, gorgeous Jodi Biltmore – she looks absolutely stunning in this latest punsihment release as you will see below… #schwiiing
Right from running track, bratty teen Jodi Biltmore is found smoking at Reform Academy and sent to Mr Strickman to be punished. Shorts and panties down for a bare 60-stroke belting will light her up, viewed by Reaction Cam. Check out the high-res stills set too like some of the images shown here – they are stunning!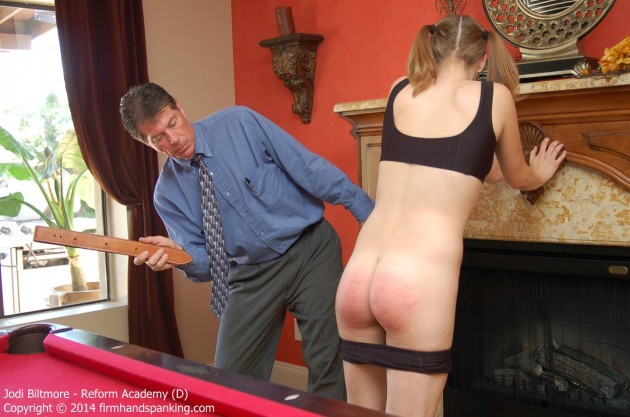 Love this girl? She's stunning, isn't she? More of Jodi can be seen right here!
********************************************************
Finally here is some delightful spanking nonsense from Russia as SpankingThem.com has a double OTK and punishment of a naughty girl caught masturbating in the classroom… 2 teachers take it in turn to ensure she is thoroughly humiliated, stripped naked and spanked, then flogged in a variety of positions until she can bear the shame no more! here is the story of 24 year old student, Katerina!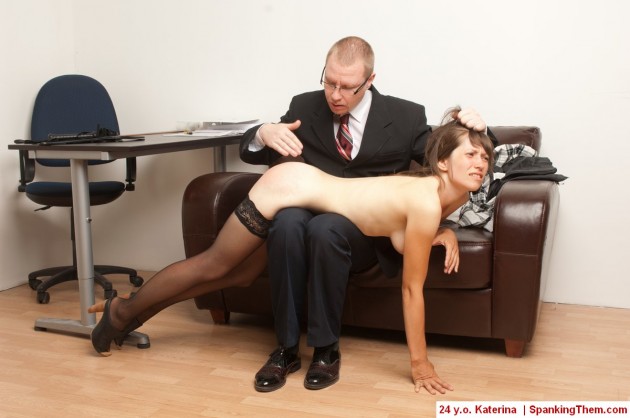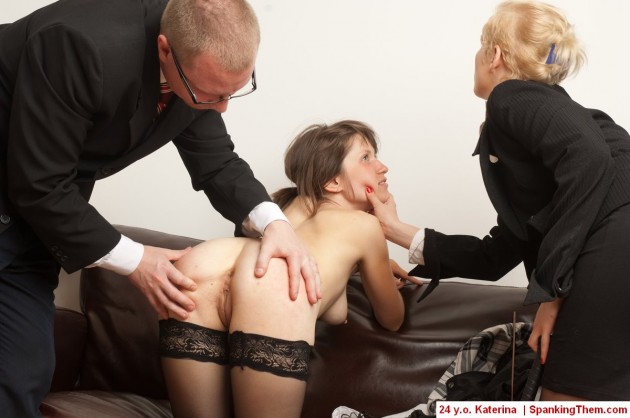 CLICK HERE TO VIEW MORE FANTASY UPDATES FROM SPANKINGTHEM.COM
**********************************************
That's it from me right now… another amazing football match awaits, Germany v Portugal… and of course USA (yes, you guys are playing tonight!) take on Ghana (that's in Africa! LOL) – these games look mouthwatering… as mouthwatering as my "Wet Dream Spanking" Update for today, I hope! Back soon! Chief.