I have been rather busy, believe it or not… so couldn't get back to writing here sooner. Sorry about all that… I updated my site earlier today with a brand  new film which is pretty hot, with the lovely Adriana who speaks Portuguese (in fact she spent a lot of time in Brazil…) ah, poor Brazil, I still feel their pain and hurt over the World Cup. Perhaps they got a wake up call… now it's all over, I can say that this was not a particularly great "Brasil" side of old… I'm not gloating, just look at my country's pitiful performances by our overpaid wastrels… however, I have been there before and this is a topical film… I have a few Brazilian and Portuguese members, so I apologize in advance for Adriana's potty mouth as she curses and swears at me in your beautiful native tongue, I could guess some of the words and phrases and I know that they were not praising me or my mother at all, lol! I remember seeing this as a fetish on Adriana's Fetlife Profile account and so wanted to do a hard punishment film as she swore at me… we both got what we wanted as it was something neither of us had filmed before. I think you will like the results of this… I most certainly did! A huge video screen gallery of over 150 images and a 50 Image Stills set compliment the HD1080 movie release… see for yourself below: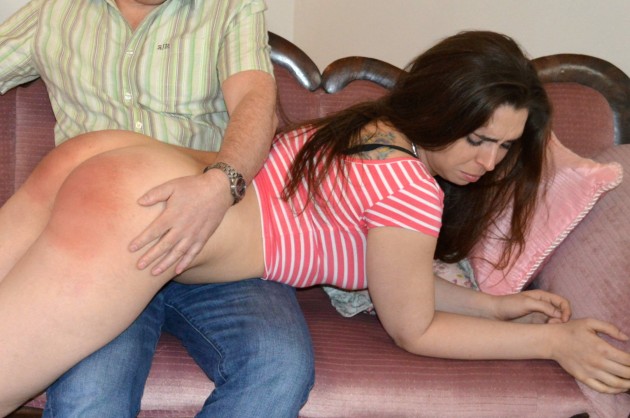 "The Foul Mouthed Au Pair"
Hot Brazilian Au Pair, Adriana, was still mad from the humbling night she had watched her beloved Brazil get thrashed 7-1 by eventual Champions, Germany, in the World Cup Soccer Semi Final. This made her even more surly and aggressive and her work around the house that she was looking after just went from bad to worse! John could understand the shame of one's country affecting judgement and behaviour, after all, he was English and his national team were even worse! However, this was no excuse to behave like some jumped up foul mouthed brat and he knew she needed discipline in the old fashioned way as soon as possible. He dragged her across his lap and started spanking her which turned the air blue with Portuguese expletives… her foul mouthed ranting continued as the punishments got harder across her young bare bottom when a leather paddle and a heavy wooden hairbrush were also used to teach this feisty madame that a little humility could go a long way! If you understand Portuguese, apologies in advance for the foul potty mouthed Adriana! "Vai Brasil!"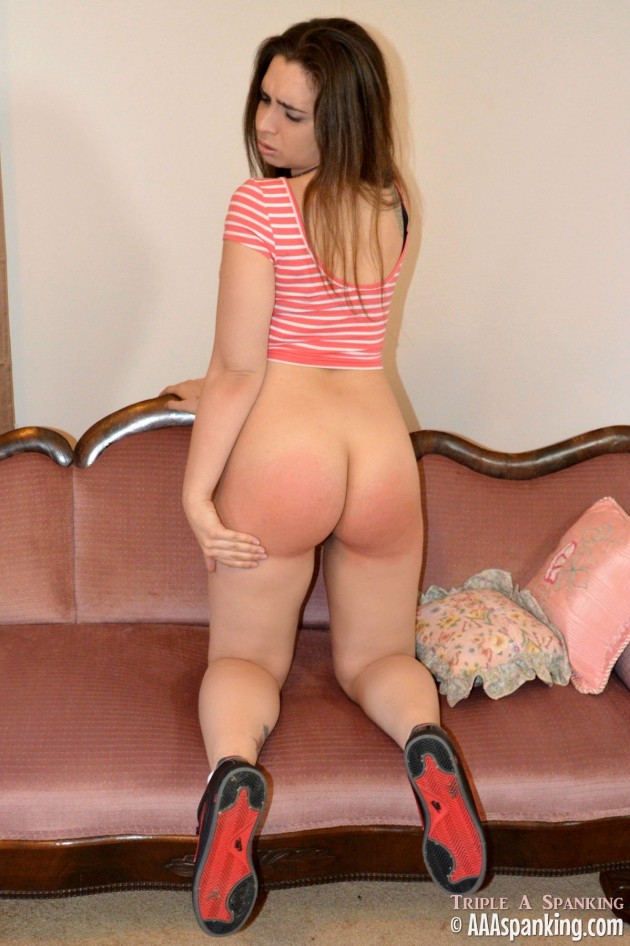 I have a few more images below, these are action shots taken from the film and unlike the images above which I got for you at the FULL size (exclusively early, of course, as I can!) – these images are reduced in size, but they're still big enough for you to check out what actually happens!!
CHECK OUT THE FREE DOWNLOADABLE  HD1080-WMV CLIP ON THE TOUR PAGE HERE

Just want to download the odd film? I understand… this great new addition has already been uploaded!
It's available right now in 3 formats of your choice in HD1080 from The AAA Clips Store

****************************************************************
& just in case you think that the hot films and updates don't get any better (members will have noticed I caught up with a ton of image sets that were missing) – so there are at least 2 wheelbarrow spanking sets, a full intimate spanking set of gorgeous Casey Calvert and many more for you on top of the usual updates already this week!
& if that hasn't helped… check out who is making her very last spanking internet appearance. After this next film, that's it… I have saved one of her best films for last. Mishka Devlin's final movie and image gallery will be available for members next week. I promise you this is an awesome little film, as you can see from the teaser image below – ahem! It is such a shame that she is now retired from the scene, but I am just glad I got to film with her when I did! As I know are you by all the requests that I get about her!
I haven't decided on a title yet – she lied to me about being ill and didn't want to go to school! This has not been the first time she has tried this trick so she got a humiliating rectal temp taking before getting spanked when it showed her temperature was normal! If you want to send me a title, please do! This film will be available to download from next Tuesday at the latest!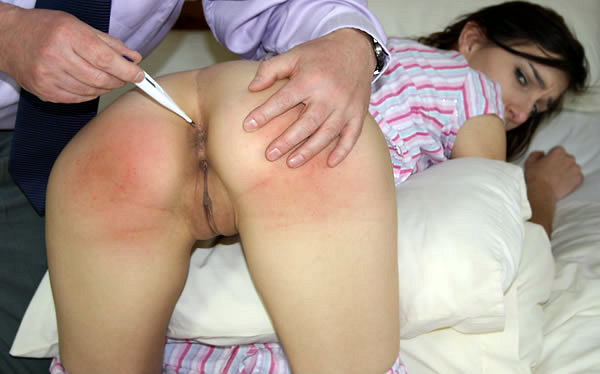 ******************************************************************
& in other news, you might remember that I helped Paul from Northernspanking.com in one of his last big budget shoots in the UK… we had a lot of fun and as you can see below… I got to play a dirty old man in a nursing home hassrassing Paul's favourite uniform niche… nurses!
Corrrrrrrrrr! Leering ol' Mr Osborne can't keep his hands off the staff!
There's a few more images of us larking about behind the scenes too… I think you'll be able to see one of Jenna the maid coming very soon as Paul loved the way this one was filmed! I also got to meet up with the lovely Mistress Jessica Wood, catch up with both Amber West & Jenna Jay (apparently the last time Jenna got spanked on film was at my site and that was ages ago!) and gorgeous new girl Rosie Ann who you will no doubt be seeing much more of this coming year!
Back tomorrow with a round up of lots more spanky goodness I just know you will LOVE!