Hi there… this is my brief report on my most recent adventures in the USA with some behind the scenes info on what members will be able to expect from my latest filmshoot for AAAspanking.com in some of my edgiest play yet in a long awaited filming session with the amazing Mandie Rae. I had been looking forward to filming with her, alongside Sarah Gregory, for ages! My only drawback, and I apologized to Mandie about this, was I woke in a real shitty mood and was unable to shake it off, probably due to my new found wonderful asthma which seems to be worsening… joy! So with little sleep and Sarah in the middle of her "Refresh" program… I was on edge. I got annoyed with myself over the smallest of things (that I was doing myself) and then realized that this was transferring to Mandie, who is a super girl and feeds off the vibes you give! It was the kick up the ass I needed as I had been so looking forward to working with her… perhaps I felt on edge over that? However, that was the only negative as I got my shit together to make some killer content, as well as helping Sarah make some amazing stuff too… seriously, when this content gets edited for both our sites – watch out!!!
Below are some images taken from the various films I made of naughty Mandie, none here are from Sarah's site, but when I get a chance, I will let you know how that was too…I'm calling this the "delightfully edgy shoot" as I explored more rectal temp takings, a great schoolgirl peeing and punishment scene, another wheelbarrow membership… real tears and an awesome slut shaming film that helped tick off Mandie's extensive and frighteningly long "bucket list" of things to do!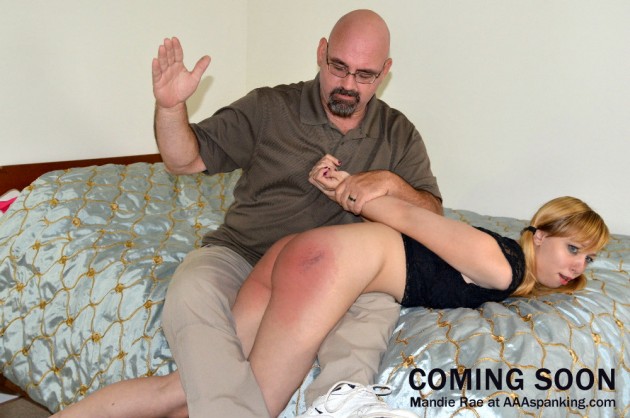 Robert Shore helped us out early on and I knew he and Mandie had good chemistry from their playtime recently at the BBW Party. This was my first film of the day and it featured an awesome OTK spanking and leather strapping scene as he caught his young wife stealing money from his accounts!
Then my only F/F scene of the day with Sarah and Mandie was next… Sarah played her older sister babysitting Mandie who is punished in her PJs… or were they her PJs? hmmm… you will find out soon enough!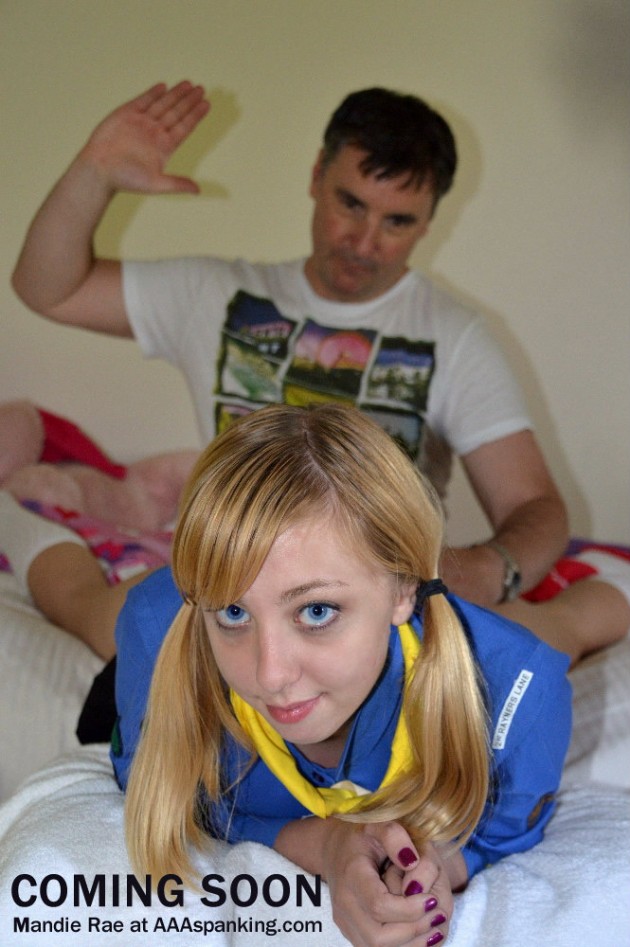 The Wheelbarrow Club got a new member today! Welcome Girl Guide, Mandie Rae *smirk*
Another bedroom, PJ punishment film with the added twist of a humiliating temp taking! Yikes!
2 images to show you from the next film… Mandie takes a pee behind the school fence but she is caught by me and marched to the office for a very painful and tearful short sharp shock caning!
& finally the Slut Shaming film… Mandie was a real sport in this and took everything I threw at her (literally) – the tears soon flowed as this was a really dark domestic discipline film with me playing the frustrated and angry husband confronting his young wife coming home in slutty attire, worse for wear… I am waiting with a variety of implements and stinging rebukes that leaves her unable to answer back effectively! This was something that I wanted to try for sometime and Sarah admitted to me that it scared her… this is NOT a jolly film and it's a real dark punishment – in addition to these films I did a few excellent POV ones too which I am looking forward to showing soon as well!
Please welcome Mandie to AAA! I promise you all, you will NOT be disappointed!

Check out news of my latest film being released later today in my next post… don't go far now!