I received rather a lot of mail responses about Mishka, and it is just sad that she won't ever do any filming of any sort again. I really enjoyed working with her a few years ago… and if you can remember, Mishka is the girl that started off my fascination with the "Wheelbarrow" spanking position and she did a series of 5 films which have always been popular on top of her other films we did together. This one is the last, it is rather good and we had a lot of fun playing a rather twisted sort of family where I get to play the put upon step dad who spanks and punishes her in a variety of ever more humiliating ways. This latest involved a good old fashioned rectal temperature reading before she got a whacking for pretending to be ill and trying to get off school! It's been done a 1000 times but NOT with sexy Mishka who looks amazing in this film… now out called "Caught Faking It"
You can see a long play clip of Mishka and the images from her latest film right here… and I will bring you news of just what is released this week… seems I had some troll recently moan on a review site I placed my site on (probably some dickhead I had removed using a stolen credit card as it was around that time that I had loads of stupid fake sign ups) accusing me that I didn't update much. What a piece of work…. well, for the sum of a recurring membership price of $23.95 (long term memberships are FAR CHEAPER than that but that's the basic monthly and most "expensive" recurring fee) I find this offensive – as you'll see just what you'd get to view this week alone. Also remember that as I'm primarily European based, the weak Dollar is really hurting me and I really should up the prices but am trying to keep them as low as I can. Also later this week, it's the special "Freaky Friday" event, which REWARDS my valued members with an additional full film and gallery at no extra cost… I don't announce which Friday it will happen each month, as that is part of the fun of it…. and before anyone says "what a crock…" I don't *have* to do it…. ok? Right, onto some stunning images of Mishka's temperature taking punishment, eh?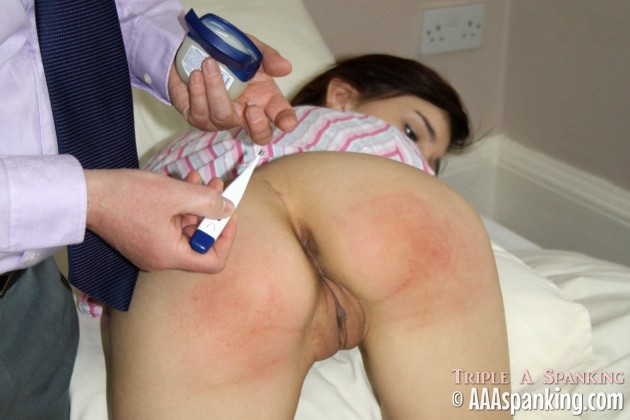 This is to be Mishka's last ever appearance anywhere on the internet so we saved this humiliation special which featured a twisted home domestic discipline style film with a difference. Mishka was caught out faking an illness once too often so the only way to be sure she was telling the truth was to inform her she'd get a rather humiliating rectal temperature taking if anyone thought she was making things up but of course she would deny this and try to avoid being caught out but the Digital Thermometer never lied with the numerous normal readings. Again, Mishka was given the option this time of owning up and just getting out of bed but she refused and failed the honesty test once more and assumed the position she was accustomed to, on all fours, bottom out for a spanking and strapping across her bared cheeks first thing in the morning! One could almost imagine that it was her intention that she be treated in this way. Such a naughty young lady, we shall miss showing her off so please wish Mishka a "fond farewell" in this naughty rude explicit "Spanking Finale".
Some more images taken from the film are below
followed by the long play clip courtesy of AAAspanking.com
Attn: American viewers and those who only use Farenheit temperature measurements, when I said 37.2 degrees in this clip was "normal"… it is – if it's in Celcius… this is the equivalent of being 98.8f (which for body temperature, as you know… IS quite normal!) Just in case it appeared odd to anyone… *wink*
You can still view this via the Trial Offers & Low Pricing Deals I have HERE (do check them out!)

The final Mishka film is naturally available at the AAA Clips Store if you want to download it that way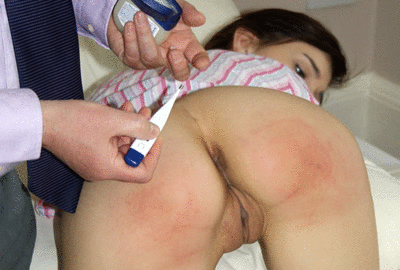 I once got asked if she had ever appeared elsewhere, this is what I remember from her telling me and I remember blogging about it… you can see the full details of the films she appeared in, when she was just 18 years old. This was the only other time she had done any spanking work, the rest of her work, limited as it was… remained in the online hardcore porn and glamour industry… it is worth noting that Mishka was a far more "worldly" 19 years of age (LOL) at the time she filmed with me.
There is a really interesting review of a Lupus Spanking Film which co-starred Mishka in her native Prague as a wide eyed 18 year old… but don't let that fool you, she may have been new to the online scene but she was certainly not shy (nor has been since!)
Check out the review from my other blog HERE (it's well worth a read) and there are lots of pretty pics and clips to keep you occupied if you find my prose rather tedious 
You can see how Mishka ended up with such a sore bottom!

*********************************************************
& what else is being shown for AAA members THIS WEEK?
The full true 1080HD 1.15Gb file in WMV or MP4 (my preferred format) was made available Monday of "The Music Teacher's Detention" with awesome Amelia Jane Rutherford and Sarah Gregory… it was beautifully set and there is so much happening in this film… an image gallery of this, if you needed reminding, is below: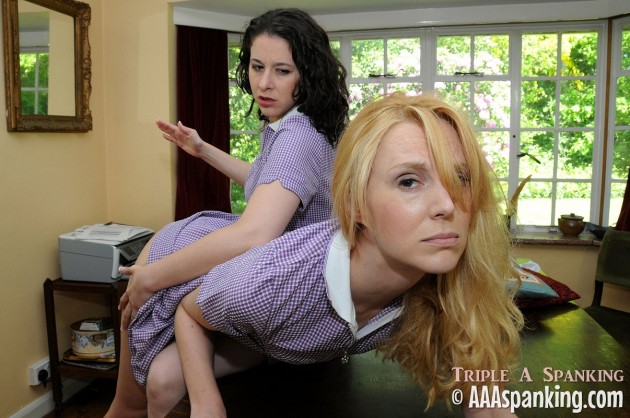 Then today we had the new film with Mishka, a HQ Photo Stills gallery with 52 images uploaded and the video screen image gallery with a whopping 189 to view. So, Mr Troll, I don't update much currently, eh? Well, there's more, you spiteful idiot… on Friday the conclusion to a wonderful hard OTK spanking of Adriana Evans as the mad bad Brazilian Au Pair… swearing loudly in Portuguese concludes with a very red bottom punishment on all fours with her delightful jiggling bottom getting a thrashing with the hairbrush and leather paddle… there are of course a ton of images already showing this, see the sample from this gallery. the new movies are in a very high spec and 20 minutes will often now be in excess of 1Gb if these were filmed AFTER my Shadowlane trip last year…
& the Freaky Friday event sees gorgeous Jessica Jensen in the bath tub getting a very soapy and painful spanking (the poor girl couldn't take much more and this shows but it is a great little movie and she requested that we film in the bath… little did she know the wet hand spanking would hurt too… oops! It's over 8 minutes in full with about 100 images too… I won't release the gallery images until Friday here… but I think you get the idea below, right?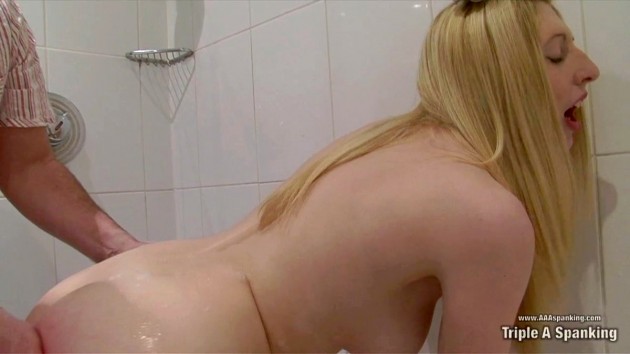 It will also be available at the AAA Clips Store this weekend! How's that for an eventful week? & you could join right now from the princely sum of LESS THAN $15.00 – so please, no more about the site being poor value… there are now 207 films on it, with the HD1080 versions growing weekly… there, I felt better for saying that. I don't ask much, but if you like your spankings, and I guess you do (otherwise you wouldn't be reading my blog) do try to help support what I do, it's a site with alot of content which is wonderfully varied, just check out the tour pages and you can see what you will get… there's nothing to hide from the 7 page tour! I also try to give the best customer service experience where possible, I do try and look after my members as I appreciate the help a membership gives to keep me doing this. Thank you for reading 🙂
*******************************************************************
In other news… Russian authorities have banned their female police force from looking "too sexy" – skirts and shiorts are NOT to be shortened – which is such a shame, another reason I detest Putin (along with a certain female Argentine president)… so in the interests of blatently pissing off Putin (and giving me ideas to film naughty ladies in similar such uniform in future), I give you some images he would rather the world would not look at regarding the lovely lady police officers and recruits…
I have seen comments on various sites where people have said they'd want to be arrested by the girls… I think in practice, you wouldn't want to spend one second in a Russian jail…
Hmmm, that saying, I do appreciate the sentiment and can understand our foolish lack of reasoning seeing these lovely beauties strolling around…lol! OK, have a good one!