In a couple of days, I will be flying from New England to sunny Las Vegas… and of course the build up to this year's Shadowlane Party which ends by Monday, Labor Day. After that, we will be relaxing and unwinding on The Strip… and so what I have done in advance – is update my site all this week and prepared it for well into next… that means if you go in right now, you will be astonished to see how much content has been updated including 2 NEW films – the reason for that is because of the Freaky Friday event I had been putting off and had no choice this week… so I will let you know EXACTLY what is out and you can see for yourself.
Monday's update saw the full HD MP4 and WMV versions of the very popular "3 Sassy Schoolgirls" with Christy Cutie, Alex Reynolds and Maddy Marks being so deliciously bratty and nearly uncontrollable, it was fun to bring them back into line (finally) – Images and a free clip are below reminding you of just how sexy these 3 girls were in their tight school uniforms. FYI – this was filmed at last year's Shadowlane Party… I had Dodgy Dave assist me on this after we had an incredible roadtrip to Death Valley & Arizona… we were pretty tired as we rocked up late to the party on the Friday and filmed the majority of the content including this film all day Saturday in our suite. Incidentally, Dodgy will be there this year, I'm looking forward to seeing him again and the fact that he is rooming with Amelia Jane Rutherford (lucky fella!)
3 sassy Schoolgirls – now available to download in full HD-MP4 & WMV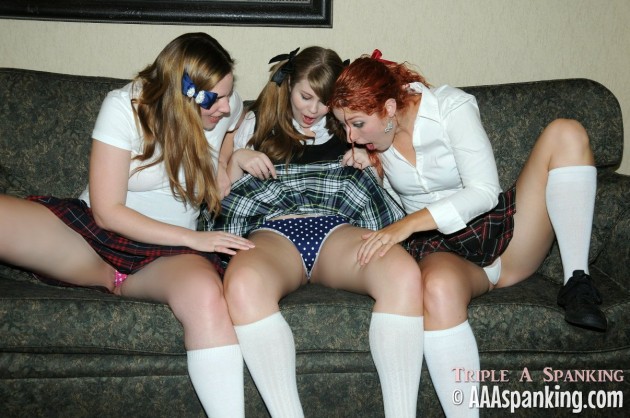 Alex Reynolds, Christy Cutie & Maddy Marks had been summoned to meet the new English teacher, Mr Osborne, who was assigned punishment duty for these repeat offendors for his very first time. Talk about dropping him in at the deep end! The girls were real brats, proud of their irresponsible behaviour and were even caught comparing their flagrantly non regulation panties to each other when Mr Osborne arrived for their detention punishment. The girls were near on impossible for him to discipline effectively together like this and he had thought about taking them one by one to the basement for a real tearful one on one discipline session but it would be time consuming and he didn't want to come across as too strong during his first day on the job. So he decided to try and humble the girls by spanking them in front of each other and making them just a little more contrite. However, the girls continued to brat and laugh until it was the turn of Alex and he brought out the bathbrush when his patience wore thin which soon silenced their giggling and sniggering. The final act saw all their bared bottoms placed together when they were finally starting to understand that their continued poor behaviour was unacceptable and he had them kneeling on the couch and had a good look at his handiwork. Mr Osborne asked them to remain silent and contrite whilst he went away to fetch the discipline paperwork which they would sign at the end of their detention.
CHECK OUT THE FREE CLIP BELOW – full film available at AAAspanking.com
The 1st new film showing this week features a welcome return of Joelle Barros and a NYC debut for Robert Shore in this comedic "Bronx Tail" (yes, I named it tail instead of tale) – Joelle plays a bratty spoilt schoolgirl on a trip to better herslef with her stepfather, Robert… who is far from pleased when he finds out what she did to her new uniform that he had bought to ensure she's get noticed… oh she'd get noticed alright… in that new short dress she had made!!!
Check out the image screen shots and a free HD clip which is the actual update for Tuesday/Wednesday, but of course, as I said, you can see that NOW!
It would seem you can not always take The Bronx out of the girl when Joelle was on a special school vocational study well away from the NYC suburbs that she so loathed, she was even given a smart new uniform to better represent herself and make her folks proud of her. Oh she did that alright, by shortening the dress to a very unacceptable standard. This was something that her long suffering and well meaning stepfather, Robert, had struggled with and he felt ashamed to be accompanying her when he had seen what she had done to the uniform! The only way he knew how to manage this naughty girl was to ensure she'd remember more of his old fashioned values that she seemed to have quickly forgotten from The Bronx. He felt compelled to remind her that her actions had consequences as Joelle received a rather long and humiliating spanking punishment across her bare bottom with his hand and a hairbrush to teach her respect and decorum!
Check out the FREE clip of Joelle's bare bottom hairbrushing by stepfather, Robert!
Another FULL film update you can see this week already at the site, stars Sarah Gregory looking so very hot… coincidentally, this was filmed at the Shadowlane Party event last year too… it was a film that both sealed our intertwining fates… I didn't know it at the time, but how could I resist such a sweetie as Sarah? Just look at her in this film, she is absolutely stunning… the full HD MP4 and WMV films try to do her justice. A reminder of some images you can see below… I have also to put up a full stills set of this film (there's a ton of video images) as well as the other film with her in a red dress we shot previously… so these will be added soon to the site on top of other updates… wow, my site is looking good value this week, eh? (LOL)
Chip 'n' Pain – with Sarah Gregory, now available to download in FULL
Filmed at the Shadowlane 2013 casino hotel venue, this film proved to be the catalyst for the eventual pairing of Sarah Gregory and John Osborne outside of our kink! Neither of them realized at the time just what would happen but you will get some interesting hindsight previews from this final film they made at this party event. Set at a casino, it was a plausible storyline to have them in a loving discipline relationship filmed in their hotel suite… so when Sarah decided to play and brat by hiding some of John's casino chips before he wanted to visit the tables, she knew he would search her and find what she had taken. Her ploy that he would pay more attention to her than the gaming tables paid off after he did find the missing chips on her person and he gave her a memorable "naughty girl" spanking and intimate cropping punishment that is shown in this film. Join them both at the start of their journey together that begun here.
Finally, on top of the usual updates for this week, there is the additional "Freaky Friday" bonus… once a month, members get an unannounced extra film ON TOP OF (and not instead of) the usual Friday update – my way of rewarding those who stay and I don't have to do this, of course… the FF event is random, it could be any Friday of that particular month… so far I have had some nice feedback from members about it, and there have been some nice short films shown that you wouldn't have seen… this week sees a NEW girl, Rosie Ann, who you will be seeing a lot more of very soon, featuring in a slightly surreal spanking schoolgirl film, it's almost like a fantasy film… the poor girl asks her teachers to go to the bathroom and ends up making a real mess, thus ensuring that teh remainder of her punishment is focused and humiliating… check out the stills images and screen grabs which both accompany this short sharp shock film… your Freaky Friday bonus for this month (out early!)
Rosie Ann stars in her debut – "Caught Short"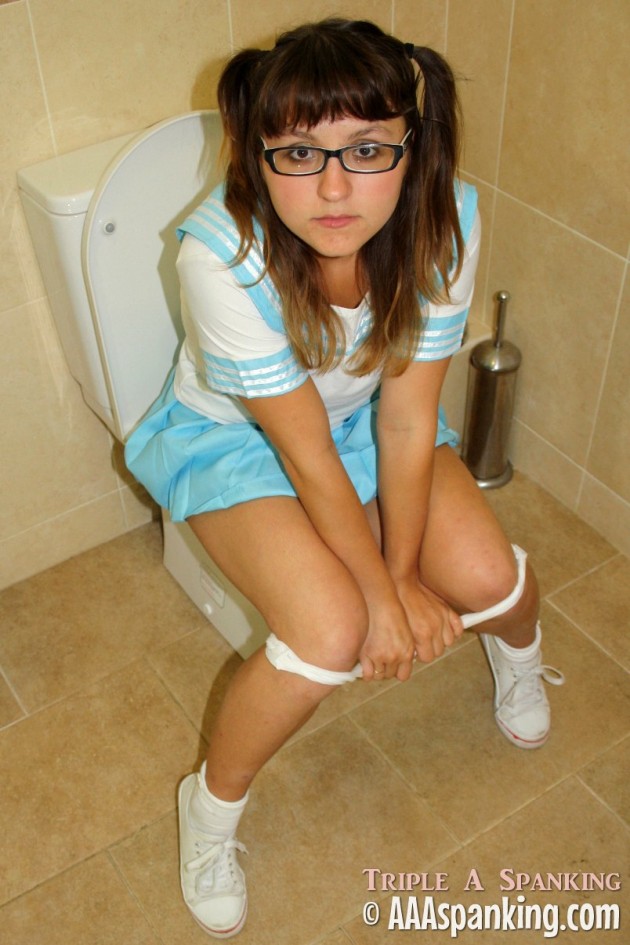 Rosie Ann was the last girl in her detention session on the school trip before they all had to catch the bus home and she begged to go to the bathroom early as she was aching to go. She is just 18 years old and should know better but she was caught short and made a bit of a mess in the bathroom, wetting her panties and the floor. Her teacher caught her trying to clear up the mess and punished her further with a humiliating bare bottom spanking followed by forced pantie washing and wearing of the wet cotton undergarments underneath her short skirt as a shameful reminder before she was sent on her way to the waiting school bus to take her and the rest of her classmates home from the weekend retreat!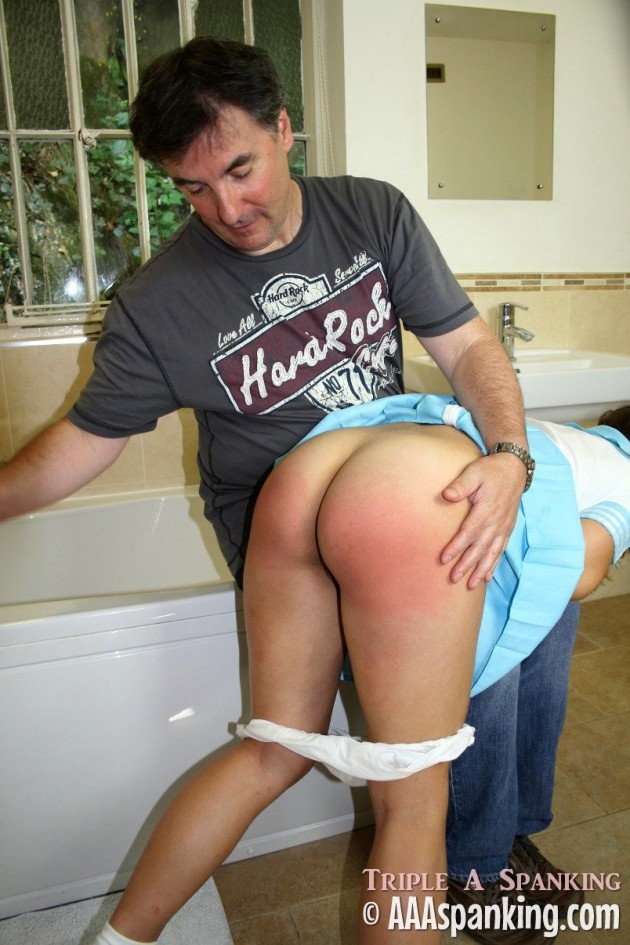 So as you can see, this is an action packed week at AAAspanking.com – and what's more, for a very limited time, you can also purchase the Quarterly Rewards Membership which effectively works out at just $11/month the longer you stay… how cool is that? Just check out the sign up page and click on the banner that you see below and you can be inside the site in minutes!
***********************************************************
Be aware that ALL the films I have shown here ARE available to download at my popular Clips Store… I know that there are those that prefer or wish to download the odd movie from time to time, so I have made them available int he best quality formats at 1920x1080HD where possible and in MP4 WMV or even MOV if those of you require it! CLICK HERE for the full download list!
********************************************************
Well, it goes without saying that I once again didn't bring you the Fetishcon pics but I really wanted to get this post out as I thought my site deserved this mention… seriously, this is an AWESOME line up for this week and I just know no site this week comes anywhere clse to giving you as much in one go… for those signing up on a Trial or short term deal… well, this is your chance, eh? have a good one… I'm now counting down the hours to my departure to Vegas! BRING IT ON!