Hi everyone, I am currently in Miami, after a fun filled and eye opening attendance at Fetishcon in Tampa, FL… this was a sort of event that I had never witnessed before… the entire Hilton Downtown Hotel was taken over for 3 crazy days as kinksters, models, producers and those just interested in attending the event turned up. Over 2000 were there and there were the legendary pool parties and such as well as workshops, an impressive Vendor's Fair and many "Meet n Greet" events and chances for producers and models to meet up and film… which I did with 2 great girls I wouldn't get a chance to meet, normally. I will let you know more in due course when I have time to upload a few images, I will tell you now, it's GOOD stuff!!! I will try and post a few pics at some point soon but am really pressed for time as I have spent this evening updating my site and getting it ready for the new film release starring Alex Reynolds & I in a traditional and hard hitting OTK spanking film that I am sure those of you who appreciate such films will love to bits. It was certainly one of my harder OTK spanking films that I can remember.
I filmed this at Alex and Paul's place in LA earlier this year when I was out there… I quite like the odd improvised film when we just set up cams and make some great spanking content… this was one of those films. It didn't need much of a storyline as I wanted to focus on the actual punishment and concentrate on just the most traditional of scenes, and to do it well (which I think I pulled off with a good hard solid spanking of Alex). I have to tell you that her bottom is virtually indestructible… although I am more than sure she still feels every swat, every smack of the hand or whatever other implement gets used on her amazing butt!
Alex Reynolds stars in  "An OTK Reminder"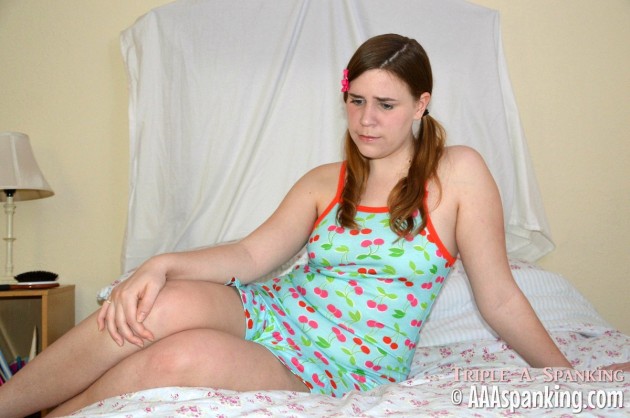 Alex was very contrite from start to finish of this wonderfully traditional OTK spanking film. This was because she had already been severely scolded and was promised a spanking which was where this film begun as she had been told to wait in her room for John to complete her punishment. He arrived to find her waiting as agreed and in no time she took her position over his knee as he dished out one of the hardest OTK spankings he had ever given to her bare exposed bottom. Her delicate panties were removed for the final part of this discipline session as he knew how humiliating it was for her to be spanked in this fashion. This was the only way she would learn her lesson so that she might avoid future humbling punishments. Continuing with the traditional theme of this spanking, Alex was told to do some extensive cornertime to reflect on the whole process she had just taken with surprising dignity which John had recognized as he gave her a warm reassuring hug which showed that she would receive extensive aftercare following her cortnertime. Fans of traditional OTK scenes will love this full HD movie!
If you want to see a free OTK Spanking Clip – CLICK HERE
(This is for the latest HD film release shown in both WMV & MP4)

I also have a few actual screen grabs, like the images shown above, these are reduced in size, the screen grabs are 1920×1080 normally, reflecting the HD playback of the films in both WMV and MP4 formats. See below:
This film will also be available in various full file formats at the CLIPS STORE
***********************************************************
Back soon with more news and updates!!!