Yes, I know… that is the burning question on your lips… "what in the hell is The Chief on about now?" I hear you grumble… rather like the fact some of my British-isms have (according to Sarah) appeared ridiculous in writing to her untrained American eyes… such as me saying a "One Off Download" – meaning a One Time Download etc etc… I am changing the text on my home page starting with the Amelia film you see below today advertising the fact that you can also view the entire movie in full HD at the AAA Clips Store if you don't want to purchase a membership and just want to download this or a couple of other films shown in the update tour pages…
Ok, where was I? Oh yes, the owl, or rather a plushie toy (a soft cuddly toy that speaks when pressed) – I liked it at first as the owl had a British accent, but some of the phrases were very very rude… calling you a "Fuck face"… or asking "who farted in the room as it smelled like ass" – I think you get the picture! So it's a very disruptive little soft toy that Amelia thought rather funny to pass round the changing rooms and keep on the field when training  and leading her team mates in the Cheer Troupe. Well, as you can imagine, I would not be standing for any of this nonsense… or as Sarah finds so amusing with another of my British-isms, I'd say "It's not on!"
Enjoy this most amusing but hard hitting punishment film… poor Amelia was trying to keep a straight face when I confronted her with the filthy Swearing Owl – members will be able to see this briefly before I get down to business and that nasty foul mouthed owl keeps making unwanted and lewd suggestions throughout the film. I have a rather full set of  images for you… and don't forget that at the end of this post I have provided you with a link where you can also view the free HD intro clip!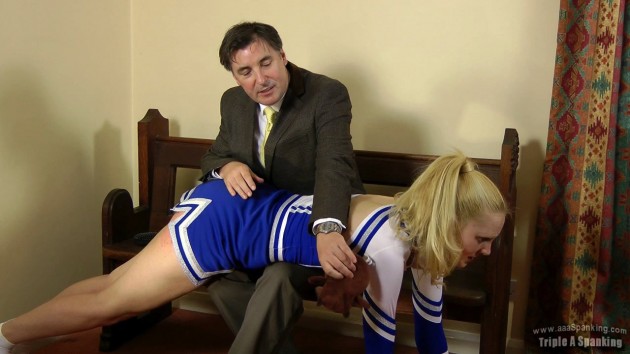 Head Cheerleader, Amelia Jane Rutherford, was summoned to meet the team's owner, Mr Osborne, who was far from pleased with the disruption caused to recent cheer practices with her new plushie toy… a seemingly innocent looking owl that swore and said very rude things when pushed in its' tummy. He was deeply offended that some of his God fearing girls might be upset at such a filthy, foul mouthed toy as it had been passed around the changing rooms much to Amelia's amusement. The only way for her to learn that this was very wrong was for a short sharp shock punishment which involved a painful hand spanking and a humiliating panties down hairbrush discipline session on her bared cheeks. If the potty mouthed owl doesn't raise your blood pressure, then the sight of Amelia dressed in this tight cheer costume, panties down, will surely do it!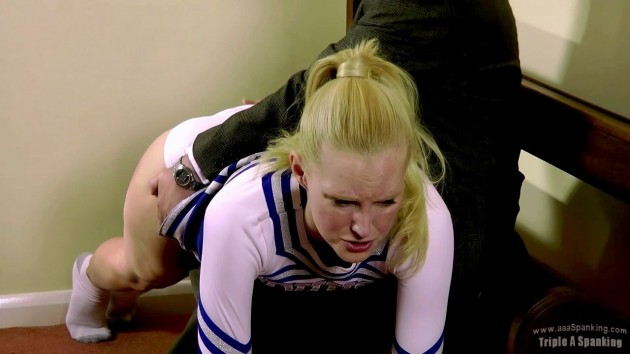 Some behind the scenes info… I had never got Amelia dressed as a cheergirl before… and you all know how that is a major driving force and fetish of mine (along with wheelbarrow spankings!) and I think I rather pulled this off quite nicely. Like I said, we had some fun making this film and it showed… but don't confuse fun with being pattycake… when it came to the spanking punishments, I can assure you Amelia got a stinging rebuke in this very English discipline film. If you see it then you will understand! This latest film compliments the others I have of one of my fave UK spanko actresses… and she is as popular as ever – you will understand why!
CLICK HERE FOR THE FREE HD SPANKING CLIP OF AMELIA'S PUNISHMENT
**********************************************
AS I SAID EARLIER, DON'T FORGET THAT YOU CAN VIEW THIS FILM IN 3 HD FORMATS OF YOUR CHOICE
Just CLICK HERE to view the full list of films currently available at the CLIPS STORE
More are added all the time (as well as any I have missed from the past!)
(and yes I know…) I still have the Fetishcon images to go through!
Unfortunately I had another nasty asthma episode yesterday so that set me back… it also set me back financially AGAIN… my medical insurance suppliers are a complete waste of space (I won't say what I think of these fuckers and  charlatans… I had no exisiting condition when I took out my insurance and only knew how poorly I had become whilst in the USA!) so they have an excuse to avoid payment and totally exclude my last visit to the Er in Chicago and now this one in CT and won't cover anything vital like possibly dying from a severe asthma attack and getting treatment to save my life.
So I am not saying this lightly… any help YOU can provide would be via supporting my website, those memberships are gonna have to somehow cover my rather excessive costs (I won"t say how much as it is too depressing but am just grateful that I can join the rest of you and breathe and take that for granted – again!)
In other news: I'm off to Shadowlane next week
I hope to meet some of you who read my blog there! 🙂