Time flies quickly at the moment, I should be grateful, I guess… as that means less time to wait until I fly back to America in November for a few weeks. However, that also means the nights are drawing in much earlier, there's a chill in the air and that forboding of winter around the corner for us in the northern hemisphere is a reminder of what is to come. I'm not a winter person, I hate the short days, the lack of sunshine and the long dark nights, I hate the cold and (in our case here in the UK south west) copious rainfall.  That's one reason I don't like Halloween, I think… as it really signals, for me at least, that it is winter and there are 3 months of misery waiting ahead with all my pet peeves, weather wise! I think these thoughts were brought on by the fact I attended a funeral this morning, it wasn't nice at all (how can they be?) – Watching my cousin in bits… it was heartbreaking to see him like that saying goodbye to his wife well before her time thanks to cancer (grrr!). Life can be so cruel sometimes. It's so transient, we have to make of it what we can in our woefully short time here on Earth… sorry to get all heavy for a moment. This is a spanking blog, I know it has my personal touch, but I just wanted to share the grief I saw today and celebrate her life and the joy she brought to my cousin and his family. We have our memories… it is this which defines us all!
OK, I really am getting deep, so I will stop! The first update news I am bringing to you today is from Sarah's great site HERE in which I helped with this film. I loved this and we had a blast making it with Adriana Evans, who I just love spanking and being involved with. * She is responsible for feeding my growing diaper fetish! … but that is for another blog post, lol! This new film is called "Flirtacious Model" and Adriana and I had fun with this as she came onto me and I got "creeped out" by her behaviour… I even mentioned this to Sarah in the film before Adriana was due for a shoot with us and Sarah agreed to hide and watch her to see if what I was saying about her flirting with little ol' me was true! I have to say, I rather enjoyed Adriana's advances… LOL! The film ends with a fantastic double paddling scene of Adriana by Sarah & I after we each took turns spanking and humiliating her beforehand over our laps! I even recall we high fived at one point… hehe! It is all rather HOT, I can assure you – another winner of a film from Miss Gregory!!!
Sarah doesn't believe her boyfriend, John, that model, Adriana, comes onto him when she is not around. So, the plan is that Sarah hides and watches when Adriana comes to shoot for them. Sarah is appalled at the flirty behavior towards her man that she witnesses. The shoot has now changed directions and they will BOTH be giving this flirty girl a hard spanking together!
CLICK HERE TO SEE THE FULL HD FILM OF THE FLIRTACIOUS MODEL
… or view this as part of the reduced price Sarah Gregory Pass (2 site access)
*******************************************************
A visit to the Clare Fonda Network of sites next shows they have been relentlessly busy – all these new updates and films are now out and being viewed by the members of the various specialist sites that you can view individually (as each site is MASSIVE in its' own right) or as part of the best selling Clare Fonda Pass – combining up to 5 sites access for a fraction of their total monthly cost (highly recommended!) let's visit a few of these sites and see what you might be missing 🙂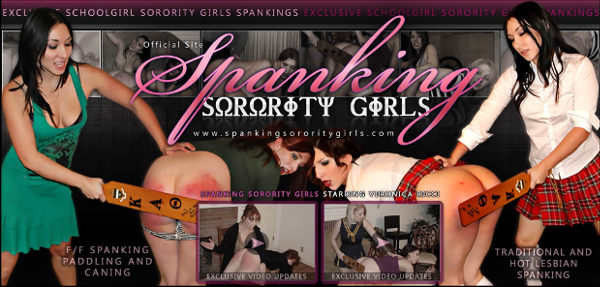 In episode 60… Cheyenne, Star and Poppy are all waiting in Sister's office. They are in trouble because one of them made Veronica cry. There is only one way to weed out the true culprit before Sister arrives, and that is with some serious hard spanking that includes the use of a wooden mirror. Both sides! Can you guess who finally admits to being the bad girl? See if you can spot who from the images below:
******************************************
Our next visit to SpankedSweeties.com – (the specialist site for 1st timers, interviews, growing up roleplays/fantasies) sees a continuation of new girl, daisy Elizabeth, enact more growing up roleplays around babysitter experiences and getting spanked by members of her family! Checkout more of her below:
Young Daisy Elizabeth was spanked by her nannies growing up. Many times, she confesses. Cheyenne Jewell plays her first nanny, sexy Sandy plays her later nanny. Daisy talked about a crazy birthday spanking she once gave to a friend (Cheyenne takes this one for the team). Daisy also fantasized about spanking her nannies, so she spanks Sandy. There are lots of good spankings with Daisy on all curvy bottoms.
See MORE exclusive Daisy Elizabeth spanking films from this site HERE
***************************************************
& finally from this group of sites… the ongoing and amazing cheerleader epic that makes the Exclusive Education series this year – EE9 "Cheerleader Camp" nears it's close in all full film updates, this is a reminder of the utter mayhem of having so many girls in cheer costumes getting spanked in an enclosed space – (I heartily approve!!!) What is there not to like when you are getting spanked by Snow Mercy AND the delightful Christy Cutie?
It's summer time and eight beauties have arrived for cheerleader camp! Snow Mercy is the camp coach – and Christy Cutie is from her same school, so she doesn't want the girls messing with Christy. But while Miss Snow is away, Christy actually picks on the other girls, who then spank her, which Miss Snow sees. So Snow spanks them otk one at a time with her hand. Then she allows Christy to spank each one on the other cheerleaders. Then both Snow and Christy spank them 2 at a time, with hairbrushes. But when Snow discovers that it was actually Christy who started it all, she spanks Christy with hand, hairbrush and the dreaded cane. The class of 8 schoolgirls are Christy Cutie, Willow Lynn, Koko Kitten, Alex Reynolds, Chanell Heart, Lana Lopez, Yasmine DeLeon and Lilly with camp coach, Snow Mercy.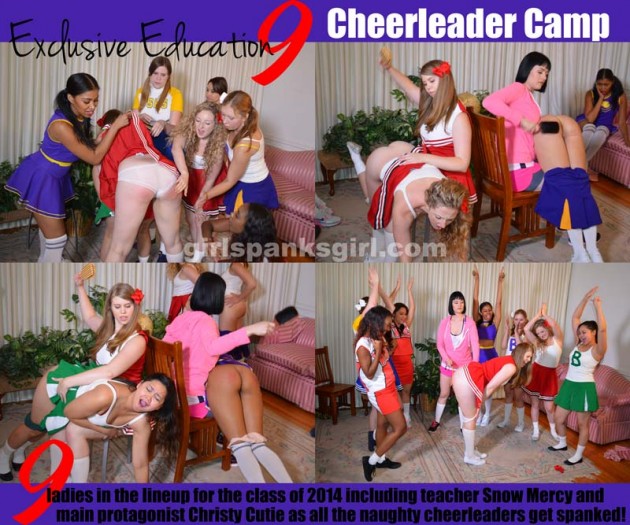 All the Clare Fonda sites featured here can be viewed as part of the ClareFondaPass.com

****************************************************
Something a little different now as I recall a recent update from SpankingServer.com – Those of you who have subscribed to this excellent site might be pleasantly surprised that the owner and webmaster, Peter, is usually speaking English to his models, I'm not sure if that is because the girls are not always Slovak or East European in origin… or if he wants to broaden the appeal of his site… but I approve either way! This beauty, called Yasmeena (it's hard to tell what country she comes from as she is speaking English – not her native tongue but it's more than adequate… and rather cute, actually!). She takes a rather painful hard caning once strapped into the bench… oh, & I love their implements and devices!
Yasmeena has a "girl next door" quality that I like about her… don't you agree?
MORE caning & severe punishments of pretty East European girls can be found HERE
***********************************************************
& why am I showing a State map of Texas? All will become clear soon enough!