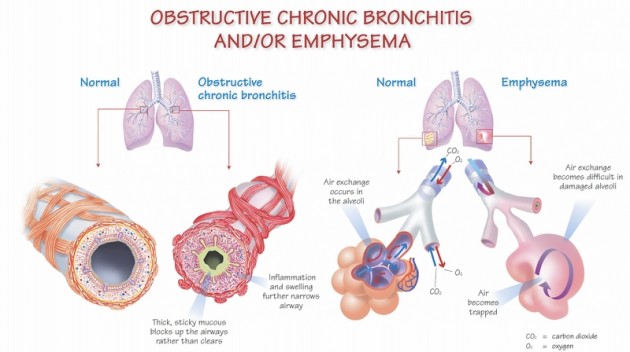 I might have bored you with my recent new found ill health, well, today I had my long awaited Doc's appointment here at home and he wanted to ensure that I do not have COPD instead of Asthma… (COPD is a term for, among others, emphysema and chronic bronchitis which are often interlinked making it a nasty condition!) I didn't quite know what it was or even imagine I might possibly have this terrible condition in it's early stages until I got home and looked it up… needless to say, I think I'll wait until I take my "Spirometry Test" which has been booked after I take a course of new meds which should help diagnose exactly what I have. In the meantime I am going to be still here boring you with my blog ramblings and site updates for the foreseeable future at least! I will announce my own exciting special new girl update tomorrow (the first of about 6 over the coming weeks!!!) & I am excited about her introduction as we made some really good films together at the recent Crimson Moon Party… as you'll see tomorrow from her unique introduction.
Tomorrow, real lifestyle player Melody makes her unique OTK & intimate spanking intro at AAAspanking.com !!
But in the meantime, let's check out some other fabulous new updates and the first today is a stunning reworking of a classic that had me gasping for air! No! Fear not… not the asthma  but the sheer stunning beauty of Sarah Gregory getting spanked by "momma" Chelsea Pfeiffer in her latest long play production at MommaSpankings.com – and just "wow!" – this has everything you could want… mommy/daughter roleplay, cheergirl uniform and both Sarah and Chelsea at their best… it also happened to be a good hard spanking film.
WARNING: Images below caused me severe #TrouserArousal – watch out for damage to your undergarments if viewing the following images as I can not be held responsible for stretched stitching or spoiled gussets, thank you 😉
Cheer Lies – the new film starring Sarah Gregory & Chelsea Pfeiffer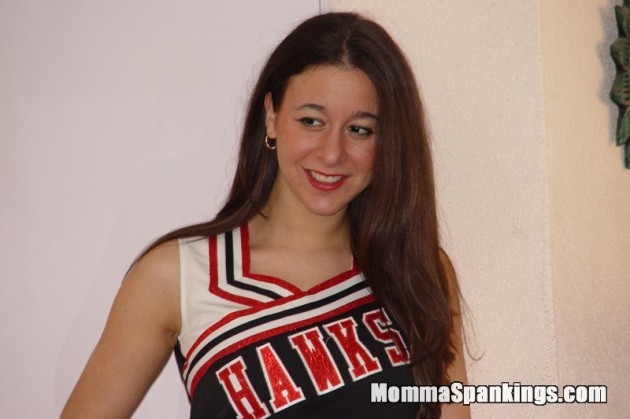 This video is from Sarah's archives. The wonderful Chelsea Pfeiffer portrays Sarah's mom in this classic. This video just HAD to come to Momma Spankings and be brought to people's attention as it is one of Sarah's harder spankings from the classic Sarah days when she began her career. You don't want to miss this one. Even though not done originally in 1920 HD format, it is still an amazing spanking video which has been remastered to the best qquality possible making this an absolute "Must See" addition to the "Momma style spankings" Collectors Library.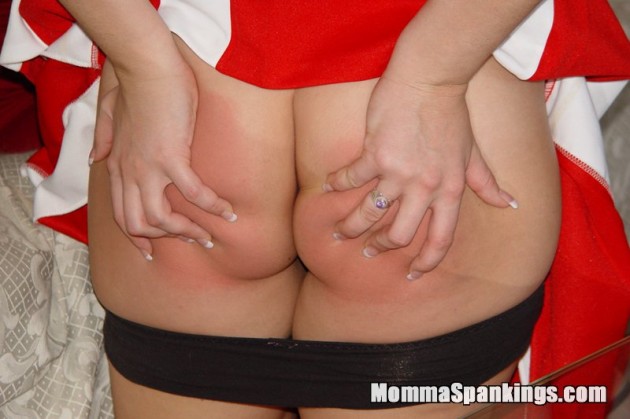 See the FULL film HERE at the unique Momma Spankings website

****************************************
At Sarah's own namesake site… SarahGregorySpanking.com – I helped her out when she asked me to spank Alex Reynolds for letting her down. I love helping out with real life requests… so this movie was fun (for me) to help bring to life… and I remember this well as we were both staying in LA in February with Paul & Alex & I had just spanked her in a very hard OTK spanking film earlier for my own site (this went up a few weeks back HERE in case you had forgotten… an awesome OTK film, by the way) – & then had to do it all over again (sigh, it's a hard life, eh?) but fortunately I had use of a leather paddle too as my poor hands were starting to feel the burn of some excessive spankings I had been dishing out… seriously, I gave poor Alex some pretty mean spankings in this (& my own) film… check out the images below which are both screen shots and stills which members can view along with the new film in full at Sarah's site now!
Alex Reynolds & I in the film – "Spanked for Sarah"
Sarah has sent her boyfriend John to spank Alex. They had plans to room together in Vegas and the room was under Alex's name so Sarah and John couldn't get in without her there. Upon arriving they found Alex not there and they had to wait for her for a long time. Alex didn't even call to say she would be late. John gave her such a thrashing for her tardy behavior upon Sarah's request.
You can see the Full Film – HERE at Sarah Gregory Spanking!
Both sites above are awesome in their own right but you can also get access via the discounted double site offer
& that is via The Sarah Gregory Pass – CLICK HERE FOR FULL DETAILS

**************************************************
A few missed updates on my part with a couple of new intros I was well aware of since I helped with this final filmshoot for Paul's final "big" shoot in the UK at  NorthernSpanking.com – This was a fantastic location which Paul had been eager to film at for some time… we all had a blast and I felt privileged to be a part of this closing chapter as Paul now concentrates his efforts for his site on the US West Coast… (which I am somewhat jealous of since there is a willing supply of fetish models in LA!) I know he will still continue to film here in the UK too (as will I… and I am later this month) but they will be smaller and more specific model related shoots, which I understand fully.
Firstly… Seeing Zoe Page punish Satine and Masie (again) was a joy to watch… I wonder if you can guess why? (below):
Miss Page corners two uninvited guests in on of the many outbuildings on her estate. Trespassing is an offence and the girls are going to be stripped, humiliated and thrashed.
The 2nd is a retro feel with Amber West's intro… I watched Paul set this up, a master at work as he paid attention to detail… even the BMW was a classic car that fitted in with his 80's style shoot… Amber's uniform rounded this off nicely.
Here's what Paul had to say about Amber's intro to the site:
Another fairly swift introduction of a new face at Northern Spanking. And what a pretty new face too! We were really pleased to shoot with Amber, a well-known UK fetish and glamour model quite recently.
This scene is another of my recreations of my youthful exposure to corporal punishment imagery. And whoever says it should be in black & white will now leave the room! Amber looks super-sexy and super-scared in anticipation of her visit to a professional disciplinarian as directed by her ladies academy. She fears what awaits within and rightly so. What waits within is a world of pain and humiliation for poor Amber.
The 3rd features Rosie Ann – who we have both filmed with (just before I left for the USA a few months back) – & I intend to again very soon! I love this girl! She debuted at my site recently and she will be a very busy young lady over the next few months in both spanking and bondage which she genuinely loves… some of her images made "Kinky & Popular" on Fetlife which were amazing! What a trooper… hehe!
A few teaser images of Rosie Ann's 1st appearance along with Miss Jessica who also made a memorable debut as the nasty female top (who I had a lot of fun with and hope to meet again at some point as well!) "Thank you ladies for a fun few days!!!"
Paul had this to say about his next new girl!
A very warm-bottomed welcome to Rosie Ann, our latest subbie starlet! Just 18 when we shot with her, Rosie is a true lifestyle submissive, with far more experience than she has any right to! This is a double debut as this is the first thing featuring Jessica West, or Miss Jessica, whichever SHE prefers! She may be small but crossing her is distinctly unwise! This gentle introduction for Rosy Ann sees her receiving spanking and a taste of the slipper, just as many young girls did in the privacy of their own, or their big sisters bedrooms in 1986!
You can see these full updates and much much more at NorthernSpanking.com
*********************************************************
Here's also a stunning reminder of Rosie Ann's first appearance at my own site a few weeks ago… click on her images to view the full screen video images (I've reduced them to 1280×720 here but members get them at full HD size, the same as the film at 1920 x 1080) which have never before been shown anywhere first outside the members area except here – I just "loved" that "cosplay" Japanese schoolgirl uniform and my twisted storyline… She will be featuring again soon but I have so many new debuts coming, it is frightening… I need another site to get it all out, lol!!! (hmmm, that gives me an idea! More on that in a moment)
Rosie Ann was the last girl in her detention session on the school trip before they all had to catch the bus home and she begged to go to the bathroom early as she was aching to go. She is just 18 years old and should know better but she was caught short and made a bit of a mess in the bathroom, wetting her panties and the floor. Her teacher caught her trying to clear up the mess and punished her further with a humiliating bare bottom spanking followed by forced pantie washing and wearing of the wet cotton undergarments underneath her short skirt as a shameful reminder before she was sent on her way to the waiting school bus to take her and the rest of her classmates home from the weekend retreat!

****************************************************************
That idea I had is this… my poor PPV site naughtybottom.com has been vastly underused and it is about time that was put to rest… I know many people love to download the odd film instead of a membership… so here is my deal, I think I will also put up some films in advance at naughtybottom.com to give it some more exposure whilst I also get to make sure this site offers better value, WAY BETTER VALUE than, say, Clips4sale – I have control over that – whereas when I upload films to the Clips Store it usually works out at around a Dollar a minute… it's fixed like that… so in this case the full 30 minute film… which has not been offered in this format until now… can be viewed for just $12.95 and not the $25-30 or so it would cost at C4S!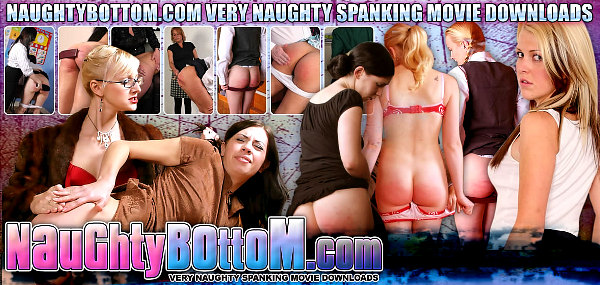 The film? Check out the link below… and I have a few reminder images too… there is also a free clip in MP4 (there are 2 versions, both in 1280 x 720 of WMV and MP4 which has not been shown before of this classic that started my Wheelbarrow Quest with a vengeance… Ladies & Gents, I give you the full uninterrupted Mishka Devlin Wheelbarrow Spanking "Quintology" – yes, all famous 5 segments joined as one seemless film as it was once intended! Divided into the various fantasy wheelbarrow style spanking sections of:
The innocent looking girl next door
Naked girl with just sexy stripey socks
Dropseat PJs
Schoolgirl in a short revealing gingham dress uniform
Sexy naughty Girl Guide uniform spanking
Mishka Devlin's Wheelbarrow Spanking Quintology
Mishka Devlin only ever worked with one English Spanking Company – but the films she made with them were outstanding and she soon retired from The Scene which was a great loss as she had the perfect girl next door look without ever being shy. This enabled this fantasy series to be born and spawn a whole series of further intimate spanking re-enactments with other girls. But this producer will always remember the first time this collaberation took place. You will see 5 different scenarios of Mishka in the now infamous "Wheelbarrow Position" as she was spanked as the girl next door, in her dropseats PJs, in a girl guides uniform, as a schoolgirl and in some very sexy stripey socks and wearing nothing else! 2 cam angles show the spankings in intimate detail from the spanker's view and also as a general view so we see how she is spanked intimately!
This is your chance to download the complete 30 minute HD film for the very first time!
Click image below to view the free MP4 HD Clip of Mishka's wheelbarrow spanking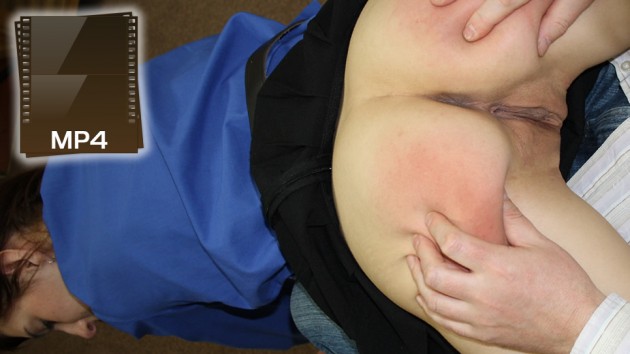 THE FULL LIST OF CHEAPER & ORIGINAL CLASSIC SPANKING FILMS ARE ALL AVAILABLE HERE
*********************************************************
Finally today, a beautiful image set that accompanies the new spanking film out at English-Spankers.com with another new couple… I haven't seen this girl with a cracking name before, she is called "Honesty" – talk about setting herself up for a fall… this is one site that consistently has amazing photography that I admire… along with their films, it's hard to beat generally. See what I mean in this self spanking film, which goes a bit wrong for Honesty when she is caught doing things to herself a young lady would rather not get caught for… all will become clear! I have also got a free HD clip for you to view as well! Enjoy!
Honesty is going through her bosses cupboards and finds some spanking paddles. She soon has her skirt raised and with her black stockings on display is giving herself a good hard paddling. Her boss is watching from another room and after a while he offers to take over and really lays the paddle on her bare bottom, a lot harder than she really wanted but he does not care, a good full strength paddling not only by herself but from her strong armed boss.
You can view the FULL  film HERE

**************************************************
**************************************************
Back later with my site updates & other spanking news with clips & POV offerings you won't wanna miss!