Oh boy! What a way to start the weekend… if you are reading this, then you are in for a real visual treat as I bring you some very special films, some with clips for you to gawp over and admire too! I won't waffle on so will just get right on with it as these films are way too important to just fill with my inane rambling today!!!
First today I will start with my own site update and as promised, new girl Melody Nore impressed with a rather traditional OTK spanking followed by a much more intimate and revealing wheelbarrow session to see what she was made of (literally!). Now you know I like redheads, there is something about leaving marks on such beautiful pale skin, anyway, I am  digressing somewhat as you will see. Melody and I had a blast making some films from the recent Chicago Moon Spanking Party and she was keen to see if she could take the embarrassment of the wheelbarrow position after I warmed her up with my hand and a very "handy" leather hand spanking strap… since Melody is a big player, her bottom took some time to mark up from scratch and I was giving it hell… as you will see! Incidentally, this was a day after I had paid a visit to the ER for my new found asthma… but the meds had kicked in so I felt relatively strong and gave her a memorable debut at AAAspanking.com
Introducing Melody Nore – making an impressive OTK & wheelbarrow debut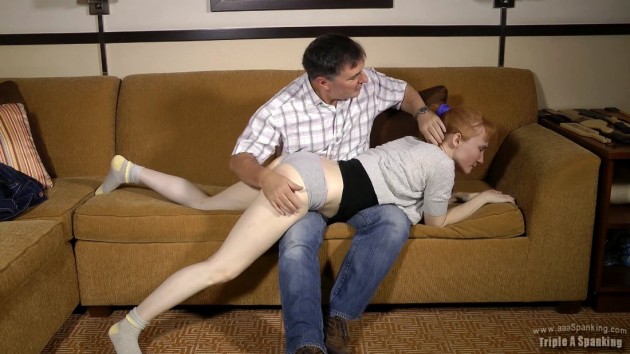 Below is the official storyline with the good sized clip and some more (reduced size) screen images… AAA Members get the images at full resolution (1920×1080) which are the same sizes as the full HD film in both WMV and MP4 versions.
I have made no secret of the fact that I love spanking redhead girls in the past, maybe it is something about their pale skin and they way their bottoms mark up so beautifully? Most redheads I've met have had an amazing tolerance of pain too! So when I met Melody at the Crimson Moon Spanking Party, I was very keen to play with her and also film a few good spanking movies for my membership! I was not disappointed… This was our first and an interesting introduction as I took her over my lap for a more traditional OTK spanking over her shorts, then on her pale bare bottom before I used a special leather hand spanking strap later on… but of course, I also wanted young Melody to become the latest addition to my infamous "Wheelbarrow Club" which you will also discover was a great finale to her first ever film at AAAspanking.com
THE FULL FILM IS AVAILABLE FOR DOWNLOAD HERE

You can also download this film in various full HD formats at the CLIPS STORE
********************************************************
MORE TO COME… I am editing this post… come back SOON!