I don't feel that great, I have been fighting off an end of Summer Cold and seem to be winning (finally thanks to wonderful Zicam) but I'm going to take an early night to ensure I get enough sleep, as that is one thing I never get enough of nowadays… probably my problem right there! Feeling lousy, even for a bit, I feel crap and whiny so am not great company, we men are useless at such things, aren't we? OK… where to start today? let's visit Punishedbrats.com today as there is an amazing Finale and full film available with Joelle Barros spanking Erica Corvina – it IS as good as it looks, I promise!
Artist's Model: Joelle had picked Erica from the many models at the agency to do a commercial shoot to sell computers, despite her reputation of being difficult, Joelle decided to take a chance on Erica under the assumption that if Erica couldn't make computers sexy, no one could. To Joelle's horror, Erica just wouldn't put out any energy during the shoot. Joelle knew how to get her money's worth out of this problematic muse. To motivate her, she took Erica over her lap and spanked her. She started the discipline over her dress. After a time the aggravated artist lifted the dress and spanked the exotic beauty on her panties. Erica let out a gasp as Joelle lowered her panties and spanked the model on her bare bottom.
Many of Joelle's colleagues believed that she was thinking with an organ other than her brain when she selected Erica for this assignment. Joelle was perplexed by this herself. As she spanked the ill-behaved model, in many ways she seemed to be pleased in providing this act of discipline. After the spanking was over Joelle decided to shoot the spanked model in the nude. All would see that she was spanked.
************************************************************
At NorthernSpanking.com – I decided to find something nice for you today from their extensive archives… I don't think I have ever shown you this girl, called Alana Rowan, and she is a lovely cute next door type too that did a few films for them a while back… here is the result of Alana being far too sassy when she decided to go that extra step in dusting Paul Kennedy's piano whilst he was there trying to play it, how annoying…. needless to say this girl got what was coming to her!!! & rather good viewing it was too! Thank you to the vast archives from NorthernSpanking.com for this update.
*****************************************************
There's not much that you can say is wrong with this next update from Sarah Bright's site – SpankingSarah.com with the beautiful Ella Hughes – this was her first punishment film and as you will see, Sarah used a variety of implements including one of my faves, a very stinging bathbrush!
The beautiful Ella Hughes has had her first spanking with me and I have to say I did enjoy administering it. I have now given her the freedom of my toy bag and asked her to chose some toys that she may like to be spanked with, or maybe she will not like them. When she had a good selection I had her kneel in the chair her beautiful bottom well presented and then I set about making it as red and painful as I could and I think I did a pretty good job
CLICK HERE TO VIEW THE FREE HD PREVIEW CLIP
******************************************************
I just watched the 1st part of this film again… Sarah had the original raw data and she thoughtfully remastered it so it is in full 1920x1080HD – well worth the time and effort as this was one of the hardest spankings I have seen Momma Dana give her, and she knew that too! The story behind this long play film is simple: Dana is not too happy to find Sarah experimenting with a cigarette. She gives her a long hard bare bottom discipline spanking that brings real tears at the end! Images below are reduced in size from the originals that members can download alongside the film.
CLICK HERE TO VIEW ONE OF SARAH'S HARDEST SPANKINGS OFF MOMMA DANA
***************************************************
Which kindly brings me onto the conclusion of today's post with both Dana and Sarah again featuring at my own Clips Stores in 2 exclusive previews that you will have only seen here first, and probably only here at this time! First off, I had a special "Momma Boy Deal" with Dana which got me an amazing set of short clips which will go up at POVspanking.com – the first is already up and it is a story arc of a personal punishment that she carries out on YOU! As this is from YOUR perspective as the naughty punishee!!! I know the previews at C4S are crappy, so I have generously hosted a short clip so you get an idea of what is in store as you will identify with the hapless miscreant that Dana is about to spank… but not before she gives you one of her trademark scoldings as only she knows how to!
Check out a short scene of what Dana does best! Scold!
SEE THE FULL CLIP EXCLUSIVE & ONLY AVAILABLE HERE
*************************************
Then…. at the AAA Clips store there is a real treat, not only have I been updating this clip site recently with a whole load of new formats and remasters on top of the new updates… here is a special early preview that members will have to wait some time for… one of my best and naughtiest wheelbarrow spanking clips which sees Sarah Gregory getting quite wet and excited at the end… though from the clip you will see (I'm not giving it all away, lol) you will think otherwise… but you get an idea from the image shots as well, ok? Remember, this is NOT available to members at AAA Spanking for at least 6 weeks! So it's worth it to feel smug if you are one of those guys that likes to only download the odd interesting clip!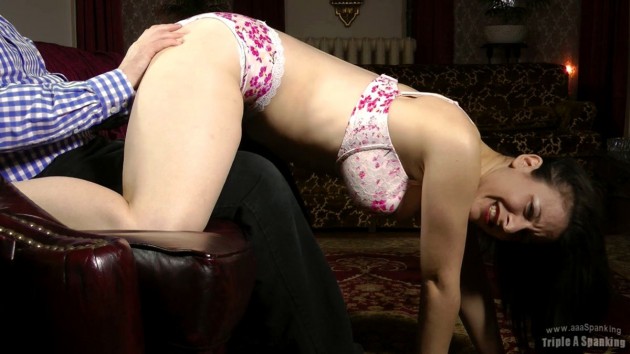 See the free clip below – the full film contains more twerking, more intimate spanking and explicit close up ass and pussy shots from this naughty view angle you see in the images above!
SEE THE FULL LENGTH WHEELBARROW SPANKING FILM CLIP HERE
***********************************************************
I also updated another blog with some great content you may not have seen before, click image below and it will take you to my post…