Hello everyone… it has been a while since I last blogged from the UK, but (sadly for me) I am back, and now over my jet lag… and looking at a massive backlog of work I have amassed despite doing "some" work whilst away… I hadn't really got to grips with the blogs or as much photo editing/updating for the website that I had wanted to do. I am also seeing the Doc tomorrow to discuss my new found chronic asthma that I have had since just before my long American trip which actually spoiled my time in Florida (badly!) … especially at Fetishcon in Tampa where I had chronic night time asthma, unable to sleep properly… sadly for me, I also think staying at Dodgy Towers here in the UK is one of my main triggers. This hurts as I love spending time with Dave: drinking, chatting and putting the world to rights, one hard smack at a time. But I think I will take an inflatable bed next time (lol) – no pesky dust mites in that baby!!! Pet dander looks like being a major trigger too and I now find myself looking at venues that are free from animals… I love dogs and cats too… this just sucks so much! I was just about getting better or managing it more when I was in Vegas and then all it takes is one night in a multi trigger environment, and I'm back to square one, struggling to breathe – it takes days to recover properly too. I was wheezing and gasping for breath all the way back to the South West on the train from Dave's and still have an annoying night time cough now… but I think my place has many triggers too which I am identifying slowly. Sorry to bore you with all this, but of course, if my health isn't what it once was, even briefly… then I won't want to blog or update when I feel I am struggling to breathe! You can't imagine how frustrating this is to me… a few months ago, I was healthy as can be… not a care in the world, the worst thing I feared was the odd hayfever flare up in summertime… this is a whole now world of shit I am discovering and I have to try and manage it – or as I have been told, it WILL kill me if I don't watch out! How horrible is that???
Hopefully my Doc will be able to help manage my symptoms… and I can try and lead as normal a life as possible – all I will say is that asthma SUCKS BIG TIME (I think there is a pun there, too) and I would never wish this crap on anyone…OK well, maybe a couple of spivs I once knew from Yorkshire (lol), but that's it.
Well, I have waffled on for too long, I think you all deserve some catch up spanking posts… and I have some treats for you today! These are all recent updates, I am catching up myself so bear with me… the first I am featuring today comes from Punishedbrats.com and if you can't wait for my awesome films that I am editing now of Mandie Rae for my site… then please do check out the many films she has made with the PB guys! This is called "Failure will not be tolerated!"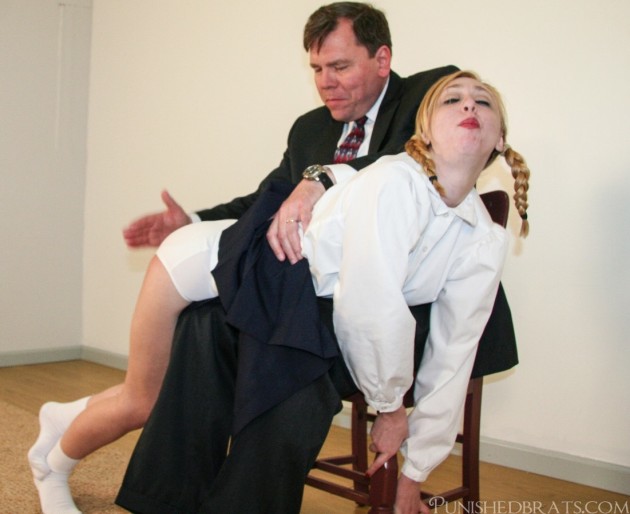 Mandie had a bad case of senioritis, a serious problem in which seniors nearing their end at school have trouble staying motivated. This malarkey is not tolerated at the Amber Wells' School For Girls. When Mandie did poorly on her midterms and was called to Professor Valentine's office, she was all but certain that she was going to be spanked. Before arriving at the Professor's office she thought "I hope he doesn't spank me on the bare." When confronted by Dr. Valentine, Mandie was chastised for doing much less than her best and she was to be spanked for it. With her composure gradually crumbling, all Mandie could say, in a tremulous voice, was "I'm sorry." She soon found herself over Dr. Valentine's lap, skirt lifted and being spanked upon her regulation white panties. After about a minute or so, Mandie's greatest fear was realized and her panties were lowered. Under the pain of the spanking, Mandie soon forgot about her exposed bottom and pleaded for this punishment to stop.
Mandie cried and pleaded for her spanking to stop. Always being a superior student this punishment was epically painful. A humiliation suffered by others but not her.Following her spanking Dr. Valentine had her stand in the corner and think about her mistakes. While there Mandie thought to herself, "This never happens again." After she was let out of the corner she had every intention of going to her room and hiding. She was horrified to learn that this day from hell wasn't over as she was required pay Headmaster Pierson a visit. When she arrived she was nearly paralyzed with fear when she learned that she was to receive six strokes with the can upon her bare bottom. The dean put her in place and delivered the first stroke. A loud "Fuck!" came out of her mouth involuntarily. After a warning the next five strokes were delivered to the contrite schoolgirl.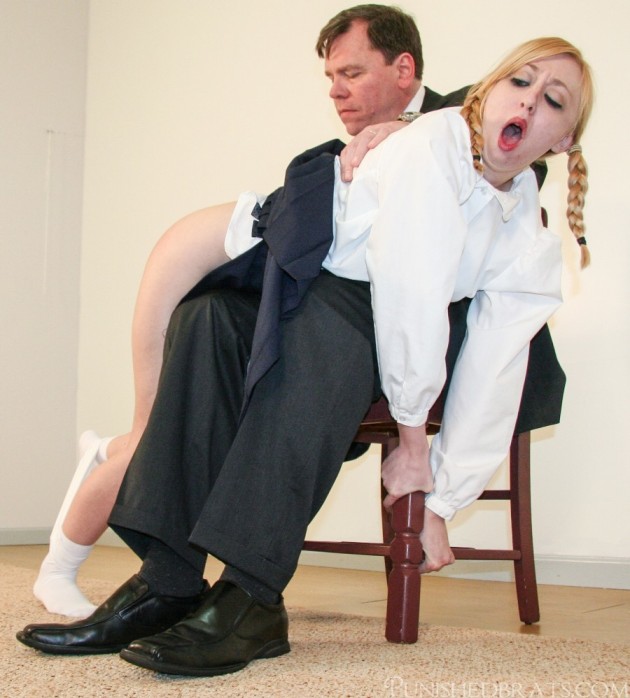 Young tearful Mandie features in many great films at Punishedbrats – See HERE just how many!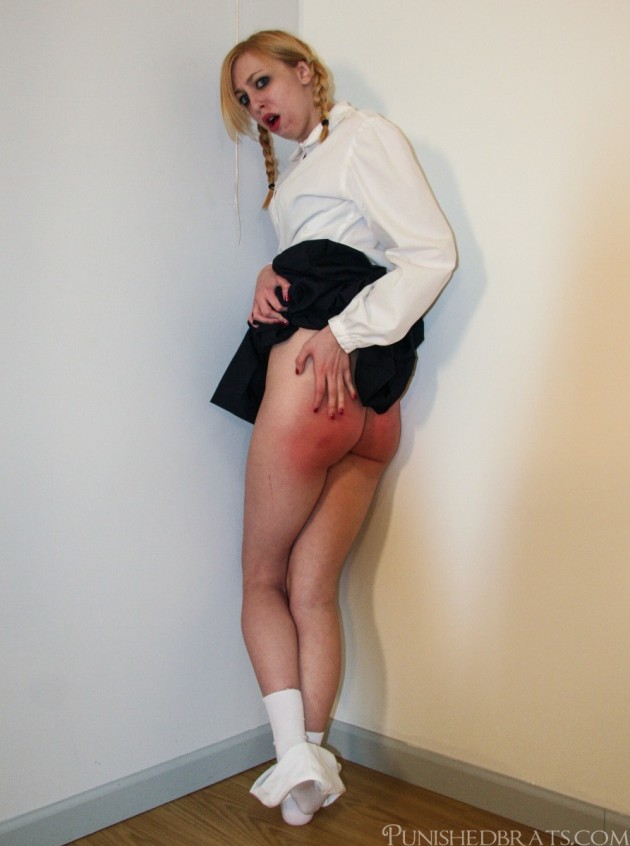 ***************************************************************
At FirmHandSpanking.com this week there's a continuing new storyline with the welcome return of pint sized Monica Bouget… now I never feature Alison Miller, I just don't like watching her… but with the vast collection of films from this site, it's a minor irritation as I usually just ignore her films – period. I would have with this one only this segment only features the punishment of Monica… Alison is just watching (unfortunately). So, as this film is about Monica and that jiggling bouncy bottom which is a total joy to watch…  please enjoy the images and apologies if you see the red haired one featured here on my blog… it was a necessary evil. The other bonus is that Richard Anderson (who I had met at the BBW Party in Atlantic City earlier this year) is in it and I rather like his style… so this is a win win situation… that, and the countless other videos that are available at this great site!
Monica Bouget's tight jiggling bottom spanked long and hard for bad behaviour
How can gymnast fit, tight cheeks jiggle so much? Exotic Monica Bouget is back! She's spanked outside by Mr Anderson so she can go on a European exchange visit. Hot in school uniform, gorgeous with panties down, she's laid over his knee: perfect!
Check out the FULL Movie of Monica's delicious butt blistering HERE
*************************************************
Finally for today… the beautiful Cory is featured in the latest episode from one of the many uniform niches at Spanked-in-Uniform.com in the catholic schoolgirl section at the "Bellview School for girls."
Cory gave the Headmaster a letter her mother wrote to Him. She had broken her wrist so she couldn't discipline Cory at home and the little madam had been playing up something dreadful. She asked the Headmaster to give her a sound bare bottom leather strapping and he obliged. He told Cory to bare her bottom, go over his knee and her bare bottom got a nasty strapping leaving her very tearful.
See MORE of gorgeous Cory in many other uniformed sections HERE
********************************************************
That's it for now… I will definitely be back with plenty more updates tomorrow… I will also probably drone on about the impending crisis that is hitting the UK at the moment… as the Pound in my pocket has already diminished thanks to the speculators wiping billions off shares in Scotland over the looming Scottish Independence vote, which, as it stands… would appear that the YES vote is winning to leave the United Kingdom… a union that has actually benefited our 2 previously warring nations for over 307 years since 1707! It is a disaster as far as I am concerned, but if that is really what the Scots want… with such close ties between us over the years, with business and marriages between our peoples so interwined and dependent on each other, it will be hard to part (for me) in my opinion, I still think we are better together and it will break my heart to see our united country ripped apart… but fucked if I will, as an Englishman… concede – concede and concede to demands time after time to keep Scottish people on side when the Scots already have many perks us English can only dream of. No more bailing out shitty Scottish banks, no more clinging to Sterling, no more bail outs – period. Please don't get me started on oil revenues being solely Scottish – what crock! Oil & Gas revenues are dwindling over time… a tiny population of 5 million and a state driven socialist economy with ludicrous pensions which will get destroyed by the greedy banking speculators. But if they truly want to leave the union, let them… God knows how we will sort out our intertwined armed forces and of course the Nuclear deterrent – the main base which is located in Faslane, Scotland – as a newly independent Scottish state wants to be nuclear free – so what a gloriously fucked up mess this might turn out to be!
& don't get me started on this odious self serving toad, Alex Salmond!
Stay tuned! "Freeeeeeeeeeeeedom!"