… doesn't always necessarily have to stay in Vegas in my opinion! I am typing this very brief blog update to let you guys know that my new film update will be a little late this week but I aim to get it out by tomorrow with any luck. Tonight I shall be watching Britney Spears at Planet Hollywood on The Strip… I am sure it will be fun and I have a nice day ahead planned by the pool. I feel I deserve it, I haven't really had much chance to actually just sit down and relax like it is a real vacation at any point… I was too ill in Florida (with asthma) to ever truly enjoy myself… so this is what I plan to do today! A couple of images should keep you in the mood of where I'm at. I have a lot of catching up to do when I am back in the UK by next week.
This is the view from my hotel window as I write this blog post…
My view of the pool yesterday 🙂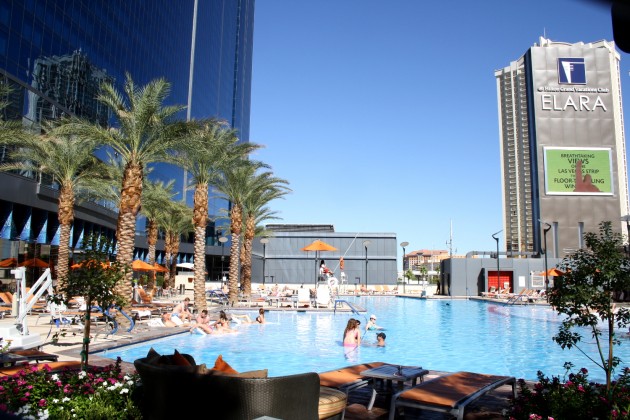 Last night's view before I went to sleep…
*********************************
Below are a few galleries from a few producer friends that you should be checking out, these are HOT!
********************************************
Oh… and Zoe Montana still has the most amazing bruising marks from our caning we shot last week and I rather enjoyed seeing her show them off at the pool… I spotted a few glances from some vanillas… heh heh! I am going to miss being in her company, she is a lot of fun to be around… I will try to get a group shot of us together later today with Sarah Gregory and Dodgy Dave. Fun times! 🙂