OK, I promised myself I wouldn't moan on here, but where else can I? The last couple of weeks have probably been the WORST sales wise I have ever had the misfortune to endure. I don't know why or what I have done so wrong that perhaps nobody is promoting my sites anymore – so less traffic, I am wondering whether I should just knock all the other site promotions on here and other blogs I do and concentrate fully on my own and boost revenue that way: which is a great  pity. I love promoting and showing what others are doing as I love this so much, I think it shows. However, what is a fact though is if I have another week or 2 of this – I am in deep trouble financially. This is no idle bleating, I am at meltdown currently! I am also getting a little depressed over the current state of affairs.

Remember, I gave up my job so I could concentrate on the site and also because I'd be pretty much unemployable currently flying over to meet up with Sarah often (that isn't helping financially, of course, lol). OK, so I can try and laugh it off right now, but it really doesn't help when I see a couple of determined individuals sharing my content across the internet forums along with many other spanking producers they are targeting. I am also having to put up with some Dutch prick who keeps trying to get in and download my content with stolen credit cards, occasionally this jerk gets in until I see it and kick him out and inform the billing company some poor person's card details are being used as I void the transaction so they never know about it. It makes me laugh (actually I am being ironic) when one uploader pleads for the freeloaders to sign up to his affiliate link (in effect like a membership, oh the irony) so he can continue to upload more stuff… er, it's a fucking STOLEN card each and everytime… maybe he has to pay for a list of cards? They obviously do alright in whatever backwater authoritarian or totalitarian ex Soviet Bloc country and rock they crawled out from under. I have often wondered how they do it… whatever it is – it is CRIMINAL: FACT!
We are also all well aware of their behaviour and where they mainly post to and the filelockers they use so all I will say is that negotiations are ongoing with the filelocker companies they use (the filehosting company concerned) who are cagey about such things as they make money off these guys as well as they are making money off us but in the end we will win and they will lose their accounts and monies – but they are coming to some sort of arrangement. I hope the idiots doing this read my blog or some freetard can pass it on because although I am not blaming loss of income/sales as such due to this, I have devoted a lot of time to trying to protect my content and I am sick to death of it. this is where I suffer when I could easily post more updates on other blogs that I have let go dormant or promote myself in another way, as well as paying others to look after this shit. It is copyright theft pure and simple. Without protection how am I supposed to continue if it is out there unfettered and free to download, what is the point of a protected membership site when MINORS and those under 18 can now download the films in full?
The knock on effect, thanks to these selfish uploaders, (I wonder if they ever think how hard it is to run and maintain a site in today's current harsh economic climate and if their livelihood was threatened, would they stand for it?) I have suffered so badly the past few weeks that a planned shoot I had for next month looks like being shelved as I just can not afford to do it now: It was something I needed for my POV store too just as we were getting somewhere with this project and really starting to get these POV films right! I had great plans – but I simply can not afford to do anything at the moment. All I can ask is that you PLEASE support my site if you want me to continue without fear of wondering if and how I can currently pay my bills… Xmas is coming and that means car tax and insurance for me on top of any additional expenditure that we all suffer, it's a shitty time of year to have to think about that PLUS my tax returns for January. I have nothing saved for that so will have to add that to a credit card hopefully that isn't maxed out. I am at critical, like another site that has been mentioning this and I know there are other spanking/similar niche sites in the same circumstances.

I don't mind telling you my membership level is near an all time low too (so recurring memberships are less which is hurting me when my sales have plummeted)… it's not quite as bad as in 2011 when I nearly quit when the levels were just unworkable – I came within a month that summer of giving it all up and felt like I had come so far only to see it starting to turn full circle currently. I am working on the site and design and other things hard behind the scenes, but something has to improve, extra income would mean a new site design but that has had to be shelved too – this is currently my worst ever October by far… even if I was to recover, this month has wiped out any gains I may have made earlier in the year (September wasn't that brilliant for me either) so bringing me back to square one. So now you know where I am at… do I discount my membership? I have tried that in the past and I am not sure the Trial option's working anymore (that will be pulled without warning): one thing is NEVER to devalue what you are worth, I know that from one particular network of sites that had ripped me off – you know the ones I am on about, the dodgy Italian Brothers that ran that well known network… and ran it into the ground until they sold it in 2011 owing people like me and other producers/workers £1000's). I think my pricing levels are pretty fair considering how much sites used to charge, you DO get value for money like most other sites I promote here… and I know I make some really cool spanking porn erotica… I just have to convince you all that I do! LOL!
I honesty don't know how the present membership model continues if this outright and wholesale copyright abuse continues at our loss and profit and greed of others. Membership sites were set up in the late 90's early 2000's when file sharing networks weren't as prolific or as sophisticated. Of course all that has all changed when those sharing for the sake of it (which I can understand) suddenly realized with the help and complicity of such former bastard filelockers like Megaupload, Hotfile, Filesonic, Oron etc encouraged file sharing and gave incentives and cash for affiliate sales and per 1000 download quotas etc… even image hosters do it and new companies set up all the time as these copyright infringement companies make millions! I have always done this for the love of it, I am a spanko… I also have the RIGHT to earn money, I have the right to profit and make profit, plough funds back into my business, employ others and grow organically and pay my taxes that are due. Currently this is not happening and without a fallback job, it is impossible at the moment as I had described… things are looking grim. So I ask again, please, if you are thinking of getting a membership, support me and my site: I really do have some amazing content coming, I have unedited films which I did this summer which are just amazing, i want to be able to share these with you at my current site!
OK, I think I have bleated long enough. This week for example, as part of the FREAKY FRIDAY Event, which I have kept going (but understandably am pissed off as this is EXTRA work my end for no obvious gain at the moment)… anyway, I said no more moaning *ahem!* – so again, this is the Friday lucky members get a film IN ADDITION to their usual update. it is out in full and is a rather sexy close up spanking of Ashley Graham in some rather fetching tight stretching gold shorts – or hotpants as we call them here in the UK!
So here is a special free exclusive clip, it's a short teaser clip of the spanking on her tight golden lycra pants… you'll get the idea, along with some screen images (this short film has over 130 pics for members to download too!)
If you can't view this clip – download the WMV version HERE
Ashley wore a very sexy tight fitting pair of golden lycra shorts or hotpants as John loved to call them! This film contains little dialog, it's a gratuitous spanking film with some nice close up angles and shots with lovely Ashley's spanked bottom being the star of the film as it should be. Watch her take a very sexy spanking across those tight golden pants then with them pulled down revealing her bare reddening bottom as her spanking was finished with a hairbrush that grabbed her attention. It's a great short film which you won't want to fast forward, admire one of the sexiest bottoms getting a spanking in a variety of great close up angles without the distraction of a top talking too much! Perfect!
THIS FILM IS ALREADY AVAILABLE TO DOWNLOAD AS A ONE TIME HERE
**********************************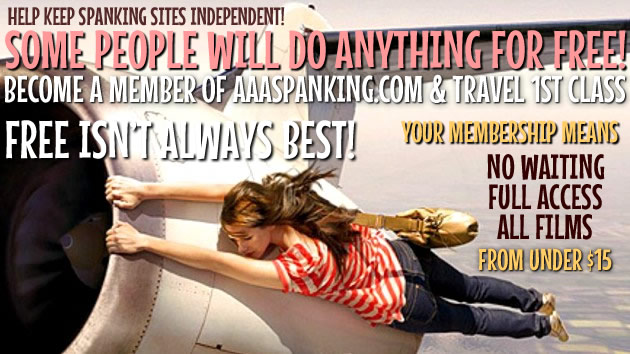 This full film was in addition to the regular update at the site earlier today as I had mentioned it was part of the "Freaky Friday" monthly bonus – the other update was the concluding part to the long play film "Double Trouble" with Lola Marie & Wynter Sky… they both had a hard wooden paddling and caning as you'll see in this reminder…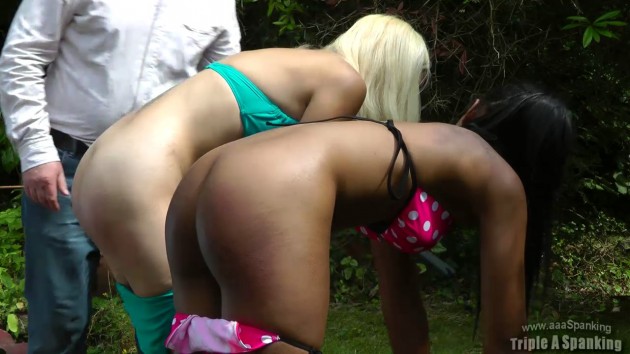 Lola Marie & her friend Wynter Sky had been secretly using one of her neighbour's beautiful yards to sunbathe in as it had a special "secret garden" that they both loved to spend time in soaking up the sun's rays in private. However they always left litter behind and disrespected John Osborne's precious well kept yard so he had been trying to find out who had been causing this mess until today when he found them both in their bikinis. He had already taken their mobile phones and other personal effects found not far away from where they were hiding out in the garden and you can feel the tension mount as he sneaked up behind them both. The girls were suitably embarrassed when confronted and they quickly submitted to his unique form of harsh and humiliating discipline when they knew he had their personal items too. They both took a caning and watched each other take a hard wooden paddling. He had also made them attempt to use this heavy implement on each other as part of their punishment so that they'd remember the consequences of using his place without asking for permission. However, he just whacked them harder with it after they feebly used the paddle hoping they would avoid further pain and suffering. Enjoy this end of summer romp to see the girls given a good spanking and whacking with their tiny bikini bottoms pulled down, looking very embarrassed and vulnerable as John took advantage of this delightful situation!
THIS FILM IS PART OF THE MEMBERSHIP WITH OVER 220 TO DOWNLOAD!
of course, the film can be viewed as a one time download for those that  only wish to view the odd films (this version is WMV but as usual other formats of MP4 and MOV are available)
Other updates this week, in case you didn't need reminding was the usual new film (Wednesday)
They Never Learn – (last ever appearances from Jasmine & Sophie)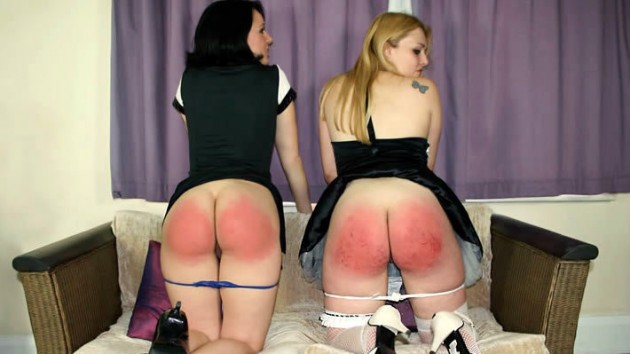 Concluding part to "Reckless & Feckless" (cute tearful Mandie Rae's debut!)
All good stuff, these films are also – as you'd expect able to be downloaded at the CLIPS STORE if needed.
For a limited time, you can still purchase a full access Trial Membership for under $15 – Is that a lot to ask for my site? I think not. Help support me or my fellow producers by becoming a member of my site or the site of your preference… seeing some of these idiots pleading for content to my site when they could spare just $15 and download to their heart's content… I don't get it *shakes head* "sigh!"
Without your assistance, none of us can continue, so please don't let those that share our content for their own greedy ends harm our sites, thanks. Have a great weekend y'all!