Cheeky Monkey – out now to download as part of Halloween week at Triple A Spanking
My turn today with the beautiful and talented Sarah Gregory for AAASpanking.com – We had a lot of fun filming this despite my grumpy attitude at the start… I genuinely don't like Halloween, and her real enthusiasm for it and other made up nonsense holidays, parties or organized events like this got me thinking that we could make a film about my moodiness and her cheerful chirpy disposition. What better than to really annoy me by making me dress up in a cuddly animal onesie… I ask you, a grown man like myself, dressed up as a zebra and her as a monkey? *sigh* You'll see her jumping about playing with her tail, giggling… with me looking increasingly uncomfortable until I snap and decide to put an end to this. Of course I can't stay mad at Sarah for long… who could? I have to admit she looked very cute and I couldn't resist "spanking my monkey" – heh heh – look at her, she is so cute, and also I started to have fun when I began to remove her cute costume so I could spank her bare bum!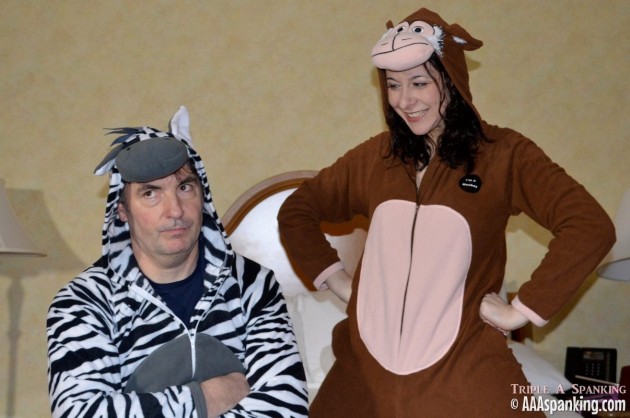 "I'm a monkey… it says so on my badge, see?" Sarah said… as I looked away despairingly.
John had always hated Halloween, to him it meant the coming of winter and the shorter days. Sarah loved this time of year, but then she loved any excuse to dress up and so she persuaded him to go to the party later that evening in animal "onesies". What that had to do with Halloween, he had no idea! John was clearly grumpy and was trying to stay upbeat but in the end he snapped and took her over his lap to start spanking her while they were both dressed up as a zebra and a monkey! He started to find this amusing, spanking his cheeky monkey… and he couldn't stay mad at Sarah for long as she pleaded and pouted seductively but he still decided to follow through with a good spanking as he had bared her bottom and he couldn't resist playing with her some more! This punishment spanking turned into something more intimate as he discovered looking at Sarah's obvious excitement!
There's a free clip of the Halloween costume shenannigans…
If you can't see the clip, play if back HERE

*******************************************************
This film is, as usual, already available to view via the CLIPS STORE if you only want to download the odd film – whichever version you choose, it is at maximum screen resolution of 1920x1080HD – You can see more of how to view that HERE – or click on the animation below
VIEW THE ENTIRE CATALOG OF FILMS HERE
**************************************************
I'll be featuring Sarah's wonderful Halloween film from HER SITE tomorrow. In the meantime, below is the latest film showing from the POV Clips Store… another is going up tomorrow which is totally different and one of the new style more interactive ones which traditionalists will probably like more… but in the meantime, see what the haters have been hating (LOL) which I have been finding most amusing from one little man jumping up and down who has such a "hard" on for me it's in his name. I'd like to tell him, since he will no doubt stalk me here at some point, that it is selling rather well, thank you very much… Of course, he and some of his brethren (not all, since they are not all ignorant, most are just about sharing a few films they maybe can't get etc. and I get that but don't approve, naturally, as a membership to any of our sites isn't Earth shatteringly expensive… but I digress) seem to think he/they know it all, especially when it comes to what models are thinking  (guffaw)  – Jesus H Christ, how ignorant they are!  Like the conspiracy theorists who have nothing better to do than make up lies or twist half truths… it really is astounding. I'd have ignored it but I think in this one case the record needs to be set straight. So allow me to enlighten some of you. This stars Casey Calvert, over her "Daddy's knee" (in this case, for the ignoramuses out there… daddy refers to a scene term of which there is often a sexual theme and relationship reference and nothing to do with a real life daddy/daughter relationship… in essence, a strong close relationship) … Casey should know above all others, since she was in a scene daddy/daughter style relationship of this type for years!  – *sighs*
We decided to re enact a short scene of a punishment she remembered well, as it was deliberately humiliating and she was totally game to feel that again in this new style which she thought was a cool idea… check out some submission, ass grabbing and spanking of pretty Casey as YOU are in control as she is over YOUR lap in this latest film!
Check out the free clip (below) of an earlier scene, where she loses her PJ bottoms – YOU are in control!
*******************************************************