It's funny how this damp and rainy autumnal weather is a world away from a few months ago when I had high hopes and foolish eager excitement watching the Football World cup take place in Brazil on my TV screen – they were warmer sunnier times and of course such warm memories were soured by my own nation's woeful performances. Anyhoo,  I always loved the final montage that the BBC here in the UK did to sum up that incredible World Cup… it is below, so it you wanna skip it and move on to my updates, I understand… it was a nice distraction and if you liked the music, it is from a French rock band called "Woodkid" (performing Run Boy Run) – I hope to see them in concert at some point next year… they're awesome! I also smiled at presenter and former England player, Gary Lineker's begrudging admiration and resignation for Germany, the lesser of 2 evils in that final – (… "and the Germans won" – LOL)
Ah… memories… OK, and onto what is out there today! I'm showing this in order of no overall preference (I rarely do to be honest), let's just see where this takes us!!! Let's start at Firm Hand Spanking as there is a bit of a theme going on with sibling spanking showdowns at the moment… take this all girl affair with the beautiful and talented Stacy Stockton switching perfectly giving sassy sister, Amber Davies, a real tears OTK spanking she won't forget in a hurry!
Sassy, disrespectful college babe Amber Davies drinks alcohol and she's not 21! Stacy Stockton spanks her bare bottom 186 times in Sorority Sisters. When that bubble butt is bared, tears start but Stacy carries on. Slow-mo special plus Amber behind-the-scenes!
CLICK HERE TO SEE THE FULL FILM OF STACY & AMBER'S SPANKING
In another film preview, there is what looks like being the last of the "Brotherly Love" series of films with Kat St James and Sam Woodley playing the bratty sisters of Kyle Johnson… to be honest, as it has these girls in it, what's there NOT to like about it? Samantha Woodley is the girl getting a spanking in this film…. as ever, it is worth the entrance fee alone to see her bared booty getting a good whacking!
Two brats fighting right after they've been spanked? It's time to break out the strap! Samantha Woodley and Kat St James get in a fight, so 50 with a strap across Samantha's bottom – 25 bare!- will sort things out in Brotherly Love with Kyle Johnson.
The FULL Film can be seen HERE
**************************************************
Ok, so what happens when you steal fruit in the UK? Or "Scrumping" as I call it? Why, of course you get a damned good spanking… which is why you see beautiful young Ella Hughes stripped naked and strapped HARD by Sarah Bright at English Spankers this week…. this is indeed a very exciting film to watch!
Young Ella Hughes has been caught stealing fruit from the orchard, the gardener takes her to see his mistress who is a particularly nasty individual. She berates Ella and almost has her in tears. She then sends for her father's old razor strop and tells her she will be getting this. She then hands out a ferocious beating to Ella's bare bottom, one of the hardest we have featured. A film not to be missed.
Want to see the full film and MORE of gorgeous Ella? CLICK HERE

****************************************************
A special look back at someone I have never actually met, which is a great pity. She no longer subs but is now a fearsome domme, so I better watch what I say (lol) – please take a trip back in time with me courtesy of NorthernSpanking.com as we check out the amazing Amy Hunter from over 11 years ago, the archives at this site are truly astounding!
Poor Amy is so poor at the moment she can't afford to buy her partner Christopher a pressie for his birthday. Wracking her brains, she comes up with a devious plan… SHE can be his present! Dressed up as a fancy french maid, Amy offers herself as his maid for the evening…but what she be "maid" to do?
Amy has offered to do whatever is asked of her by her partner Christopher in honour of his birthday – and he takes her to her word! Here he strips off her dress and gives her a sensual and thorough whipping. Yummy!
Amy has offered to do whatever is asked of her by her partner Christopher in honour of his birthday – and he takes her to her word! Christopher delights in removing even more of her clothing to beat his girl further finishing with some more intimate connections!
Check out the amazing archives of  NORTHERNSPANKING.COM
*********************************************************
Finally today, since we are checking out some archives… take a look at my own at AAA Spanking – You may not have seen this, or if you have, not for a while at least… it's a good spanking film with someone I had admired long in advance of meeting her, this was from my first ever American stateside film shoot well over 2 years ago in 2012 and this was one of many films I did with the amazing and beautiful Nyssa Nevers! #schwiing! I still have a special 4 girl film I haven't released yet with Nyssa, Joelle Barros, Carissa Montgomery & Ashley Graham (what a fricking line up, eh?) – I really ought to do something about that, right? It's been edited and stored away in the cyber vaults… maybe I should just release it on the CLIPS STORE – either way… check out this film and see how gorgeous Nyssa looked in this lingerie spanking film  😉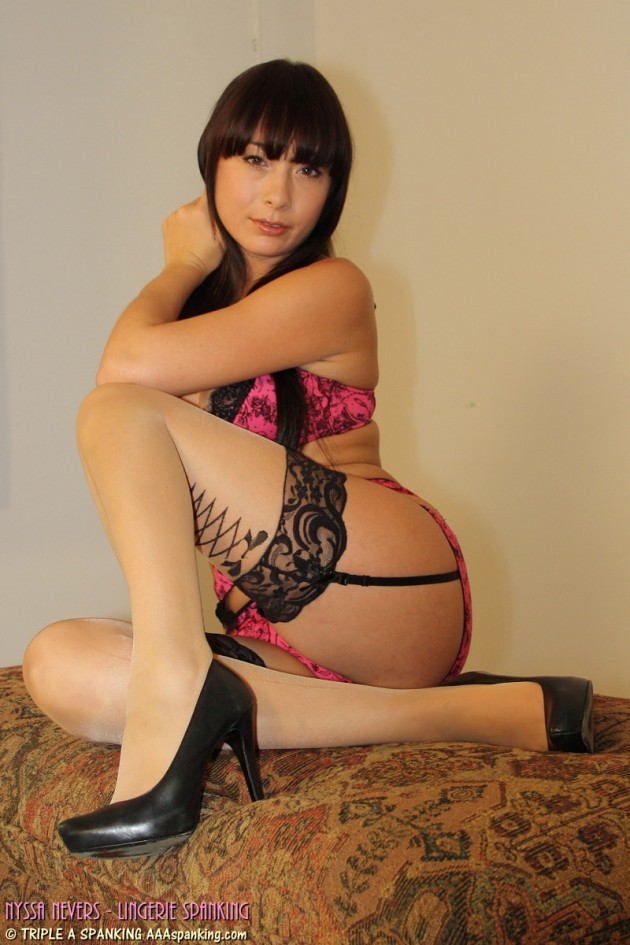 This was the 1st film I made with stunning Nyssa Nevers & I requested that she bring along some of her sexiest lingerie for the intro film. I was NOT disappointed as you'll see, Nyssa has the most wonderful bottom to spank and whilst wearing her very sexy lingerie provided a magnificent spectacle. I am sure this will provide a nice visual treat for all you spanking voyeurs! Watch Nyssa's flawless untouched cheeks turn red during her 1st spanking film of the day!
See many more films of Nyssa at AAA Spanking HERE – or check out this film on its own – like many others – at The AAA CLIPS Store and choose the clip you'd like to view, own & download, there are 100's to choose from and in various formats giving you the best choice available!


************************************************************
Good night… who wouldn't want to spank this office booty? #OMG! Eyes are popping! Back soon!
CLICK HERE for another blog update -I promise you will like it 🙂