I think it's time to introduce you all to another member of the Triple A "Wheelbarrow Club" – Adriana Evans is not a shy girl so I knew this wouldn't bother her. However, given enough scolding and placed in embarrassing or humiliating situation then I believe you could finally get an edge over this feisty young lady and make her a little more contrite! Actually, I love working and playing with Adriana… at the time this film was made, I didn't know her that well… I'm not sure if she will be reading this, but all I would say is god help her if we did this film again! I joked with her earlier that I think I need to do a good old fashioned film with her which included an OTK spanking start (to appease the traditionalists… but I like that too, lol), followed by a temperature taking, a humiliating diapering, a wheelbarrow spanking and possibly a figging finale! Now what a film that would be! heh heh… but in the meantime, let's just tick (or check off) the fact that she got her 1st ever wheelbarrow spanking caught on film – which you can see below!
Adriana's 1st Wheelbarrow Spanking – or "Hide Your Shame!"
We filmed this in Las Vegas much earlier this year… it is now finally available to download in full. The film comes with an extensive video image set and a bonus stills gallery.
Adriana Evans asked about joining our "Wheelbarrow Club" after hearing what indignities the girls had gone through… she was curious & wanted to see what all the fuss was about as no-one had ever placed her in such an embarrassing & revealing position before! We were only too happy to oblige & fulfill a personal fantasy of hers. However, naughty Adriana loved being spanked in this position, so much so, that we thought this young lady really ought to have "Hide Your Shame" as the title of this film. She was given quite a hard red bottom spanking, as hard as we could give in this position, remember it wasn't only about severity, it was difficult to spank anyone really hard like this. However. it did give a different insight & view as well as an opportunity to reach those "sweet sit spots" that weren't always easily available in a normal spanking position! Welcome Adriana as the latest enrolled member of the Wheelbarrow Club.
Check out the free movie clip of naughty Adriana's wheelbarrow spanking (below)
If it doesn't play – CLICK HERE to view it
Check out these select galleries of other Wheelbarrow style spankings that I have filmed at AAAspanking.com over the past few years! Click the thumbs below and they will lead to a gallery of your choice.

All wheelbarrow films can be viewed independently at the AAA Clips Store – including the latest film with Adriana Evans in the format of your choice, MP4, WMV or MOV..
*****************************************************
Earlier today I also added a new POV style Spanking film – this is taken from YOUR perspective as the submissive to Mistress Jessica who is NOT very happy with you and scolds you before taking you over her lap, pants and underwear down, for a hard bare bottom hairbrush punishment. This was no virtual spanking, I like to try and ensure that the spankings take place – "Boy! I've seen and downloaded some shit from elsewhere" on C4S… it would be unfair to name names, of course. This is a good film that subs who can identify being punished by Jessica Wood could get off to! I have included a short clip would should help you see from YOUR perspective what exactly is going on and you'll get a good idea of what to expect. Oh, and the things we do for our art, this bloody punishment really did hurt, lol!
In this POV film – YOU are scolded & punished by your Mistress, Jessica Wood. She ensures that you will experience a humiliating spanking & hairbrush punishment. Why? If you had bothered to follow her simple instructions and help clear up the messy house that you wouldn't be in this situation now, would you? She had left for 3 hours to go shopping, telling you the chores that needed doing, they weren't difficult. Do you do this deliberately? Do you WANT to be punished, is that it? She is furious and this time she is using the hairbrush, that's right, the heavy wooden one that YOU HATE! You've still got to do the household chores after your punishment too… starting with the washing up!
If you want to see more you can CHECK OUT THE FULL LENGTH FILM HERE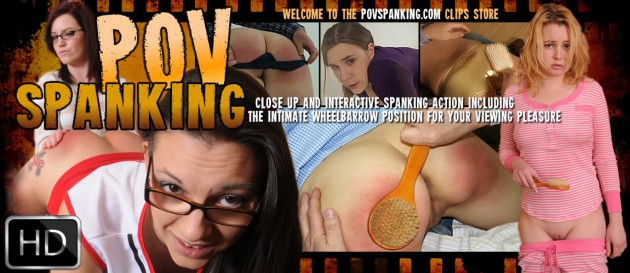 ********************************************************