A Fine selection of what gives me some guaranteed Trouser "bumpage" today… whether it's just sexy girly spankings, uniform fetish role plays or far more strict punishments, this has been what I have been enjoying this past week that I haven't written about! I hope you ladies and gents like this too – please feel free to perv away and check out the sites I have graciously mentioned as they will be offering more preview content and hopefully there is something you like that will tempt you to become a member of these fine sites!
I'm starting with a beautiful girl by the name of Victoria getting one of the trademark pussy strapping punishments that I like to watch on Spanking Server – there are more films of this beauty on the site and she is stunning, as you will see from the selection of images, the first from the pussy strapping film, that i took… and the rest showcases who she is! #HAWT!
Victoria (yesterday) – as featured at Spanking Server
More images of stunning Victoria (the day before yesterday)… or was that the day before?
Her pert red bottom is distracting me!
Victoria is tethered to the pussy strapping bench… and her private parts given a painful leathering!
If you want to see more punishments of this beautiful girl – check out Spanking Server HERE
************************************************************
Cheergirls and cheer uniforms are one of my core fetish kinks… the thought of punishing girls in these uniforms does it for me every single time… it is a strong sub niche of school uniforms, it's not everyone's "cup of tea" but the brightly coloured uniforms, the short skirts and the fact that the girls in high school were always in the top 5 percentile of most lusted over objects of desire by immature young guys like myself (ah memories) adds to my thrill of spanking naughty cheer girls nowadays… the ones who act particularly bratty always receive special attention from me 🙂 – oops, I digress! EE9 this year at Girl Spanks Girl fulfilled a major fetish of mine… multi cheergirl spankings… check out the finale to the series this year when Christy Cutie gets a thrilling OTK thrashing from coach Miss Mercy in front of the other cheer girl try outs! "Yay!" #CUTENESSOVERLOAD
It's summer time and eight beauties have arrived for cheerleader camp! Snow Mercy is the camp coach – and Christy Cutie is from her same school, so she doesn't want the girls messing with Christy. But while Miss Snow is away, Christy actually picks on the other girls, who then spank her, which Miss Snow sees. So Snow spanks them otk one at a time with her hand. Then she allows Christy to spank each one on the other cheerleaders. Then both Snow and Christy spank them 2 at a time, with hairbrushes. But when Snow discovers that it was actually Christy who started it all, she spanks Christy with hand, hairbrush and the dreaded cane. The class of 8 schoolgirls are Christy Cutie, Willow Lynn, Koko Kitten, Alex Reynolds, Chanell Heart, Lana Lopez, Yasmine DeLeon and Lilly with camp coach, Snow Mercy.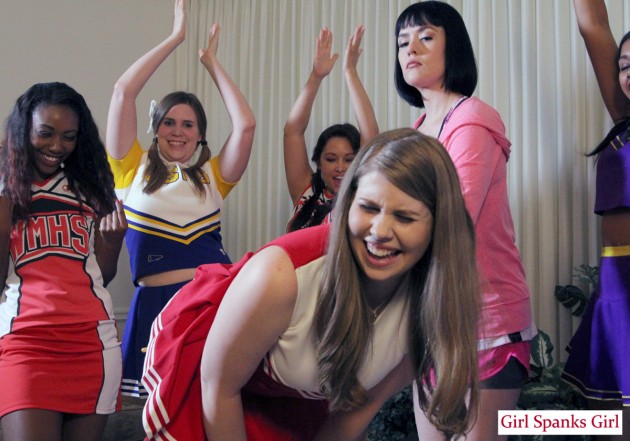 See this latest film and download the other 8 full films from the annual Exclusive Education series HERE
This site is part of the Clare Fonda Pass – giving you up to 5 sites for a fraction of the combined cost!

*********************************************************
Theft is a serious offence, especially at Reform Academy. Principal Eric Strickman orders pert-bottomed Jodi Biltmore to bend over a chair to be paddled – hard! Six swats on her tight denim shorts, six on her quivering bare buttocks are a memorable lesson.
As I was writing this today, the very latest update came out from FirmHandSpanking.com and it's a new girl, she is incredible, just what I love about that "girl next door" type… it's also got Jonny Stockton topping her (I think he is one of the best new male tops around) and makes a perfect partnership with Stacy, his screen wife… she gets mentioned so I am rather excited to see them both punish this beautiful ditzy Au Pair in a brand new series at some point! The plot and build up to her spanking is incredibly believable and plausible too… all I can say is "wow!" – bravo Firm Hand… this is going to be a cracking new series which you can see the 1st film right now (images below)
Welcome to bratty Kylee Anders, a college athlete with a gym-toned, pert figure to die for! She's over Mr Stockton's knee for her first-ever spanking, track shorts pulled down to bare those bouncing, smooth cheeks for 200 smacks. Check her reactions in Au Pair!
**************************************************************
Age play and regression therapy are featured next in a new hit film from Northern Spanking with 2 established names in the UK scene… in this film, we join Caroline Grey who ends up over the knee of therapist Stephen Lewis. I have to say it's one of the darkest and edgiest films I have seen this year by far… if I was voting for a long play film of the year… I'd have to think about this one it's that good! It won't be to everyone's tastes as it explores issues of non consent to a degree (that's the way I looked at it) so for that reason it's dark as the therapist regresses her to a time of her childhood and spanks her for being a naughty girl then brings her back to the present and she forgets it ever happened (as he is a hypnotherapist). However, it is part of her treatment but for who's benefit? Hmmm, I have to say this was acted out brilliantly… check out some images of the regression punishment below (where he had also made her dress up in this outfit!) However, she always comes away feeling uplifted in her spirit and with a curiously glowing bottom.
Check out this full film & plenty more with both Caroline & Stephen in at Northern spanking
*********************************************************
Sarah Gregory has a fantastic film out now, in fact this was one of my fave films we made together in LA with Casey Calvert. It, too, required a little more thought in setting up… Casey played a daughter who sneaks out of her bedroom to go partying after I (as Daddy), am going out. She's a big girl, but you wouldn't expect her to go to such elborate methods of deception as pretending to be sleeping in bed (rolling up pillows under the duvet and placing a wig for her hair to fool me later when I came home to check on my darling girl…
That is how the film goes so you can imagine when I discover the deception, I am waiting… and waiting for her to come home and she does at some godforsaken time, she didn't expect me to be glaring at her as she tip toed to her room! Oops! What follows is a no nonsense scolding and OTK hand spanking. Yes, this is a darned good film too! Check out some images below which are both a mix of screen grabs and full size images stills.
You can see the results of this excellent film HERE
************************************************
& as I am in a frisky mood today… why not check out this hilarious strip tease "Hanky Panky" magic show from Ursula Martinez… it's got a great ending (no spanking, but fun and full frontal nudity does happen, titter)
& tonight is the 25th anniversary of the fall of the Berlin Wall… let's hope that there is not a return to the Cold War with Russia, though that is looking less likely (thank you Mr Putin) – but tonight, we celebrate real freedom and democracy, I remember this momentous event unfolding with a German national and she was in tears, I will never forget that evening!