Here is another round of Festive Spanking films from a couple of sites that have appeared over the last few days, I will update with more tomorrow including one from AAAspanking.com though it isn't strictly a Xmas or festive film as such (no Santa or Elf hats, trees and such) but it is very special long play film which members will be able to download in one go – it's what AAA do every year, giving members a chance to download a fantastic full length film in one go on top of the other updates this Festive week! So it is also a great present for fans of Sarah Gregory – starring in one of her most intimate and sexy spankings she has ever filmed this year (FYI – it was the anniversary film of when I met Sarah last year and she is in a stunning formal red dress) – anyway, you'll see more of that tomorrow… I can hardly believe it is that time of year already and the sleigh bells are certainly chiming! It looks like being a rather mild Xmas here where I am writing this blog from today but I should be travelling a bit over Xmas and I'll be keeping an eye on sign ups and customer support, of course (as usual).
Am I naughty or nice?
It's Christmas morning and Sarah tells her sweetie to wait for him in front of the tree while she gets his last gift. She makes him wait and cover his eyes. She surprises him by being dressed as a super sexy santa and jumping over his lap for a spanking. He gives her a yummy good girl Christmas spanking in this fun loving spanking film.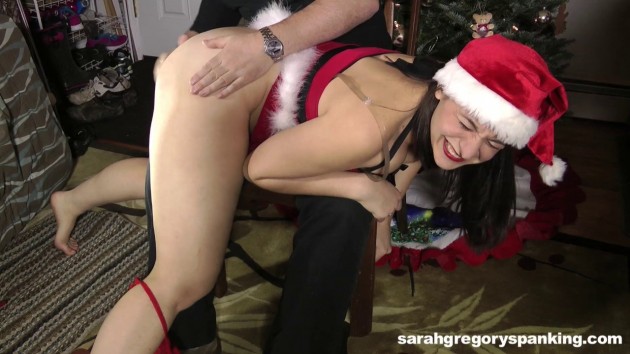 You can see all the naughty detail of this full HD version
from this rather fun and naughty good girl spanking film HERE
Also check out this recent post I did HERE for another of Sarah's sites!
*********************************************
The Xmas film from English Spankers co stars Imogen Darcy & The London Tanner as Santa… in the film "Do you believe in Santa?"
Do you believe in Santa, well that's what Christmas is all about. Imogen and Kodders are getting ready for a visit from Santa, well Kodders is as Imogen does not have the belief that is necessary for good girls to get a nice present. When Santa does arrive he has something of a surprise in store for this naughty lady. This will be a Christmas to remember for Imogen.
Click HERE to view and access all the films available
******************************************
It wouldn't be Xmas without a naughty elf somewhere getting a spanking, so "thank you" to the folks behind My Spanking Room mate and the ever excellent and ever present stalwart of this site, Kay Richards (aka Kimberly Jane) getting a mean spanking off her mom in this festive film release…
Kay is supposed to be an elf for Christmas, but she throws a tantrum about it. She didn't learn the elf song and she hates her elf costume. Her mom is not tolerating the bratty behavior. She puts Kay over her knee for a sound spanking with her hand and a wooden paddle until Kay agrees to behave and be a good elf. But she'll only learn the song if she gets to spank her mom. That is, of course, exactly what happens.
CLICK HERE TO VIEW THIS MOST RECENT XMAS RELEASE

Or view this site as part of the awesome 5 site Clare Fonda Pass which gives you access to massive site archives and latest releases for a fraction of the combined cost of the sites joined – bargain! See more HERE or the banner below on what you get…

*****************************************
Spanking Awards 2014 – Don't forget to make your votes count!
I've had a few people leaving comments of what should have been nominated or whatever or feel unhappy… remember I had this whole thing up for nomination all last month and said "quit the bleating" if your fave person/site or whatever it is you are voting on isn't there. Many producers, bloggers and models have also promoted themselves via social networks and such and asked fans/members to nominate and vote… I can't influence anything as the host, I have tried to stay impartial. If you or your faves aren't up for nomination, that's not my fault… you had been warned MULTIPLE times. There are some interesting  results coming your way… and there will be another round of voting on the next set of nominees coming very soon! Thanks for taking time to vote y'all!
VOTE ON 1ST NOMINATIONS HERE
VOTE ON 2ND NOMINATIONS HERE
*******************************************
& in other news…
IMPORTANT: Please note THIS week is your LAST CHANCE to change to our unique LOYALTY MEMBERSHIP – 1st month $32.95 then every 3 months $32.95 until YOU cancel giving you an $11 monthly membership option that will never increase in price! Check it out here before it is removed at this low price!