Ho! Ho! Ho! – I was going to post some images of evil Santas and scared kids… but I know it would upset some of you so instead I am relenting and putting up a nice picture of Father Christmas (or Santa) – aren't I a good boy? Merry Christmas wherever you are, I mean that. After all it is the season of goodwill n' all that!
Santa had better get cracking – presents don't deliver themselves you know!
The Xmas film at AAAspanking.com is also out (in full) for members with around 300 HD images screens that accompany the full movie update which are 1920×1080 size, however the ones featured here are 1280 wide for promotional purposes. It's not exactly a traditional Xmas film, there are no elves, or little helpers, Xmas trees etc etc or anyone dressed in an oversized or ill fitting santa suit with a comedy beard… nope. It's just set at Xmas time in a hotel where Sarah has kept me waiting so we are late to meet our friends for Dinner. A quick phone call to explain why we're late and I then have time to play and punish as I see fit… but Sarah is in such a playful mood that it is really hard to punish her properly, she's such a delightful brat, she pouts so beautifully and shows me how excited she is and tests my #TrouserArousal to the max! We loved making this film and I think it shows… I hope you will like it too! Merry Xmas!
It was Christmas Eve, Sarah and John were staying with friends for a holiday vacation in Vegas! Once again she gave her man reason to get upset with her tardiness and attitude when he made a reasonable request for her to hurry up for the evening meal. Most of their friends were already downstairs waiting and John excused their lateness by phone so he could give his beautiful lady an intimate and naughty "good girl" spanking there and then! Sometimes he liked that bad little inner girl showing up and he couldn't help but play with and spank her as couples do when they are in love. You will see lots of intimacy, excitement and very erotic spanking positions you might expect from this pair behind closed doors in a special homage to what spanko couples get up at this time of year. Download the full HD1080 22 minute movie in one go as our Christmas present to you with no waiting to unwrap this naughty hot treat! Merry Christmas!
CLICK HERE TO VIEW A FREE HD CLIP OF THIS MOVIE
This film will also be downloadable in full as a one time deal at the CLIPS STORE
Your choice to see as part of a membership or by choosing odd films to view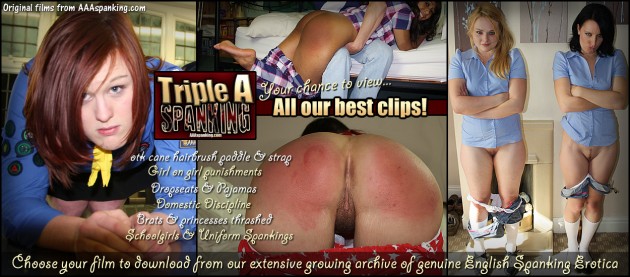 MERRY XMAS EVERYONE! DON'T GO OVERINDULGING (TOO MUCH!)
"nom nom nom…"