Once again, I have been incredibly busy outside of our little spanko world… and try not to ignore this blog, however it is hard sometimes to try and update as I do. So here's a quick synopsis of what is out there, or what I have caught up with, this week. I will get you much more tomorrow but for now this will have to do as I shall be out later at my local theater with friends and family.
Let's start with SpankingSarah.com and the conclusion to the Care Worker Spanking… as the other girl, Belle, finds out it is HER turn to go over Sarah's lap!
After witnessing the punishing spanking handed out to Luna, Belle is not so sure now that she wants to go over the knee of the head trainer. She has little choice and this is made quite clear to her so she places herself over the knee. Her uniform dress is raised and the spanking starts, on her panties first and then onto her bare bottom. How can someone's hand hurt so much? And she knows this will be a long punishment.
Watch more of the very lovely Belle Calder's spanked bottom at SpankingSarah.com

***********************
Sarah also helps out (a lot) at her hubby's website English-Spankers.com and of course they have worked with both Ashleigh and Ella a lot in the recent past so it is good to see this concluding part to a double punishment when it is redhead Ella's turn to get a leathering…
After Ashleigh has been punished the truth of the situation comes out, the real culprit is Ella and so now she will get the worst punishment she could imagine. Both Sarah and Ashleigh take leather paddles to her bar bottom and give her an all mighty paddling, nothing is held back here she takes the hard paddle time after time on her bottom. The punishment does not end till she has tears in her eyes.
View lots more films of both Ashleigh & Ella HERE

*******************************
NorthernSpanking.com features one of my all time fave models to work with – Jenna Jay. Paul and I filmed with her early last summer at a fantastic location and this place just had "institution" screaming to be used all over it. So Paul had written some short films featuring Borstal (a feared young offendor's institute for girls and boys from the past which was a sort of precursor to prison if the offenders didn't shape up). Here you'll see Jenna getting her introduction to Borstal from supervisor, Mr Kennedy.
The second in a short series of films imagining the kind of young offenders institutions that did once exist in the UK, with horribly wicked staff taking any and every opportunity to inflict corporal punishment on the unfortunate but equally wicked female inmates. This one sees the return of a seasoned offender to have her bottom strapped by Kennedy, The Supervisor.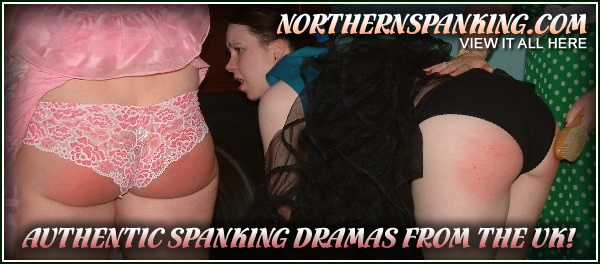 ***************************
Ok, I'm being somewhat derailed by the lovely Jenna for the moment:  but I am currently lining up this film (I have featured below) from AAA Spanking which had not gone up in HD formats at the AAA Clip Store so something is being done about that… it should be showing in the next few days there. Or of course you could view it as one of the many films with the lovely Jenna (and the unique pairing of Taylor Richardson) in a popular film called "Housework Hoes" from the Domestic Discipline section.
Jenna & Taylor have been employed on a very generous contract as cleaners for an eccentric recluse, Mr Jackson, who pays them way over the odds as maids to do all the menial housework chores. However, there is a drawback to being so well paid for such easy work… if he is ever displeased with their cleaning he has the right to "punish" them as he sees fit… the girls are quite worldly wise & well aware of his eccentricities & kinky nature so accept his spanking punishments as part of their job without question. Join us as we see yet another day in which these 2 lazy & rather naughty girls are caught out yet again & given a more humiliating spanking, this time in front of each other for the 1st time! Mr Jackson has his hands full with these 2 naughty maids, but we somehow don't think he minds that much… OTK lovers will enjoy this double girl M/F/F punishment film.
The WMV file to this film has also been upgraded in the members area HERE
******************************
From Spanked-in-Uniform.com comes a new girl, Mandy… who I like a lot so far. here she is in the catholic school uniform spanking section… and a tray of hardened peas awaits her end of punishment too!
The Facebook Photo At the Bellview Catholic Schoolgirl section
While the Headmaster was talking to a few girls on the playground during recess, a picture was taken in which Mandy clearly gives the headmaster the finger behind his back. The little madam decided to post this photo on her Facebook page but the Headmaster found out. Mandy was called to his office and she was soon over his knee getting her bottom soundly spanked! She also had to kneel on the punishment tray for a while after which the Headmaster took a photo of her well spanked red bottom and that pic appeared on Facebook as a warning to the other girls.
************************
& finally today… Hand-Spanking.com I just bought a membership to this site (hadn't seen anything of it for a good 4 or 5 months) and will be featuring more of what I have seen here again. It is the only active F/F Japanese spanking site and only features hands and no implements. Now I won't pretend that the spankings here are the hardest, they certainly are not… but the girls, the sets and the way these spankees whimper and cry do it for me everytime as I love seeing Japanese girls spanked… this site has something about it and deservedly gets the final mention here today. A nice revenge style spanking with a younger boss getting her own back on an employee!
Remi, a veteran office worker, has a young, new boss Ayako. Since that day Remi has been given a stern, humiliating spanking day after day by the younger boss.