I had been waiting for the right moment to get this latest film out. I know the title of this post says "ageplay"… but the actual film had a twist, as I will explain in a minute. First of all, I should introduce the daughter of Yoni and Tasha Lee… so please welcome Angel Lee to Triple A Spanking – this is the 1st of some cool films that were made whilst attending last summer's Crimson Moon Summer Party in the Chicago area. I had a great time there and an eventful one. You may recall I had a severe asthma attack within hours of arriving at the hotel and ended up in ER… that was the 1st of 2 trips I had to make to an ER when I was in America before I saw my Doc in the UK and he sorted me out with an amazing combination inhaler that has made my life so much better – breathing easily is vastly under rated – to take a deep breath, or even go to sleep knowing you won't wake up coughing within 2 hours is joyful. Anyways, putting this film up brought back those memories, so I apologize for rambling.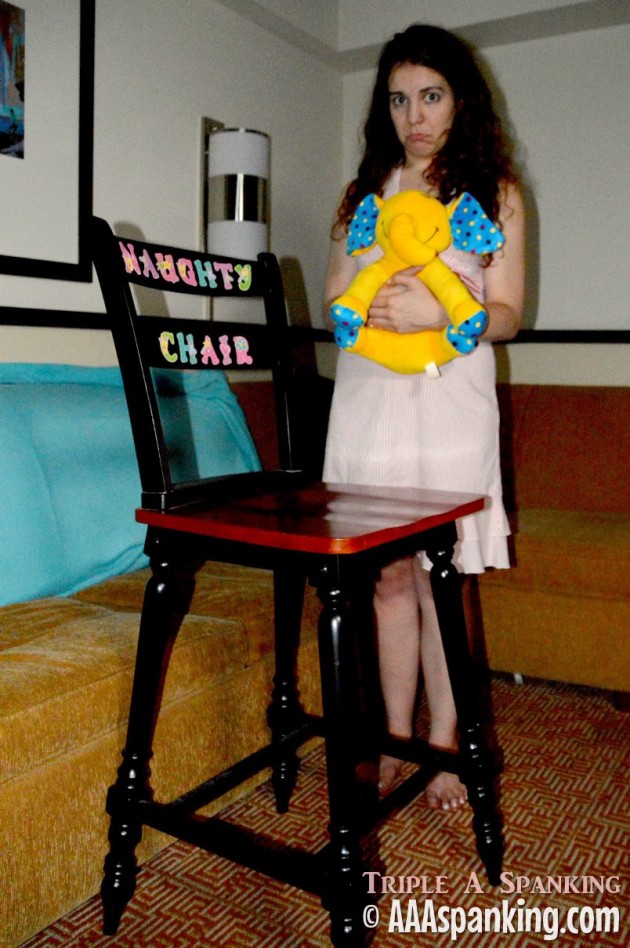 This was the first time I had met Angel. We got on really well, and she knew Sarah so that helped (I'm actually far more shy in situations where there are lots of people to meet). At parties like CM, you hang out, play and sometimes film if we have arranged something in advance… and I wanted to film Angel and her redhead friend Melody (who has already appeared at the site and there are more films coming of her soon as well). Angel is well known for hosting "Littles" Parties… the sort of suite party that has people regress in age and act that out. It's not nice if they are bratty and quite often the party is full of proud "Bigs" who bring their "Littles" (male or female) who interact with the others. they are usually in age appropriate clothing and will always have a stuffie with them… Now I do get it, I understand why one might want to do this, but I wouldn't want to regress to a younger age, personally (some may say I am immature already, lol). Just seeing people chill and relax in each other's company is an experience to watch and be a part of and I enjoy taking Sarah to events like this.
OK, I am waffling, aren't I? I wanted to tell you why we made this film… Angel and I worked out a storyline that would best showcase what she was doing being a "Little" – I didn't want to spank her or film her as if she was a six year old so we had the notion that she was freaking out and panicking, whilst being in Little mode that she hadn't got everything ready for her Party. In order for her to do this she had to come out of her ageplay mindset… and so I spanked her and scolded her to get her back to her current age and continued to spank her as a grown up – a wake up, of sorts. I think it worked, and of course, Angel can take quite a lot of spanking punishment so I also used some wooden implements, notably brushes that she found rather "ouchie" – All in all, it's a nice film, around 13 minutes long with some good hard spankings and hairbrush whackings which you only have to see to know were rather "ouchie" – as she put it!
More images below are a mixture of video images and HQ Stills…. members get to see the HD1080 film as well as a video gallery of over 130 images and a HQ stills set of over 50 images. Not a bad update indeed. Oh… and of course this site still has the popular Trial Offer as well as some of the best long term deals anywhere…
Another full film debut, this time for Angel Lee (daughter of Tasha Lee). She was preparing for a "Littles" Party event where adults could regress and enjoy each others company playing with toys, stuffies or just coloring. However, Angel had gone into "Little" mode too soon and wasn't preparing for the event properly and panicking, being a horrible whining brat. John snapped her out of this with quite a painful wake up call which was just what she needed to reboot her: getting her back on track and on time! Angel got a good hard OTK spanking followed by something she really didn't like very much – The Hairbrush (2 of them, in fact) on her sore bare bottom! She later remarked that it was very "ouchie!" See Angel as a "Little", then spanked back to being more mature so she could cope and finish preparing for her specialist party. You will not have seen her like this before!
Check out a free hairbrush spanking scene from AAA Spanking HERE

This film is also available as a full download option in HD1080 at the AAA Clips Store
CLICK HERE for the direct link or image below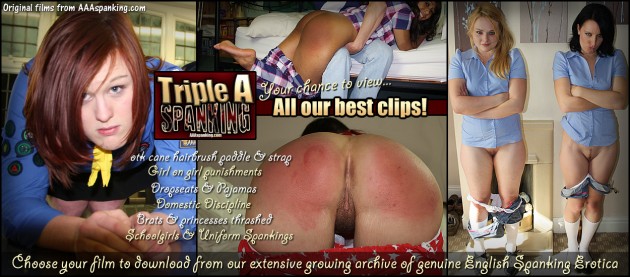 *******************************
It's been a busy day away from the sites and blogs so I promise to get you some great updates from other sites and more news from mine later. Have a good one. Just be careful how you read your newspapers in public, ok? 🙂