Today's post is about the trials and tribulations behind a film shoot and some of the pitfalls you may not always be aware of, that affect us producers…
I'm not sure if some of you were aware but I had just recently returned from a few days away filming with my good friend, Paul Kennedy, as we had planned a double shoot with Aleesha Fox and Ella Hughes. It was at an English south coast location… or "God's Waiting Room" as Paul politely put it… a sleepy village/small town by the sea where retirees far outnumbered the local youth. Anyway, preparations for me in England are always a pain since if I do produce content now in the UK for SG Group (AAA & Sarah Gregory) it's usually a long drawn out affair of preparation and travel and it really tires me out, I need a full day to recover when I get back… maybe more – especially if it is a longer shoot. Example: even as I am writing this I am FTP-ing (sending) the raw film data to her server for editing… 17 Gigs of data just doesn't upload easily all by itself which I had to go through and organize and describe what needed to be done… more post shoot tedium *sigh*
Anyway… Plans were for a 2 day film shoot but Paul and I were splitting the time a little and I was to do mainly the second day myself with Paul helping. That was the plan…
So… have you ever wondered what it is we have to do in advance and ensure it all goes smoothly and what it's like on the day?
Our best laid plans can always go south, it's a risky undertaking each and every time… still! Those that think we just find girls, point and shoot, easily edit and upload then sit back on pots of gold are seriously deluded! Of course we all need money to recoup over time and it would be nice to make something extra (a lot extra would be a bonus) as I think I would plough more back into the sites anyway… I usually do 🙂
OK… in advance, I had films and ideas planned, they usually take shape later when I see the actual location if it's new… which this was, but I also usually have extensive model pre communication by email/text… this was a little different as I admit this time I left most of this to Paul dealing with Ella and Aleesha. I had my last minute tax returns I still hadn't sorted out which was on my mind and I was getting stressed over those… yes, that was my own fault. It's all sorted now, thankfully!
However, some mails were sent (if a little later than I would normally send them) re costume requirements and introductions (this would be my first time with Ella – which I was rather excited about) and I couldn't wait to meet up with Aleesha again… before I left, I ensured my site was sufficiently updated and I had access to my mail account to answer support enquiries and keep an eye on sign ups etc… I packed my bag with what was required for the girls and myself.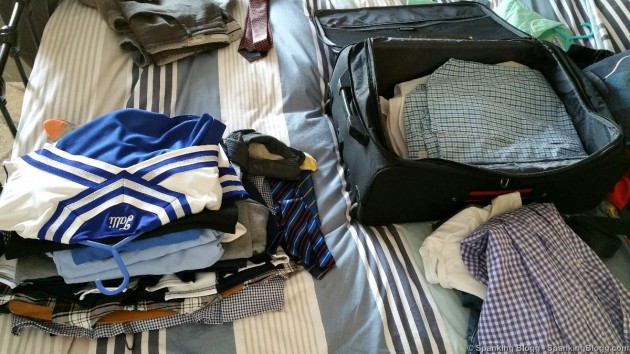 Then I placed this and the camera equipment, lights, implements and other equipment needed for the shoot into the back of my car.
Of course, the car needed fuel… the tank was empty, so I filled up with what I thought I'd get away with (just about) on my round trip which came to a more reasonable £52 Pounds or so… the tank wasn't full… I paid 1.04 p/litre – which I guess at the time of travelling wasn't too bad, a lot better than the ridiculous £1.35 or more I had been paying only 6 weeks ago… still, oil prices are based in Dollars and currently the US Dollar is very strong against most currencies, incl. the Pound (it's only about $1.50 to £1 at the moment!) So gas prices would have been under a Pound/litre by now which would be a psychological boost to us hard pressed drivers in the UK.
It was amusing that as I had just filled my car with gas… Sarah messaged me that her gas prices has fallen below $2/gallon. I then worked out our prices and the litre/US Gallon conversion and texted her back that mine was a whopping $5.97/gallon in comparison and I didn't mind – even she knew it was a lot better as I had been moaning about $7.50-8.00/Gallon prices previously! OK… so at the risk of boring you senseless about gas prices… Before I drove off I remembered to stock up on cash from the ATM for the girls (I had taken out some the previous day too). The drive was a good 3-4 hours with a long afternoon lunch break in an American themed diner which just made me miss Sarah even more… the meal was terrible and fatty (see my burger pic, below) and I was back on the A and B Roads which were not all that much fun when getting stuck in heavy Friday traffic or behind a slow moving truck with no way of passing: So there was no quick route to my destination… I wanted to get there before dark but I messed that up and met Paul at the rented house for the weekend at around 6pm – meaning, yup… it was dark. And miserably cold!
Out on the road, the burger stop… and unpacking the bags/lighting on arrival
Paul and I went out to a local pub (it ended up being the place to eat at) and did some shopping at a local CO-OP store for extra provisions, like sandwiches, refreshments etc… and a bottle of red wine for me (and a bottle of white for Paul). The following day Aleesha and Ella arrived on time and we caught up on gossip and introduced ourselves to Ella (who was every bit as lovely in person as her published pics). Paul wanted more stills in between his films so the morning was pretty relaxed with more filming in the afternoon including a couple for my site. I haven't got preview pics for all these and might do an additional post on that in due course, but the object of this one is to give you a rough insight on what we got up to… all images here in this post were taken from my phone.
I wanted to concentrate on a few POV films, which aren't always the easiest for models to do…. I could feel Ella wasn't comfortable with the idea so changed it slightly with my first being a fantastic double for AAA and POV – a sort of peeping tom/spying movie for POV which split with cam angles in 2 scenes. the first POV scene was the actual spanking Aleesha was giving out to Ella on the sofa… a really long and more traditional OTK film (in fact both Paul and I were keen to make this a shoot with real spanking values…. less chat from us or the top/Aleesha and more about the spanking which I think we achieved rather well!!!) the POV aspect would be from your perspective looking on as someone spying on the punishment from a door, ajar, and opened even more to get a look at the action… until Aleesha caught the viewer peeping and the 2nd scene was the scolding and continued punishment which was given with the promise that it would be the viewer's turn next over her lap. Then we did the OTK scene again for AAA with Aleesha spanking Ella with a hairbrush with 2 cam angles for the ending of that film.
I also wanted to show you just how great Ella looked in that vintage tennis outfit that Paul had her wear for his site! Isn't she just adorable? & of course, I just *had* to do a vintage girl guide spanking film – Now don't you think Ella looked lovely in that blue uniform too? Oh my!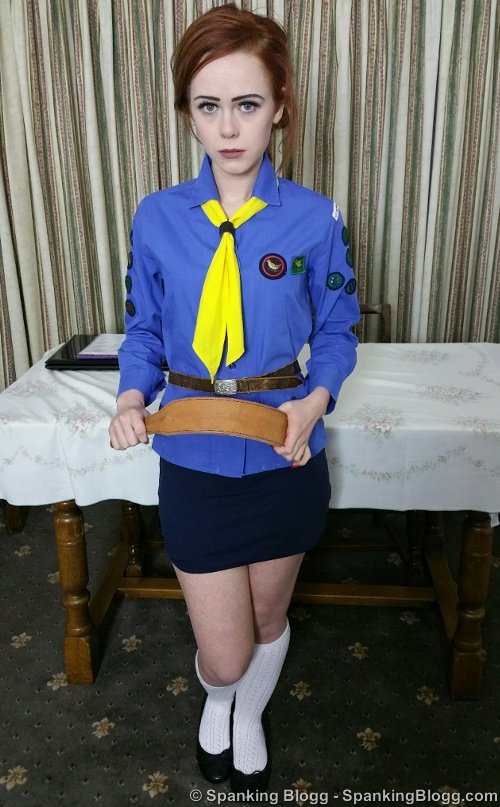 There were more films and photo shoots throughout the day, I filmed a couple of excellent POV films with Aleesha and Ella did another "scolding the viewer" for trying to look up her skirt and wanting to spank her… there was a price for that which she would only be too happy to carry out – on what would be your perspective as a spankee! 🙂
More behind the scenes stuff I managed to take with my phone…
That was all the great stuff… now as the day was drawing to a close… Ella seemed a little worried that she might bruise and mark up as she had told us she had an "important" published shoot on Tuesday (her words) – that's today at the time of writing. Now, Ok… I would think if 2 companies were taking time out to meet you for the 1st time and you were attending a spanking shoot over 2 days and agreed this in advance with the producers (for which there would be a fair renumeration for 2 days work, locally) then having some "important" shoot a few days later wasn't, at best, ideal. Now hear me out, please!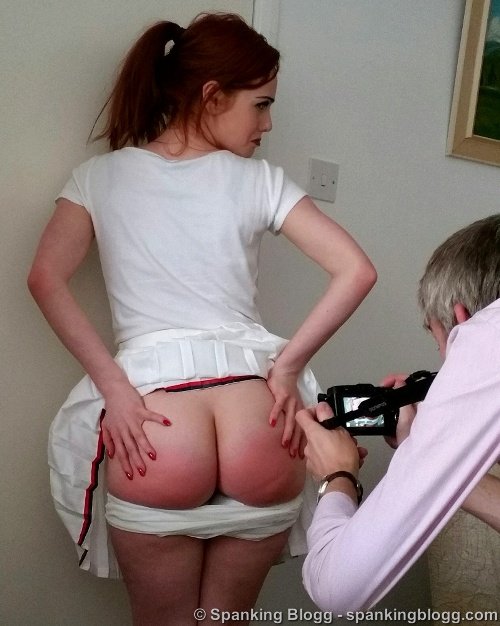 I know Ella is young (only 19) and this does happen to girls who like to work a lot between various fetish work as they are keen and excited to get as much done as they can – and I fully understand that… but to say "important" about a another shoot (actually it was just a Paul Raymond mag deal… didn't even know they still did jazz mags nowadays!) and warning us about maybe watching how it goes on a shoot? … yikes! That really is NOT what we wanted to hear. I know other producers would not be pleased or want to hold back either. Are we also not important? That made me and Paul feel "great!" (that was ironic for my American readership). As I know, this is where older girls who have worked longer in the scene know the score. I guess it is our fault… I usually ask the girls if they are planning anything else around that time. I guess it's a reminder to do that again in future!
I loved seeing this both ways… love that stag!!!
So this is where our shoot ended after Day one. Paul received a text in the early morning apologizing but her bottom was far more bruised than she had anticipated and felt another day would be too much. Oops! … now I had filmed a few movies … and this was to be mainly my day with Ella (the reason I drove 4 hours out of my way and spent a weekend in God's Waiting Room sleeping in a tiny box room away from my comfy double bed and planned this with Paul) so I have to admit I wasn't best pleased… more disappointed, as I had gone though all my scenarios and was really excited to do some more traditional pajama and schoolgirl films that I wanted to film. Yes, you heard me – traditional! less chat, more spanking, nothing sexual blah blah blah…. I really wanted to get some great content together and now have to wait until my trip to America next month.
Views from God's Waiting Roomville-on-sea
So I will say to any girls out there… if you ARE planning on a film shoot with a spanking company, please do remember that you will need more time, usually, than a couple of days if you are concerned about a more vanilla style upcoming shoot afterwards. Don't go accepting work after and cramming it in… it won't work and it will not help you int he long term. I had planned on using Ella a few more times and also for Sarah Gregory (who was really excited too) but after hearing what happened… it's hard. I rarely give second chances as life is too short. Girls – do NOT accept the job if you're unsure, we can handle that if we know in advance. We don't mind, let us know… In all honesty, I didn't need to do this shoot at all: I have a MASSIVE filming schedule coming up in February and March which is gonna cost me a fortune and did this because Paul asked me and also it was a chance to meet Ella, finally… I didn't want to procrastinate and be the last to film Ella after I got her work with Michael at Bars and Stripes previously (when he still owned it), or then find out she would have retired if I filmed her in June! – it's happened before when I procrastinated on something and that is one thing I no longer want to do!
Ella is a lovely girl, she *can* take the spankings and I can assure you she was not getting a patty cake punishment later on by any means… but I am past caring about being mad now as I write this but this piece today was rather a journal for the weekend and am disappointed that it only contained One Day as I had been taking images and told Paul and the girls what I was planning on doing. Such was my enthusiasm…
So I leave a few words of advice for any prospective young or new spanking models out there. Watch your schedules. You cannot mix and match vanilla and fetish shoots like spanking within a day or 2 if you're worried about marking up. Don't impose these conditions on the spanking producers either… unless you want to be paid vanilla rates – and to be honest, that isn't what any of the spanking sites I know are about. Anyway, what I have is quality stuff, as does Paul. Such is the beauty and enthusiasm of Ella at the shoot, I know there was no malice intended and I would work with her again… which is rare – as I usually have a rule, "let me down badly and that's it" – I would blacklist that individual – life is far too short.
Aleesha was only booked for the one day as she had other commitments on the Sunday. So I packed all my stuff away, put away the scripts and cool pajama and cheergirl scenarios I had planned. Paul and I said our goodbyes (we'll see each other in Los Angeles soon enough which is beyond cool and am super excited about that already).
Click image below, it is full size if you want to read about the Tolpuddle martyrs struggle
I decided to take a leisurely drive back and visited a couple of tourist spots, one being the old village of Tolpuddle… if you have heard of the "Tolpuddle Martyrs", this was the place (Google it) the birthplace of trades unionism and rights for workers in the UK after a massive injustice was carried out in 1834 to those who marched against grinding poverty and starvation at the hands of the landowners (rather like today's fat cat bankers) and I also visited the pretty market county town of Dorchester…
(I usually take the ring road if I am travelling near this area but wanted to check out the old town center once more) I spent an hour or so just walking around taking pics of the medieval and beautiful late 18th/early 19th century Georgian architecture.
Then the lonely trip back before it got dark!!! (I failed again)
**************************************
& that is the fun and joys of a film shoot, even if it did get cut short a day!
I got to meet Paul, I got a few great films with Ella Hughes & Aleesha Fox
& it's not long 'til I see Sarah – Not long now, baby! #YAY