Some of us in the Northern hemisphere are starting to feel the wintry grip which is a miserable time for most… just a few more months and it'll all be over, eh? Here are some choice spanking updates from around the globe to keep you well and truly "on top" of what is out there this week. Have a great weekend, everyone.
Northern Spanking – full movie of "You are so mean" now available, starring a first appearance for Casey Calvert at this site over the lap of Sarah Gregory.
Casey has always lived in the shadow of her elder sister, Sarah and, even more unfortunately, her discipline and punishment also lie in Sarah's hands. And Sarah applies her hand, hard and regularly, to poor Casey's bottom.
CLICK HERE TO DOWNLOAD THIS LATEST FILM TODAY!
***********************************
English Spankers has a great new film with Ashleigh & Ella called "After the Party…"
After the Party… the Paddle: Tiny Ella Hughes has had a party and things got out of hand, now she is blaming Ashleigh for the mess and the alcohol stolen from the house. Sarah is in no mood to mess about and wrongly decides that Ashleigh should be punished. She finds a large leather spanking paddle and makes Ashleigh bend over bare bottom in the air. The poor innocent girl gets a real hard beating with the paddle.
Click HERE to see this film and the 100's of others exclusive to this site!
***********************************************
 At Firm Hand Spanking – Was the next film the last ever with Kat St James & Samantha Woodley? We shall see, but this looks like being the concluding part to this series – I have to wonder just how many more films of Samantha were shot since she had long retired from the online scene some good 4 or 5 years – at least. I'm not complaining, anything with these 2 is always a bonus! & Kyle gives Kat (his girlfriend at the time) some extra hard swats with the strap in this film so you get value for money!
Katherine's perfect buns are burned with a strap for lying and fighting
Supremely sassy, perfectly pert, Katherine St James is back for a 50-stroke strapping in Brotherly Love, 25 totally bare bottom. She changed Kyle Johnson's web profile and was fighting with sensuous beauty Samantha Woodley. See those round cheeks go red!
Check out a FREE Clip of this punishment – CLICK HERE
**************************************
POV Spanking has a gorgeous Candle Boxxx tease us and do as she is told in this self spanking film that gets her client (that's us, Point of View) all hot and bothered since "we" requested she do a very sexy self spanking tease which this southern gal does far too well!
This naughty clip is for all you voyeurs out there, the ones that like to watch and might be afraid to touch! You are in Candle's hotel room for a session when she expects that you will spank her. You forgot to mention that you LOVE to see a girl spank herself in front of you first. "Oh really?" She asks demurely in that cute southern accent, "I think I can do that for you… you naughty thing!" As she winks at you and starts to play and spank herself as instructed. In fact, watching this so turns you on that she can see how excited you are at what she is doing and this is just the start! Candle loves to tease and play… so this is perfect for her, she gives you one of the most erotic self spankings all the time remarking on your excited performance too! She caresses and spanks her bare bottom, even getting into such an intimate "crab position" so you can see her spank both her cheeks and you can admire her womanly charms! Candle is surely one of the hottest girls out there willing to please your every whim… see for yourself!
CLICK HERE TO SEE MORE OF CANDLE'S SELF SPANKING
***********************************
The concluding part at Bars-and-Stripes of "Bedroom Games at the halfway House" sees Zoe Page finishing off her private fun punishment of Aleesha Fox…
Zoe soon picked up her red leather paddle and told Aleesha to lay flat on the bed. She then proceeded to paddle Aleesha's bare bottom untill it was red and sore. Zoe finished off the session with a sound hand spanking and when her bottom was a fiery red, Zoe fetched some soothing lotion and lovingly rubbed it into Aleesha's well spanked bottom.
See the new look Bars and Stripes and the new girl punishments HERE
***************************************
A red hot pervy spanking and hazing is next from Spanking Sorority Girls – please do watch out for yet more severe Trouser Arousal viewing this material! #HAWT – You'll see sorority sister, Star, fuck and spank new pledge, Alyssa, with her strap on… smacking her bare butt as she does so!
Pledge sister Star Bound (also known as the Sheriff in her sorority) breaks in new girl Alyssa Reece with some hard hand spanking. When "innocent" Alyssa continues to deny she ever stole anything and doesn't belong in the reform school (and claims she is not a lesbian)… Star puts her on all fours on the bed and has her way with the sexy sorority girl, using a strap-on whilst continuing to spank her bottom red! Oh my!
THIS IS HOT! See MORE of this film HERE
This site makes up part of the 5 site Clare Fonda Pass
(giving you access to all sites for as fraction of the cost!)

************************************
An all girl buxom babe spanking scene now from Punishedbrats.com in a new films with Nikki Sebastian getting a good hard whacking off Julie Simone! I remember Julie in the day getting her fantastic bottom smacked, well just look at this amazing bubble butt of Nikki! #Spankable
Today is the fifth day of Nikki's modeling assignment for Julie. Instead of having her pose, the irritated artist instructed her model to lift her skirt and lower her panties. At first, Nikki tried to protest but she was quickly overwhelmed by Julie's commanding nature. She placed her difficult model hands on the wall of her loft studio, and spanked her very hard, all the while giving instructions as what a good model does and does not do.
Check out this wholesome fullsome spanking movie HERE
*************************************
Finally from Real Life Spankings – a great return to one of my favorite Dutch spanking stars – and one I was going to bring over to England at one point early last year but with so much filming in the USA nowadays, this didn't happen… so please welcome back Scarlett!
Scarlett returns for a Sound Maintenance Spanking
This is what Mike had to say about their latest encounter: "I got a direct message on Twitter from Scarlett telling me that she had been rather naughty and before it got out of hand, could I please give her a sound spanking? – Of course I obliged and the naughty madam was soon over my knee getting her delightful bottom soundly spanked once more!"
See how red Scarlet's bottom glowed in this return spanking HERE
*****************************************
Have a great weekend – and once again, thanks to my members for the great feedback you sent me on the latest film at AAA Spanking – it is rather good and my favorite scene comes out on Monday! *tease*
You can see the whole film straight away as a one time download (below)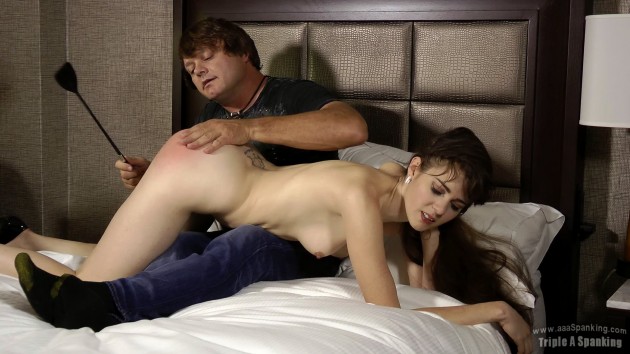 or view it as part of a wider film membership HERE
*************************
& if you still want MORE spanking action, check out this earlier blog post today about
MILITARY SPANKINGS