I have promised to get together a detailed post of images and what I have been up to on my latest adventures across The States – I will get to that… but as it involves so much preparation I will not make any more promises and just "Do it" (as Nike might say) when my timescale and time constraints are far more feasible. Sorry about that… the next 3 posts starting from today are all about catching up with the latest and hottest spanking updates from some of my fave sites so you should come back over the next few days as I will be updating this and my other blogs with plenty of news and info which I hope is interesting for you all!
In no particular order, merit or favoritism… here are the first of those updates I have promised you today! Starting with Firmhandspanking.com who continue to feature Samantha Woodley, Kat St James and Kyle Johnson in the "Brotherly Love" series  – this is supposed to be "The Finale" (I'm not sure if it will ever really end… lol) but this features many 6-9  minute spanking film clips as short stories with some kick ass stills images… this is the most recent and supposedly last in this epic series!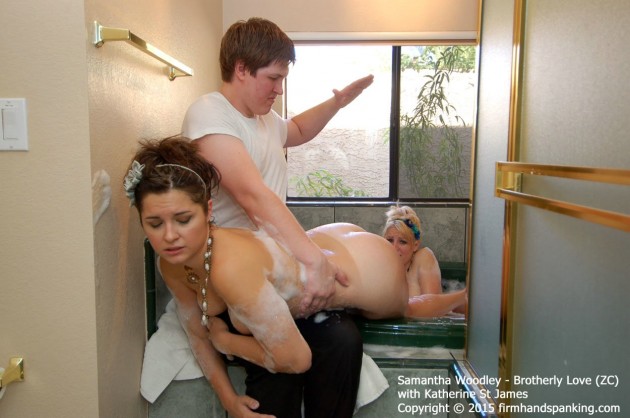 Samantha Woodley is spanked nude in the bath in the epic finale of Brotherly Love
Samantha Woodley and Katherine St James nude in the bath. What could be better? A long hard 380-smack spanking! Samantha's bare bottom is soon wet and red for trying to run away with Kat to New York! So hot, we show both angles complete, totally bare!
Check out the free Spanking Clips of Samantha Woodley HERE

******************************
From NorthernSpanking.com comes the full film starring Jenna Jay & Miss Jessica Wood in a rather amusing but severe F/F spanking and discipline movie that Jenna didn't find so amusing when the heavy leather strappings commenced! Check out the authentic and "old style" gym outfits and heavy panties required in formal gym sessions long… long ago!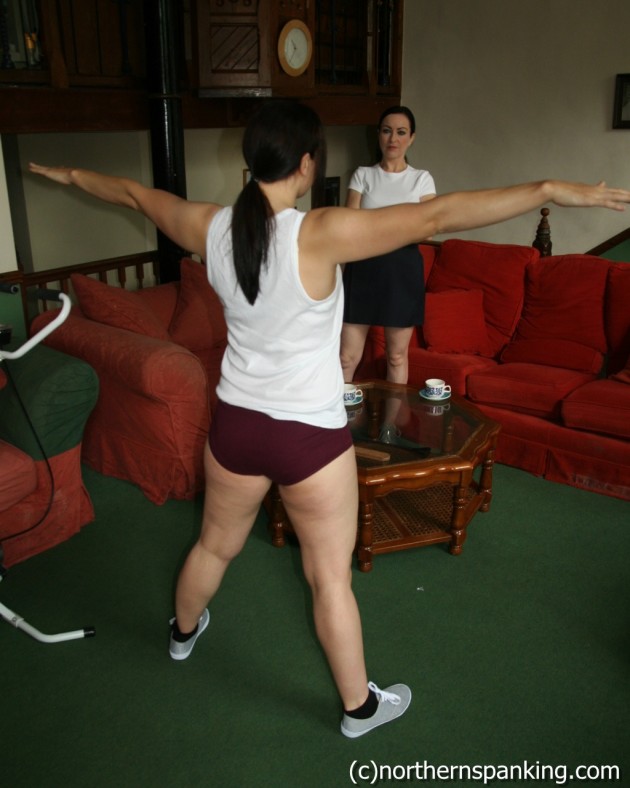 Miss Jessica has something of a reputation locally as a very effective personal trainer with somewhat unusual motivational methods. Perhaps this is why her business is favored with a steady stream of lazy young wives, whose husbands are fed up paying for gym memberships! Jenna Jay is Miss Jessica's latest victim… er, client!
Check out MORE of Jenna & Jessica HERE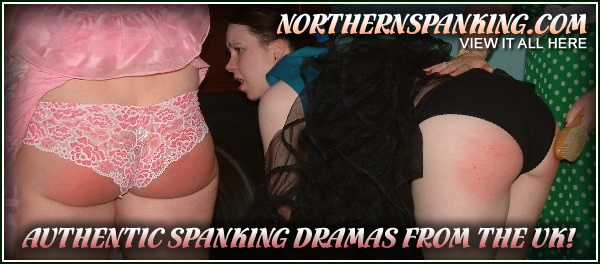 ****************************
No place is safe in the Sorority House – least of all the kitchen as this latest long play and very sexy spanking episode shows… this latest movie with stunning image set is called "Chaos in the Kitchen" – from SpankingSororityGirls.com
Star Nine is back to intimidating Alyssa Reece, this time in the kitchen, when she sits on a stool and puts the curvy bottomed pledge over her knee for a hand and wooden spoon spanking. More making out occurs before Alyssa gets to spank Star a little bit, too, and finished strong with that wooden spoon!
This site is HOT in its own right – Check it out HERE
Or view it as part of the infamous and Best Value Clare Fonda Pass
************************************
At the AAA Clips Store there is a new film added well in advance of the release date for members of AAAspanking.com … it's worth looking forward to (for those who have memberships stretching to early May 2015) and those who only download the odd film can get this a few months ahead of the update schedule.
It stars a very bratty and brassy young Sophie Parker in this "fan request" film of which she was unaware of until she was being tied up… fooled into believing her last film was a schoolgirl scenario (you will see she is dressed as a head girl in authentic school uniform) … Sophie was instead given a most humiliating and tearful punishment on the spanking bench. She started to complain so she was quickly ballgagged and although loosely tied (AAA is not a bondage site) it meant she still could not get away easily so endured a scolding and having her panties ripped and cut off her with scissors then her bare bottom was given a good beating until it marked beautifully with the bathbrush and a wooden paddle! Some images and where to download this unique clip event are shown below:
Sophie bucked and writhed in pain but it wouldn't stop until she was genuinely more contrite! It's a good film with the beautiful Miss Parker given a genuinely humiliating punishment which she later admitted really messed with her head… but in a good kinky way! She would like to "thank" her fans for this unique opportunity (I believe she said this sarcastically!)
CLICK HERE FOR THE EARLY EXCLUSIVE PREVIEW & DOWNLOAD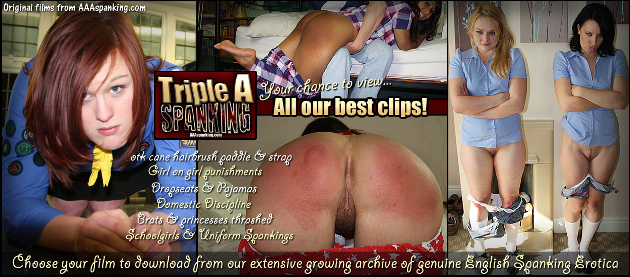 **********************************
& Finally for today! Brand new from English Spankers is the wonderful return (again) of Satine Spark – I'm a huge fan of hers and I know both Sarah Gregory & I are excited to work with her later this year… we will think of something to do to her (together) that she hasn't done yet, I'm sure, LOL… I love self spankings so this is a great film update as naughty Satine uses a hard leather paddle on her gorgeous derriere! Oh… and just look at that cute cosplay outfit. "Nom Nom!"
Satine spanks herself with a leather paddle
This is what Mr Stern had to say about Satine's latest film: We get more requests for us to bring this lovely young lady back than anyone else and when you watch her films you will know why. Satine Spark is filled with the love of spanking so much so that when Mr. Stern leaves her alone for a while she picks up a paddle and gives her bare bottom and thighs a real hard paddling. Being the naughty girl that she is she also gets into some very sexy and revealing positions as she does genuinely enjoy spanking and paddling herself.
CLICK HERE TO SEE SEXY SATINE'S SELF SPANKING

******************************
Oh… and news just in, contrary to what some may think, I would NEVER do this to an aircraft in flight! Terrorism by Poo? Read on…you couldn't make this "shit up" – or in this case read how some as yet un-named (I would so want to name and shame this shit merchant) passenger stopped a British Airways Flight from London to Dubai 30 minutes into the 7 hour flight! It is rather incredible… was this some form of "dirty protest"?? I would be livid if I was on that plane as you don't get back those 15 hours that this person stole from everyone with their out of control shit smearing!!!
READ ALL ABOUT HOW A PASSENGER'S POO BROUGHT DOWN A 747 JET!