There's a new film update just released at AAA Spanking which I'm quite excited about since it has a debut with Miss Chris, who is the Principal who has to deal with student, Alex Reynolds. This was filmed when I was in Las Vegas earlier this year so it was perfect timing as the event we were all at, we had some spare moments to make some films together (finally). Alex was fresh off receiving the award for "Best Spankee" and I had wanted to see Miss Chris finally get in a film for AAA – it was worth the wait. Alex, of course, played her role all too convincingly, perhaps because Miss Chris ensures that her girls get a good hard punishment when it comes down to it.
Images below are taken directly from the film, it features some excellent scolding and it's pretty authentic as it could be made in a hotel room and to make it that more interesting with the "panties getting pulled down" scenario… the reason Alex would lose that privilege during her punishment was because her parents had asked for her to properly learn her lesson (the reasons are explained later for her punishment) – no girl wants her panties removed… and for Alex to be asked to do this act in this situation made it all the more deliciously thought provoking! It really worked, Alex showed real signs of reluctance but accepted her punishment, it is probably the most contrite I had ever seen her in a film for some time! I liked that! So Miss Chris set the scene, told Alex what was going to happen and of course the added humiliation half way through this spanking that she would then receive the leather strap on her bare bottom too! Oh my!
Mid-Term Assessment: Miss Chris & Alex Reynolds
Miss Chris makes her debut in a memorable scolding & punishment film of student, Alex Reynolds. Alex was summoned to the Principal's Office as her parents were worried that this former "A Grader" was losing her way at the Private Boarding School they paid so much to have her educated at to do well in life! Alex had been seen breaking curfew and fraternizing with the local boys, as well as the horrifying dip in her grades. Miss Chris knew all too well what to do in this private meeting that she had arranged for Alex. She gave her a humiliating reminder of what happened to naughty girls; told off, made to feel how she had disappointed those that cared for her, letting herself down. This meant she would get not just an over the knee hand spanking, but one without the dignity of her white panties. She would also receive the stinging leather strap used to great effectiveness that had Alex snivelling and hoping to avoid further such mishaps by the end of her ordeal. She was warned, with an array of implements on the table, that her next assessment could be even worse if she didn't make the changed needed. This Mid-Term Assessment was the wake up call Alex needed to put things right!
CLICK HERE FOR THE FREE PREVIEW CLIP OF THIS PUNISHMENT

This video is also available as a FULL 20 minute film download HERE
There are 2 clip options – It's currently out in full HD1080 MP4… or you can pay a Dollar less for the WMV HD720 version which is still kick ass!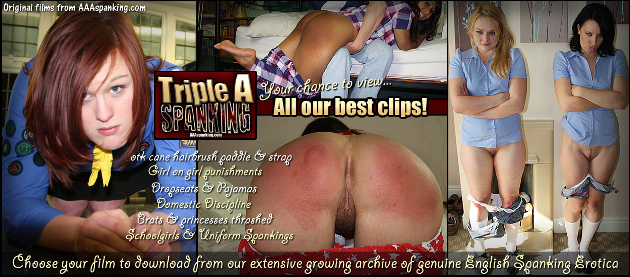 Don't forget there is only one more day to get the cheapest REGISTRATION Prices (see below)