I had planned to bring you this post yesterday, but for some reason my internet connection here is playing up. I'd reboot the whole system but unfortunately I am now in the middle of uploading content important to my site update tomorrow and don't want to restart. It is slow  a little unpredictable at times so I've turned any other mobile devices off in a bid to help with my connection resources… anyway, enough of my domestic connectivity woes… it's annoying but won't last long.

I read somewhere earlier today how in the UK (at least) it is the 15th birthday of Broadband… remember before that we had the Dial Up tones and the modems connecting to the router… WiFi was still not a part of connections at the turn of the Millenium. The news item also mentioned that our fastest speeds for some users are currently nearly 3000 times faster than the 1st broadband access… we take for granted nowadays pages loading immediately, videos and clips playing and streaming seamlessly with multiple devices and options using WiFi for viewing, storing data in "The Cloud" etc. The big bulky monitors that we used to look at too are all replaced (as are our TVs with flat screen monitors and fantastic displays/tablets and laptops). I really only got online in 2003/2004 onwards, so I suppose I shouldn't complain too much when my upload speed slows down to what was once still considered science fiction only 15 years ago.
Do you remember those Floppy Disks (remember them?) that only held 1.44Mb of info: that's not even enough to hold one picture on a raw unedited photo taken from a standard Digi camera or even from my Samsung Note 4 (another piece of equipment which would be totally science fiction 15 years ago).
 Technological advances are so quick now in computing and other similar areas, we cannot imagine what it would be like even 15 years into the future. There is a curve graph ratio that steepens as we look further into the future. Eg) If we look 15 years back, we can not compare that to what is to come in the following 15 years. Why? Technology from 15 years ago was slower/obsolete from now, the starting point which we would use for the next 15 years – so in fact the rate of change from the last 15 years would mean perhaps only 3 or 4 years into the future from this point for a comparable change. So looking 15 years into the future… the changes will be fantastic to us now. More will happen in those 15 years than the past 50-100! Look at how things quickly develop from the early 20th Century onward and how new advances in any field such as medicine, computing, & communications have changed and would be considered Science Fiction, even! I find that scary. This is where calculations for Artificial Intelligence really come into play… and it WILL become a reality in my lifetime, AI is already with us… but the concept of SUPER AI which is stuff or SciFi – the machines thinking for themselves, or becoming sentient and surpassing Human Knowledge, is barely 30 or 40 years away, maybe less. What then for us all?
So what has all this to do with spanking, I hear you ask. Ol' Chiefy has once again lost it, I hear you grumble… well, I am marveling at the explosion of spanking content we now have and how, for us spankos, the past 15 years has been an eye opener if you look back… I can't even imagine how exciting the next 15 will be for those of us who embrace technology… one thing that HAS remained constant, is our love for today's subject – "Bubble Butt Spankings!"
Brittney to the woodshed!
Brittney was sent to work on her uncle's farm for the summer. When she failed to do her assigned chores, she was taken to the woodshed by her cousin Audrey for a taste of country discipline on her bare bottom. After cousin Audrey finished strapping Brittney, the tearful city girl was made to take the walk of shame, shuffling back to the house with her pants down so all could see her bare red bottom!
CLICK HERE TO SEE THIS BUBBLE BUTT SPANKING VIDEO IN FULL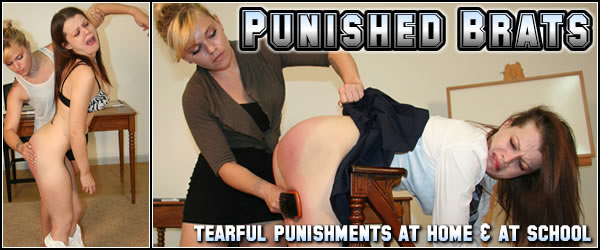 Schoolgirl bubble butts are an easy target when these naughty young madams misbehave… as you will see in this Catholic Style discipline from Spanked in Uniform when this girl's rather large bottom is given a good hard spanking on the bare!
Cleaning Duty – Bellview Catholic School for Girls
Another naughty schoolgirl was sent to the Headmaster again. This time Miss Du Pree sent Betty because she was on classroom cleaning duty and she didn't clean the classroom after the history lesson. After a good scolding the Headmaster pulled Betty over his knee and gave her a sound spanking followed by some reflection time in the corner.
Watch all the many schoolgirl punishment movies plus 15 more uniform spanking styles exclusive to Spanked in Uniform

A "Double Bubble" feature now with Jenna Jay & Amber West – I had missed this naughty update when I was away… I'm still catching up and came across it inside the members area of NorthernSpanking.com which I thought you'd all like to see. It features one of Paul Kennedy's core kinks, girls spanked in nursing uniforms (which I highly approve of) … we are lucky that we also have "Matron" on hand in the form of stunning Miss Jessica Wood to teach these 2 girls a lesson when they are caught playing around on the stair lift machine at the nursing home they all work at! Seems these girls will have to find some amusement elsewhere after this as their bottoms were very sore afterwards!
Images below taken from: Stairlift to a Hiding
To see more stunning images and updates like this
– check out NorthernSpanking.com for more –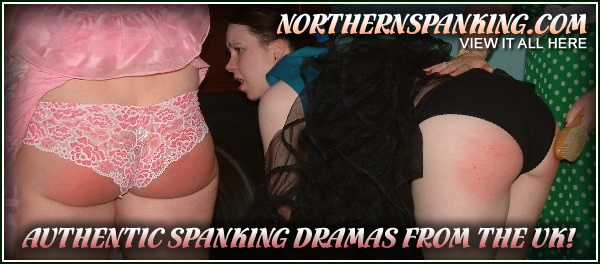 This site I am showing next normally has quite thin looking girls, possibly as all they are Russian and (perhaps) could do with a good meal sometimes… I don't know if it is the state of the Russian economy or not and if the girls eat or whether there is just less shitty highly processed foods like we get in Europe & America which never helps, does it? (he said going for a microwave meal) …. anyway, it's hard to find girls with real fleshy behinds, especially those who have very trim waists, but I found one: In fact – there are a fair few (thankfully) at this site but this example from SpankingThem.com should suffice in yet another wonderful and delightfully humiliating punishment for this young lady called Anna – she is a bit older than the early twenty-somethings as she is one of the teachers at this austere and frightening institute!
Lots more pervy, humiliating punishments & hot spankings HERE


Finally, the Queen of beautiful bubble butts has to be Amber Dawn from SpankAmber.com – This is a typical example of how we get to see nice and close up, in a great POV style, her brief spanking and sexual act that she performs on her lover, Daddy (as he films it) … spanking her when he can in a very sexy, real life couple intimate spanking film – it also features Amber self spanking and slapping her wet pussy! WARNING: Watching this film will cause Trouser Arousal!
There's nothing to be said, except "Damn!" See her revamped site HERE


Finally, Chuck Norris would like to make an announcement!
The 1st Annual Lone Star Spanking Party is on for may 28-31
Check out the website for more details and how to attend! Or else!