I am feeling rather ill having stuffed a few chocolate eggs earlier today… I'm terrible like that. I can feel my poor pancreas working overtime to produce insulin, *groan* – is there such a thing as a chocolate hangover? So while my blood sugar levels spike to syrupy levels… here's a few updates you really should be checking out for yourselves, including a rather amusing and ALWAYS entertaining film from Greg & Rick at one of my fave sites – BunBeatingFun.com
They are delightfully un-PC – they find all those troublesome models most of us wouldn't ever dream work with as they're… well, such "bitches" (I know, people hate using that word but in some cases the girls are such high falluting Divas that this would appear to be the only word to describe them).

 OK… I'm kidding, of course without shattering your illusions, they tell the girls to play up, of course! But it is rather interesting to see just how bitchy, mercenary and lazy they can become – and it's really ugly… I like to think of watching movies from the BBF guys as a public service announcement on how badly behaved girls will get treated and given a good hard spanking at Red Hot Studios!
The latest new vid stars model Dee Dee (so naughty they named her twice)
This is what Greg had to say about Dee Dee: Chilly as February breeze this frosty platinum princess was and whatever manners her mommy and daddy may once have taught her were nowhere in evidence when she made our acquaintance. Dee Dee here was indeed sparing in her dispensation of human warmth.   But had she deigned to notice the evil smile that swiftly spread from ear to ear across our man's face she might well of sensed the perilous position upon which she thereby placed her patrician bottom. Silly girl.
Click here to view the new free Spanking preview Clip of Dee Dee

When I was a child, Mother always taught me NOT to play with my food… so much so that it's a pet peeve of mine nowadays. So imagine my recent surprise when a new full length film called "Food spankings" was released at Spanking Sorority Girls – however, knowing hot redhead, Veronica Ricci, I am guessing she was the major instigator of this mad 'n' bad video. This playful minx loves to act as bratty as she can… it's a naughty messy bit of fun though… just don't go eating any sushi whilst watching this bit of spanking fun!
Veronica Ricci had asked cutie  Koko Kitten to help her monitor how much she eats. Koko catches Veronica eating junk food in the kitchen so she must punish her with a bare bottom over the knees spanking at once. Koko puts Veronica over her knee and spanks her butt while lecturing her about not eating too much. But Veronica decides Koko must be spanked, too, and she even spanks some food right into Koko's bottom, leaving it red, sore, and messy. YUM!
Check out the latest film from Spanking Sorority Girls – It's messy, sticky and HOT!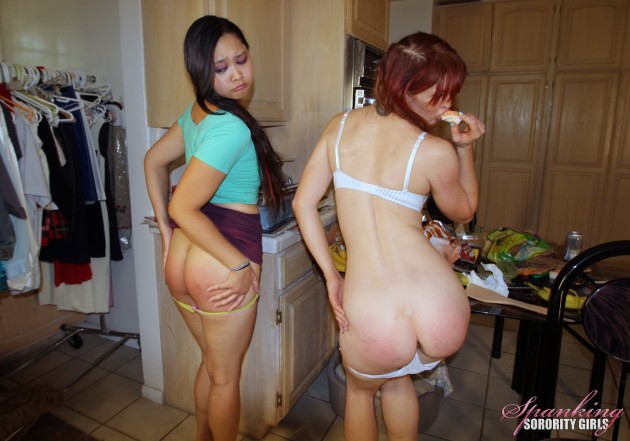 This site is part of the Clare Fonda Pass Network – giving you access up to 5 sites at a fraction of the combined costs of the sites together. But teh beauty of these sites is that they are all MASSIVE in their own right so if you only need one membership, this is still a reasonably priced option, of course! More info on this (below)


If you sign up to Spanking Server then the chances of coming across this beauty, called Bella… are high – since she appears regularly. She and Caprice are amongst my two favorite girls currently showing … well, there are many more, but they both stand out as stunning girls taking various and sometimes more unusual punishments (like anus canings) – however I have opted for the more traditional (and staggeringly sexy) OTK spanking of a schoolgirl (scenario). I'm sure you'll agree… you can see much more of her HERE
Bella is called up for her spanking punishment over Peter's lap
Walltime reflection after a spanking never looked so good at Spanking Server

I rather liked this recent update at Firmhandspanking.com and wanted to show you as her next film has just been released… (I need to catch up!) so better late than never – this is one of the new girls at the site called Kelsey Baker – getting a good solid hand spanking from a male top that I like there, Patrick Bateman.
Pretty newcomer Kelsey Baker's new job as The House-sitter gets off to a red bottomed start as Patrick Bateman spanks her bouncing bottom cheeks 380 times for tardiness.
Click here to see her latest new film clip as well as all the other new updates

Finally for today… from POVspanking.com is a brand new film from YOUR perspective as the spanker with new girl Angel Lee in her very first POV style experience captured on film. I was rather impressed with the way she coped adapting to this style, making it far more believable for us (the viewers immersed in this) than some girls who always find it odd staring and talking directly to a camera lens. Angel is no professional either, just a red hot blooded spanko that enjoyed the chance to make something interesting… oh, and she actually got a pretty good short sharp shock at YOUR hands too… and the hairbrush (you are so mean!)
Images below are taken from the video – the playback is in HD1080.
Angel Lee's 1st POV spanking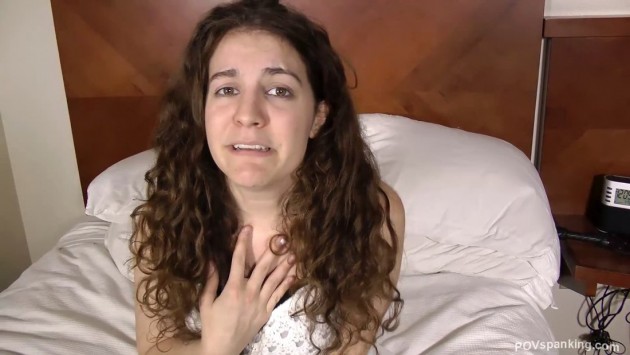 Angel Lee is your babygirl in this relationship and she is submissive to her Daddy. However, you told her that this spanking punishment was coming… she knows it too but still tries to reason and plead with you until she gives in as you give her a frown that says "Enough!" – She complies and turns around even pulling down her panties for you to spank her on the bed with her bare exposed bottom up in the air! You also use a hairbrush on her behind which reddens her bottom up in no time! Experience the spanking as the "Dominant" from your perspective in this video release with Angel Lee starring in her first ever POV style spanking film.
CLICK HERE TO VIEW THE CLIP OF YOUR CHOICE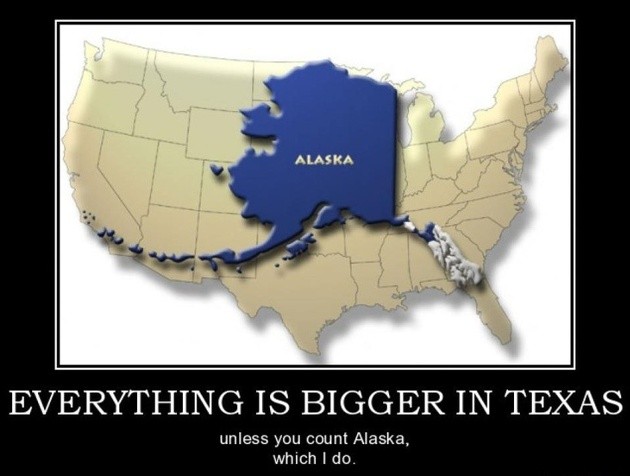 However, it's not as cold or isolated & is home to the BEST spanking parties you can imagine!
TIME IS RUNNING OUT TO REGISTER AT THE LOWER PRICES!