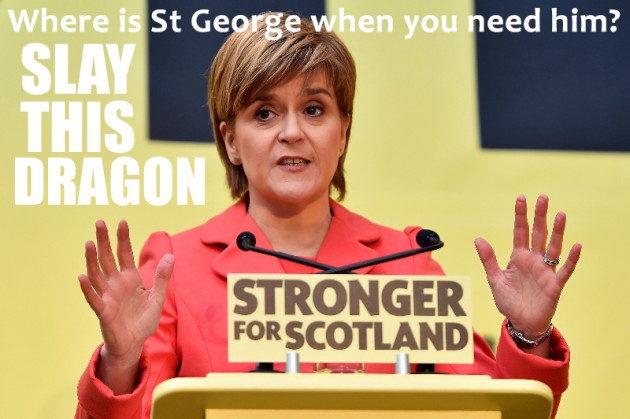 In Ye Olden Days, St George (real name not known since he was a Johnny Foreigner… and according to UKIP, a bloody scrounging immigrant) – oh, the Olden Days would be that "real history"- not the 450 year old junior stuff (bless) on the other side of the Atlantic. Now, where was I? Oh yes, George did slay a terrible beasty, a Dragon… (I do believe these became extinct around the time of the Dodo – snigger). Okay, so I am writing more gibberish than normal, forgive me, I've had a trying day!!!
aaaaaand… at the risk of losing the remaining Scottish readership – I was joking about your precious (or is that dangerous?) Nicola Sturgeon! I know you lot can take a joke. You deep fry Mars Bars in batter and wonder why your obesity rates are the highest in Europe? Don't get me started on your football (soccer) teams which are far worse than the (admittedly piss poor) English ones when they play in Europe. To even it up, it's like barmy UKIP's leader, Nigel Farage, treated like "Billy No Mates" by the other opposition leaders in the recent debate (see below) – I am just trying to balance it up… unlike the Scottish Rugby team, holding the "Wooden Spoon" – and so on (I'll stop!)
There… Scotland. Better? I am sorry Big Dave C and his best mate, "Cleggy" from (Last of the summer wine) couldn't make it, Mummy wouldn't let them out to debate in front of the entire country!
WARNING: Ignore the next paragraph & move to SPANKINGS! I'm on a rant! 😉
"Enough!" You are saying… especially those to the great continent west of Britain… (you are wondering what the actual F*** I am wittering on about on this great national English Day that most of us can not be bothered to celebrate?) Well, imagine no one caring about July 1st in Canada or July 4th in the USA… unthinkable, right? There are also elections coming up for May 7th when the people of Britain officially vote their country down the toilet with disdain and indifference to our politicians. the elections this time round are mean, nasty, vindictive and intense and everyone knows Britain is up Shit Creek because of this with none of us caring enough to vote one of these wankers in with a clear majority. I despise them all, just below paedos and killers, but just above bankers, traders and smug billionaires with beards. So I am in a great place right now… celebrating my national day ranting here on a blog when I should be getting on with the spankings as promised!
>>> Spankings start here <<<
To make up for my ranting, here are plenty of updates from the fine ENGLISH style websites we all know and love! Starting with English Spankers
Lazy Luna gets a whacking
Luna should have been at work instead she is getting ready to see her boyfriend. She has just been spanked in the shower for being late for work and now she is in real trouble. A session with the leather paddle may teach her a lesson, starting over her pyjama bottoms the paddle does its work and makes Luna take note. Then the PJ's are removed for a good bare bottom leathering. This naughty young lady features in the latest of their Hand Made Films series.
CLICK HERE TO SEE THIS LATEST GIRL NEXT DOOR FILM UPDATE

I couldn't feature an "English Spanking" without Amelia, could I? I know you've all seen the Free Sponsored Canings – if you haven't them… then Pandora's site HERE is most probably your best bet to find every link – So Amelia (or her alter ego, Ariel) took hers along with so many other brave girls for BACKLASH (please do contribute to them and help them defend the English websites that may be under threat from the barmy ATVOD Quango) … Instead, I thought I would show off this set of images that is just… so… Amelia! taken from Northern Spanking
Come here! – stars Amelia Jane Rutherford
When he beckons her to come sit by him, the last thing Amelia is expecting is an OTK discussion of her spending habits but that is exactly what she gets! What she also gets is stripped and leathered with his well used and well worn in tawse.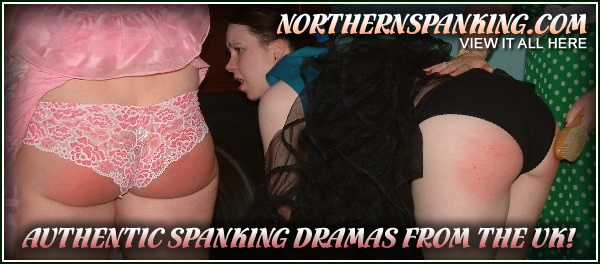 Pandora's site Dreams of spanking (apparently under threat from ATVOD) is next – so do support her as she has been the most vocal of pornographers standing up for her kink in the UK. I have 2 peeks at her wonderful kink… the 1st is with Molly Malone and Nimue Allen.
Probation officer Molly Malone is keen to correct 'delinquent' Nimue Allen in this real life f/f caning story. It's the 1980s, so technically the cane is forbidden, but her unlucky victim doesn't know that. Molly makes Nimue fetch it from the office cupboard and bend over the sofa for her punishment caning. But as the stripes glow red on Nimue's bottom, Molly looks like she's having second thoughts. When Nimue returns, will she seek revenge on her cruel probation officer?
Pandora asks the question: Does my bum look big in this? (heh heh!)
Which of these sexy shorts should Pandora's wear on her date? The hot yoga pants? Hugging her curves, they're certainly attention-grabbing. Or perhaps the tight pink legging shorts? They look pretty good as she slides them over her gorgeous bottom. How about tight denim short shorts? Pandora Blake squeezes herself into a selection of sexy shorts, before stripping and kneeling for you on the sofa. Pulling down her knickers, she invites you to take a closer look.
View what's out at Dreams Of Spanking HERE
Finally, I'm running out of time and it is already the 24th April here now (sigh) I was talking to Sarah (Gregory) earlier tonight and she said she had a nice time chatting at the pool with Leia – sigh… in case you didn't know, the BBW Party is on for this weekend in Atlantic City, NJ. I should have gone, thinking about it, but I was thinking about the spanking party I am helping to host in Houston, TX at the end of next month and can't stay away so long in the States as I was planning on being back in the summer for a longer period…. anyway, I'm waffling… I was just reminded of this fantastic film that both Leia and Sarah Stern did for SpankingSarah.com a few years ago – and I found it in my archives….watched it again and got you a few pic reminders for you good long suffering readers: I promise… this is awesome! & with that, I bid you goodnight, I hope my ranting wasn't too unpleasant a read for you all!
Paddled and Strapped – courtesy of Spanking Sarah
IN this episode from the drama "The Prisoner" – Sarah breaks into the safe house where Leia Ann Woods is asleep in her bed. After waking Leia Ann Sarah slaps her around the body and face, terrifying her before making her strip naked for a ferocious beating with various straps and then a heavy wooden paddle. In this film we see Sarah at her most wicked and dangerous and Leia Ann at her most submissive!

GET YOUR REGISTRATIONS IN BEFORE MAY 1ST AS THEY GO UP IN PRICE!
Full details on the website home page HERE