I have a couple of really good spanking updates from the SG Group for you today as I contemplate who the heck I am supposed to vote for in the UK… I am pretty much 90% decided as you can see from the badge on the left – this is most probably my party of choice. I won't bang on about it but needless to say they also have MPs that actually wanted to discuss the unfair Porn Laws in the UK though I am not voting for them just because of that, it was a nice touch. Thankfully I will be back in America soon leaving this nonsense behind me and hoping that there is no far left swing that will knock the UK back decades economically… I'm also looking forward to the better weather too in The States and looking forward to my first visit to Texas later in the month.
Who will be walking through this door tomorrow? Hard to tell with the general malaise and perception of politicians in Britain at the moment… more importantly, with so much apathy and mistrust, whoever takes charge should think about building back that trust! "Westminster Rule" is being challenged, the Scots started it, the Welsh are getting more of it and now the English in far parts of this Kingdom demand respect and more autonomy (like the "united" states within America) – they are saying "enough is enough"… less power to the London-centric politics… and I agree, do they really care about what we little people think in the far south west or north east of England or other regions they appear not to care about? We won't behave anymore… and here is that theme for today… let's get on with the spanking news while the ballot papers are counted.
– Spanking Update News –
From AAAspanking.com comes a brand new long play film which is broken into 4 distinct parts in the story. It stars one of my fave UK girls, Rosie Ann, I like her a lot and this video shows how far she is prepared to go in a production. She was still only 18 when we  filmed this (which i find incredible as she is so much more mature in her tastes than girls twice her age… I have seen Rosie try out things in the world of BDSM such as needle play (not really my thing) and severe bondage. Anyway, back to this video… this was her idea and she wanted to make use of various things on the set we were filming at late last year… Rosie is very agile and asked if she could hang from the bars while I spanked her (could I? hmmm). Not only that but she had a favorite pair of open crotch bloomers she wanted to wear to mark this occasion.
This really was just the beginning… & the other things she wanted to do were getting a caning spread-eagled on a spanking bench, (very humiliating), which was very painful as I fast caned her several times! (I have a free clip of that).
Check out the free clip of her caning (below)
[jwplayer mediaid="40683″]
Then… Rosie wanted to be tied to the St Andrews Cross next and experience 2 of my most feared straps, one had never been used before, a thick heavy rubber strap I bought years ago from the online Cane-iac store … and it always scared off the girls when I brought it out. So fair play to Rosie for trying it… I don't think it is something she'd want to play with everytime.
Finally she had spied that I had bought a new dense oak wooden spoon and we retired to a kitchen setting where she got a thorough whacking with that, it made some great sounds and also left her bottom beautifully glowing red… or as red as it gets! (there's a free clip of that too!)
Check out the free clip of Rosie's wooden spoon spanking…
[jwplayer mediaid="40699″]
The video is about 25 minutes long and members get to see this in glorious HD playback. I am loving our new style of films and so it would appear are new members. I am rather pleased that we are way ahead of the last few months like for like against last year. It's probably just a statistical blip but it means I can go ahead and make more films like this one safe in the knowledge that there is a genuine fanbase for it out there. So thank you to those that help contribute to keeping the site going and there is much more filming ahead.
See the HD1080 movie HERE with a Loyalty Membership (from just $12.50/month!)
Rosie's films can also be viewed as one time downloads from the Clips Store as well.
Oh, I say this, but I am genuinely interested in any storylines you may have. We also do custom shoots for private individuals and these have worked out relatively cheaply – the going rate nowadays is from $12/minute (fully edited as the cheapest option) minimum 10 minutes. However, if you have an idea of what you'd like to see then let me know, write to my gmail address (it's located in the about me section if you don't know it by now). We may even put those into film free if your ideas are feasible and "something! we'd like.

& for something fresh and new from the other side of The Pond today… a new girl shown here for the first time, as far as I can see, before any other site – and she's a leggy stunner who I hope to meet at the Lonestar Spanking Party in Texas! Please meet Lexi Ellis who was spanked by Sarah Gregory at the recent BBW Party (in Atlantic City). I love seeing secretaries spanked by their bosses, especially a gorgeous pairing such as these two… Sarah was really excited to tell me about her films she did with Lexi… and I have just seen the latest full film here – it's awesome!
Spanked Secretary – starring Lexi Ellis & Sarah Gregory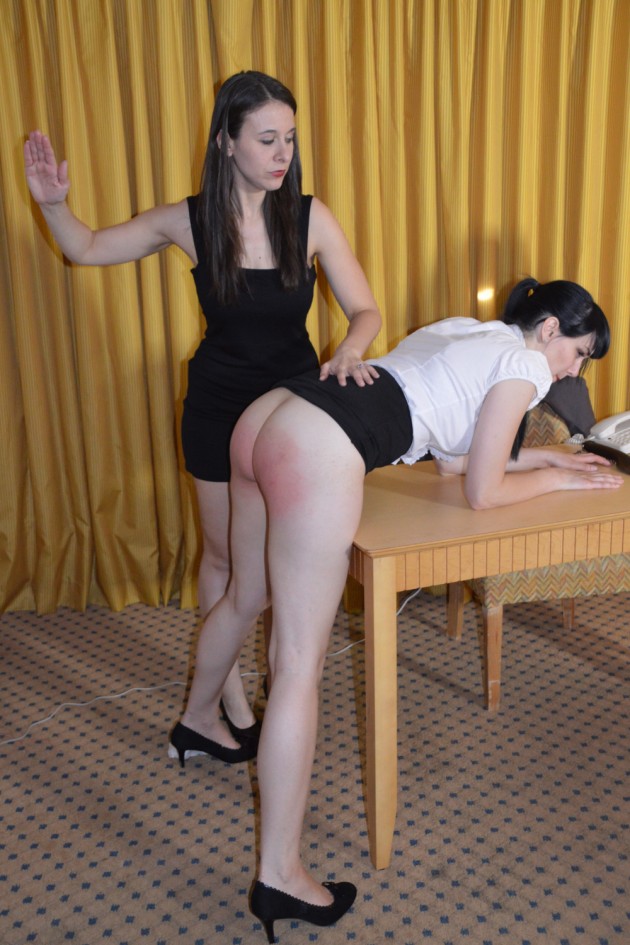 Check out how new girl Lexi gets spanked and strapped (below)
See the strapping clip (below)
[jwplayer mediaid="40716″]
Sarah opts for the hard and humiliating punishment option as only she knows how… some great "follow throughs" with a leather strapping when Lexi was placed on "all fours" (as you saw above) on the table which must have been particularly embarrassing for her… as well as a hard nasty hairbrush punishment to finish off at the end before being told to "get out!" Images below and a short clip to show you the severity of this!!!
[jwplayer mediaid="40722″]
Check out the FULL HD Video of Lexi's humiliating hard punishment
OMG! Look at those long legs and tight ass! Lexi is sure to be a hit!

This site is part of the better value SG Pass which gives access to MommaSpankings.com as well and for $10 less per month than both together! Click on the banner below to see what you get!


Don't forget time is running out to register in advance for the Lone Star Spanking Party – May 28-31st this month! This is if you want to also reserve a hotel room and spend 2 or 3 days at this event… the website has the full schedule of what is happening including some new things and it promises to be very well attended – especially for an inaugural event! "Thank you, Houston, Texas!"