Last year when I was with Alex Reynolds and Paul Kennedy, I asked if they would make a film for AAA Spanking in which they would showcase what they do in their private life and at their "amateur" inspired Kitchen Sink Productions clip store (which I like a lot – please do go take a look!) – the result was this video, a real life event leading to real life discipline and an intimate glimpse of their lives opened to us… the viewing public. It's a voyeuristic peek at their relationship and this is a delightful spanking film, filled with plenty of banter, backchat, plea bargaining and bratty behavior thrown in from Alex. I have to admit, I find particularly bratty situations hard to cope with, personally… as Sarah knows full well! For me, excessive poor pouting behavior leads to heavy implement usage… therefore it is nice to see Paul's firm but reasoned patient approach… until Alex forces him to up the ante and assert his authority in what was, originally, a maintenance/punishment spanking when Alex would repeatedly lose the keys to their hotel rooms!
Check it out, I think most of you will love this rare glimpse at real couple discipline with partners knowing and testing each others' limits to how far they can push it before the inevitable spanking punishment takes place. There is also a nice tender aftercare scene at the end too! This update today features some images taken from the video plus a short free instant play preview clip!
[jwplayer mediaid="41049″]
Losing the Room Keys – starring Alex Reynolds & Paul Kennedy
Alex and Paul took time out from their own private online project "Kitchen Sink Productions" to show us all exactly what they both make at their intimate spanking website that examines their own relationship with much brattiness and eventual contrition from Alex… as well as the loving D/S relationship that Paul has with her. It would be quite obvious to casual observers such as us, in this short film, that we were fortunate enough to glimpse a part of something very real and not contrived with this spanking carried out as a typical and sometimes playful punishment they would do at home or show at their own clips site. This video was made uniquely for AAA to highlight their relationship, in this case with Alex forgetting her hotel room key (again) and the banter that Alex & Paul had as she pouted, tried to reason and hopelessly bargaining with Paul before she got her much deserved bare bottom OTK spanking punishment which we filmed which can now be seen exclusively in our members area!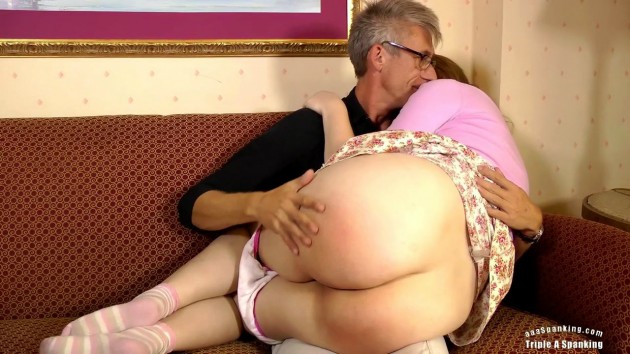 CLICK HERE TO VIEW THE FULL FILM IN THE MEMBERS AREA
This video is also available as a one time download option
… at the AAA Clips Store
View all videos available for download at the store HERE
************************
You can see more of Paul & Alex's work at AAA Spanking or for something unique… their amateur inspired Clips Store HERE or via Northern Spanking

The Lone Star Spanking Party in Houston is unaffected by the adverse weather that has been reported recently. The flooding and rainfall has affected Houston but the hotel is situated on elevated land off "The Belt" freeway and access from both airports is not affected. No more extreme weather is forecast although intermittent thunder showers will be on and off throughout the party days, but as the event is mainly INSIDE it will not spoil the enjoyment of what promises to be a fantastic inaugural event!
Full details at the link below for pay on the day guests – see you there! 🙂