There have been 2 fabulous new films released in full this week at AAAspanking.com – and this is the second, just out a few hours ago, as promised (that is because Members get to see who is featuring next week on the home page – as they can right now for the following week, but that would be telling *wink*) 
It stars the very lovely Isobel Wren, who was filmed at last year's Fetishcon in Florida… I was hoping I could get to meet her again at this year's event (next month) but she might not be attending, so this is the last of any content that was filmed of her for AAA (make the most of it… as there are also rumors she is leaving porn and online fetish for keeps due to her personal career in her private life). I fully understand that though it'll be a great loss if she does "retire" – but nothing in this biz lasts forever, eh? Okay, so to this video update… Isobel confided to us that she was intrigued about the "Wheelbarrow spankings" she had seen – and wanted to try it out for herself, even though she was a bit nervous and feeling a little embarrassed about just how vulnerable and submissive this position made her (that is the point!). Sarah & myself shot this footage and Isobel was awesome… there was a great range of spankings, from warm up to harder and also her barely touched sweet spots were able to be spanked too… which she later admitted stung like hell!
Below are a collection of images taken from the film, these are only 1280×720 in size but the actual film is in full HD1080 so you don't miss a thing! Get up close and personal with Isobel in this latest spanking video now out to download in full at AAAspanking.com
Isobel knew about the "Wheelbarrow Club" and had seen some videos so had some idea of what this special membership meant! She was a little nervous at being in such a submissive and revealing position… which she confirmed how it felt like being unable to anticipate or imagine her spankings and how she must look from the rear angle. This, as we have always said, is part of the attraction and why we do this position so well as we "get it" and pass that knowledge on to our ladies. Isobel was naturally submissive and this was one to tick off her "Bucket List" having never done anything quite like this before. After we ensured that Isobel was comfortably positioned, her spanking began, lightly at first, gauging how she would respond with the rushing to her head. Then her spankings got harder and more stinging as her pert bottom was open to having her vulnerable "sit spots" spanked and turned red in front of our eyes for the very first time. She got what she wanted, more new headspace sensations as her bottom was spanked, caressed and played with. Welcome Isobel, to the Triple A Wheelbarrow Club.
Check out a short clip of this film… it's lower spec but you'll get the idea!
[jwplayer mediaid="42083″]
CLICK HERE FOR THE FULL WHEELBARROW SPANKING ARCHIVE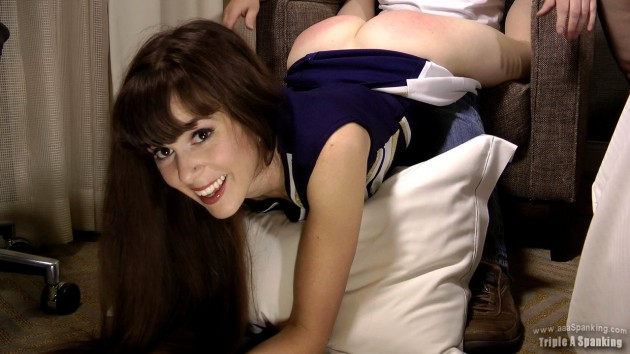 Access the site with a special long term Annual Membership effectively making it only $12.50 /month or check out the other excellent long term offers from AAA Spanking including the popular 5 day membership/trial options with lower rebills too – CLICK HERE
*********************************
This video is also available to download at the Clips Store