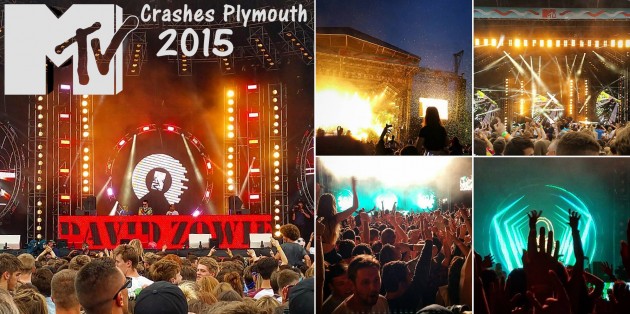 I had some fun attending the second day of MTV Crashes in Plymouth this week, I have to admit I felt my age bopping with 1000's of 16-20 year olds and was generally grumpy at some of the dickheads there, I only thought these kids threw bottles of piss at Kanye West… I was wrong.
I avoided most of the flying bottles but being there for 5 or so hours, I was bound to get some splash back, lol! Fuckers! The reason I put up with the wasted youth around me was because I was there to watch Steve Aoki's set… and with this event becoming bigger every year (apparently over 57,000 turned up over the 2 day event on the famous Plymouth Hoe) it was a stunning backdrop and I love how the biggest talent on the DJ-ing circuit want to come to this event! I won't bore you with any more, I was just psyched about it… images and clips are from my cameraphone… then of course there are the spanking updates you want to see!!!
[jwplayer mediaid="42163″]
Unseen Leia Ann Woods & Irelynn Logeen at AAAspanking.com
This was updated earlier today, it's a photoset (not a movie but a great idea for one) – it's hard to believe but this was taken four and a half years ago… how time flies! I have the storyline and a few of the reduced size images. There might be a return for those that like the odd dedicated image set, I know that there are more with other girls at AAA but it's a matter of letting Sarah know where to find them from all the raw image data. I'm sure when we are together next week I can help her locate it all for future updates! In the meantime, check out Leia and Irelynn, the only time they filmed together, I think, was for AAA (I could be wrong, and sure if I am will be told!)
Irelynn was staying with Leia at her luxury city apartment and both girls had some time to kill before going out to meet friends. They decided to play a game of Dare as they both wanted to see who could stand on the window and look down the longest without feeling queazy. Both girls were deadly afraid of heights so this was not easy for them, but as it was a Dare they both decided to do it. The loser would get a spanking… now they are no strangers to this form of play and it was really just another excuse for the girls to play and get another chance to spank each other! Leia went first and Irelynn seemed impressed at first but Leia started complaining so Irelynn pulled her panties down and gave her some hard smacks to take her mind off the dizzying height below! Irelynn was a little turned on by this and couldn't wait for it to be her turn. She squealed far too early when she was facing the window… hoping Leia would take the bait and give her some "spanking punishment" for her apparent cowardice. Job done, leia quickly obliged and enjoyed getting one back on her close friend. Both girls passed their ordeal and fell into each others arms to feel safer away from the city view high up in the air.
See this latest update & the many unique films with Leia & Irelynn together HERE

Sarah & I will be meeting Whitney Morgan later this summer and I can't wait… the girls love working with each other and I have already sent her a few friendly private tweets, she sounds like she is just going to be awesome and she has worked with Sarah at her site before… but if you want to see her first time appearing out west for the Clare Fonda Network of sites… then check out Spanked Sweeties as she gets the usual treatment, her interview and some re-enactments of spankings when she grew up… this girl is seriously into spanking so it's worth checking out, the images I have below are her teacher /pupil re-enactment with Veronica Ricci playing her scholastic nemesis!
Whitney Morgan was spanked often growing up, including by her mom (Miss Cassie), her teacher with a ruler (Veronica Ricci shown above) and her dad, who spanked her sometimes with a book. Whitney gives an outstanding, candid interview with some excellent re-enactments.
Remember this style is unique to Spanked Sweeties.
From the same network of sites come a new naughty spanking film at Spanking Sorority Girls called "Star & Alyssa's Anal Adventure" – Okay… I was sold… see why below (this is hot and the film is way more revealing than these images FYI!)
Star needs to practice taking someone's temperature anally. When Alyssa resists, Star tries to convince her with a sound spanking and paddling. But Alyssa holds out for more. She'll do it if she can give Star a spanking too. Good scene with anal thermometer, kissing and lots and lots of naked spankings.
See the whole naughty spanking film HERE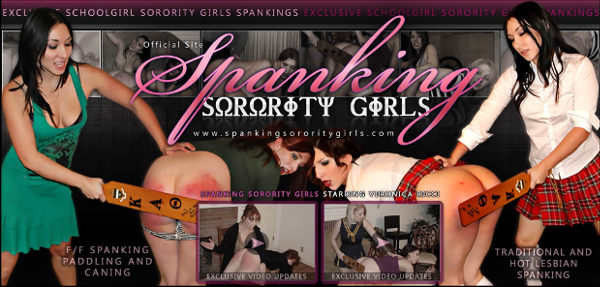 Both these sites are part of the Clare Fonda Pass network, giving you up to 5 sites combined for a fraction of the cost… just remember to have enough hard disk space and time to download all that content!


The next brand new update at Sarah Gregory Spanking brings back memories… it was our first time back in Las Vegas since we met and clicked way back in 2013… unfortunately (for me) Sarah had in mind to be a rude, bratty hotel guest and have me dressed in a bellhop costume (um, okay… I thought). The result was that I spanked her harder than she probably imagined as I really got into my part as the pissed off Brit worker who was leaving the hotel so didn't give a damn about what the guests thought anymore… and then his last job is this brat to "really" make his day… oh my! I let her have it, lol!
Sarah has called the bell hop to bring her fresh towels. When he shows up with one one set, she is upset as she needs more. She is very rude to him and even throws the towels on the floor. When he asks for a tip, she refuses so he gives her something; a spanking to show this rude brat a thing about manners.
See Sarah spanked like the naughty brat that she was HERE

Or check out both her sites for less when purchased with The Sarah Gregory Pass


Finally today… from Spanking Sarah – nurse Ella Hughes is given a near tearful punishment she won't forget in a hurry by Matron. This is the latest film at this site and it's called "Nurses Bottom for Hire"
Nurse Ella Hughes has been accused by some of her fellow nurses of letting the doctors at the training school spank her bottom in return for money and for giving her higher grades. Matron also thinks that she is not up to scratch on her ward work and in general is a very bad example of what a nurse should be. Ella confesses to what she has been accused of and so punishment follows. This is a harsh punishment which leaves her close to tears as the leather paddle does its work on her bare bottom.
See this and MORE of Ella's films with Sarah at her site HERE


I will be back tomorrow and will let you know about a new POV film coming out this weekend starring Adriana Evans as a naughty stripper from our perspective. Teaser images below! 🙂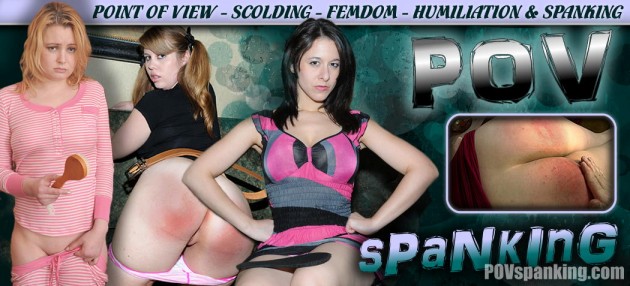 Please do pop along to our friends at Ouch.uk.com – seriously among the BEST purveyors of their own handcrafted discipline implements anywhere! This is QUALITY stuff!