I <3 Pluto – and little Pluto loves us back for bringing it back into the fold of human consciousness! Look at how cute that "heart shape" is!
NASA's intrepid little spacecraft New Horizons sped by Pluto (finally) at it's closest point yesterday and I know we await even more stunning images than the one above as they have promised that we will get to see high resolution images of the surface, effectively mapping the (dwarf) planet's features. I know this is a bit geeky, but ever since I was a child learning about our Solar System from whatever encyclopedias I could read and retain knowledge of, Pluto and the furtherest planets remained featureless and the illustrations of artists… well, not anymore! My geek-kink is rooted in my love of Sci Fi and most shows like Star Trek that have created whole worlds and timelines in the future. I even included a Star Trek reference into one of the 1st ever AAA productions (see below) with Kami Robertson… that was fun to do 😉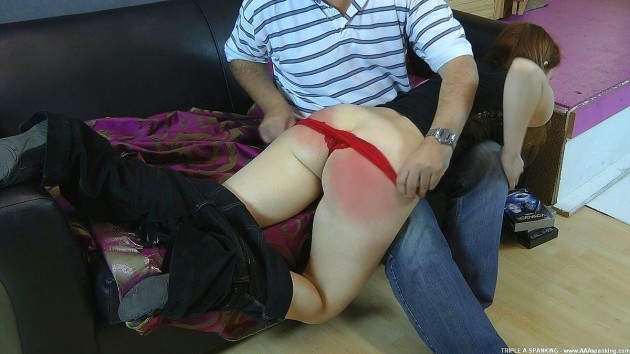 & so to today's various naughty / fun / sexy / firm / mean (etc etc) spanking updates from different sites which will capture your heart like little, lonely Pluto seems to have done with this flypast mission – (amazing what you can do with $700M, isn't it?)

Consequences for Casey – starring Casey Calvert & Christy Cutie
Christy is not happy with her roommate Casey. Casey hasn't paid the rent in months and now her non-paid rent will have consequences for her poor bottom. This is a fun and sexy f/f spanking film you don't want to miss with two HOT spankos.
Check out this naughty but sexy girl on girl spanking film in full – HERE
This update can also be viewed as part of the Sarah Gregory Pass – giving you 2 sites, the same codes and also for less than the combined cost of them both… and with ALL of Sarah's films now produced in full glorious HD (incl. many older movies already upgraded) at both sites… this is proving to be a very popular pass… for good reasons!


There's a gorgeous new redhead girl at NorthernSpanking.com – (you *know* how I adore redheads!) & I know I am going to enjoy seeing MORE of her… as will you! She is called Linny Lace and her first time OTK on camera was with Alex Reynolds in this hot schoolgirl themed spanking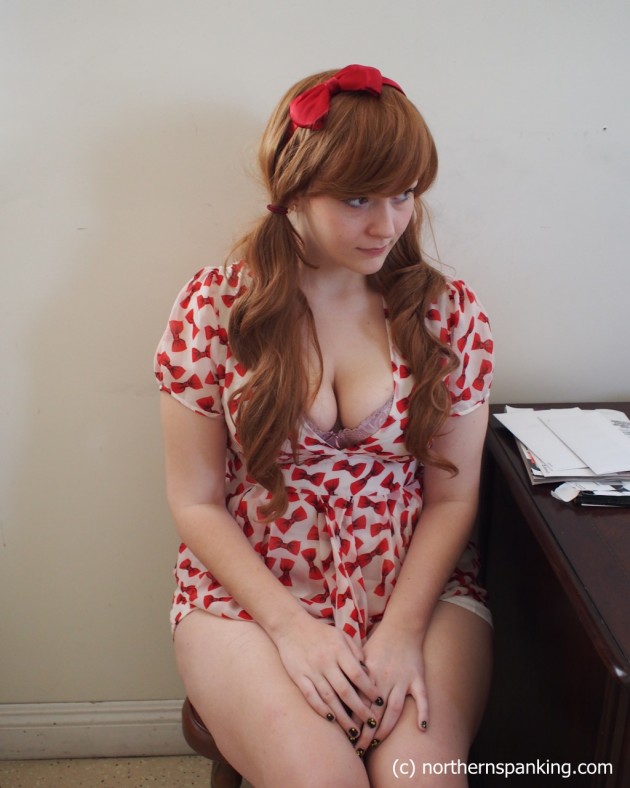 Linny Lace with that adorable face and perfect, round bottom caught the attention of Paul and Alex… so they asked her if she would like to do her first ever spanking shoot with them. Linny is a lifestyle player, and she really enjoyed her first day of shooting as you'll see below…
Linny is also appearing in a new video at NorthernSpanking.com – I have some sneak preview pics of that latest release for y'all!
Parklife – with Ginger Sparks & Linny Lace
Ginger and Linny are out of school enjoying the sunshine in the local park. They love flashing their white cotton school knickers at passers by. So I don't think you need to know much more than what some of these teaser images are showing when the park warden comes along – as it's Paul Kennedy it'll be spanking related for sure!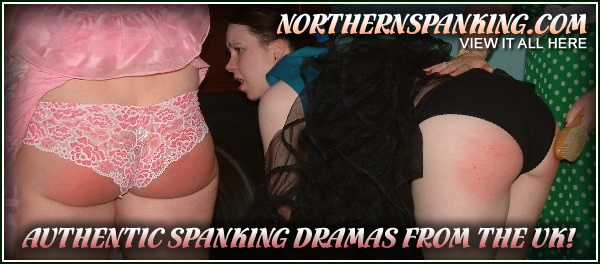 A couple of excellent sexy & naughty new spankings from the Clare Fonda Network next as you'll see there's a hot new film out at Spanking Sorority Girls with 2 relatively unseen girls in this genre too (some of the delights of living in LA, eh?)
 A student posing as a Nurse gives a rude intimate sexy spanking!
Sunny Day poses as a nurse who must give new student Mary Jane Mayhem an exam. She takes Mary Jane's temperature rectally. When she becomes surly and unco-operative, Sunny spanks her. When Mary Jane figures out that Sunny was not a real nurse, she gives her a few spanks of her own. Sexy and mild spankings is the prescription in this one. #HAWT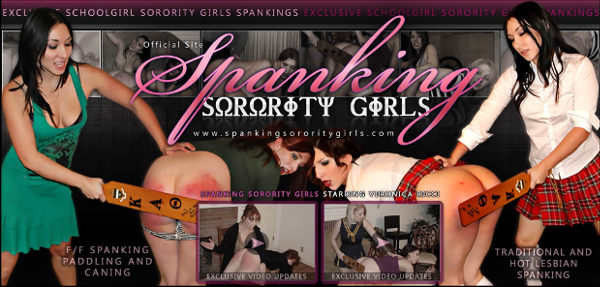 & continuing from a post I had written HERE (at one of my other blogs) this is the concluding part to the full video members of Spanked Callgirls can view right now starring an awesome pairing of Kitten & Red Hot trained and spanked initially by brothel keeper Bettie Bondage.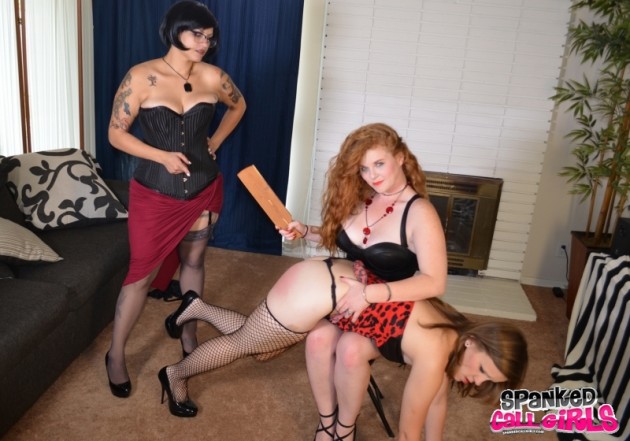 Bettie Bondage is back breaking in two more new girls. This time Red Hot and Kitten. She teaches them how to walk and talk like callgirls, and also all about discipline with some hard, sound spankings and paddlings.
View this spanking vid of very sexy girls spanking the bejeezus out of each other!!!
These 2 sites make up to 5 that you can view as part of the best value Clare Fonda Pass – giving you combined access for a fraction of the total cost! Just make sure you have a decent amount of spare storage to download all your spanking smut to 🙂


You know how I feel about Stacy Stockton – possibly one of the sexiest girls to bare her ass and get spanked as far as I am concerned… & she is only found at one site – so that means let's take a peek at her latest new spanking film update now available to long time members (yup, like me!) of FirmHandSpanking.com
More delightful marital strife for this couple as Mr & Mrs Stockton have a few issues to sort out!
Buying a time-share in Fiji just as husband Jonny gets laid off costs big bucks – and a sore butt for Stacy Stockton as her bare bottom is spanked and whipped for payback. Savings gone, he reddens his beautiful wife's jiggling bottom in Truly Madly Deeply.


Finally, this is a little after my own heart (not Pluto's) – I have said similar things in the past, sometimes, to models who plead with me to film them again. I know that producers might want to push it further (within reason) or try out something new… Sarah Stern did exactly that with Bonnie May when she asked to come back. Which you'll see in a moment!
But before that… My mini rant here: I guess with ATVOD cracking down on UK based sites it is harder for girls to find  work in the vastly smaller "fetish world" they are now creating (bravo ATVOD!). Fortunately, it's far from illegal for foreign based sites to film there in the UK… my Sarah (Gregory) was there recently collecting new talent for the SG Group of sites (of which AAA is a part…) – I guess I wish I could help her film more in the UK but since I spend so much on travelling back and forth between the States & the UK now, and helping out more and more behind the scenes including promotional work (naturally) … filming extra content in the UK is now deferred and money spent on flights instead! Within the SG Group of sites, there is so much unreleased stuff which we're both  aware of … and that is the issue, so maybe if she had more sites (based without question in the USA and run by Miss Gregory but with a different attractive theme) … well, hmmm, wouldn't that help?
OK, I have teased enough… LOL!
*************************
In the meantime… please do check out this latest film now showing at Spanking Sarah
"The only way is The Cane!"
Bonnie May had come to see Sarah Stern to make a spanking film, but whilst waiting she tried out some of her implements on her bottom, this left her with marks and Sarah was not too happy about that. She told Bonnie the only way she could film her was if she agreed to take a severe caning. This she did and Sarah made Bonnie strip naked and got her into position for a very long and painful caning (!)
To view this caning video in full – CLICK HERE


How Pluto felt yesterday… #trending on Twitter 🙂
[jwplayer mediaid="42055″]