Just a very quick update to keep you amused – I do hope that you have all had a great long weekend, especially to those of you in either Canada or the USA who have celebrated their national days, meaning you get to drink and eat lots outdoors and watch fireworks when it gets dark. Great! At the time of writing, in case any of you are interested in watching "Monkey Tennis" or ladies soccer, as it is also called (apparently) – my congrats to the USA in winning quite comfortably (in the end) against the Japanese Ladies 5-2 (I did watch goal 4 on a highlight and laughed at the hapless, flapping Japanese girl-keeper but it was a cracking goal scored from just within the half way line… those goals are rare and to be savored. Okay, this is brief and I just found this latest update from the Clare Fonda Network located at one of the 5 sites making up this network – one of the naughtiest and sexiest girl spanking sites – Spanking Sorority Girls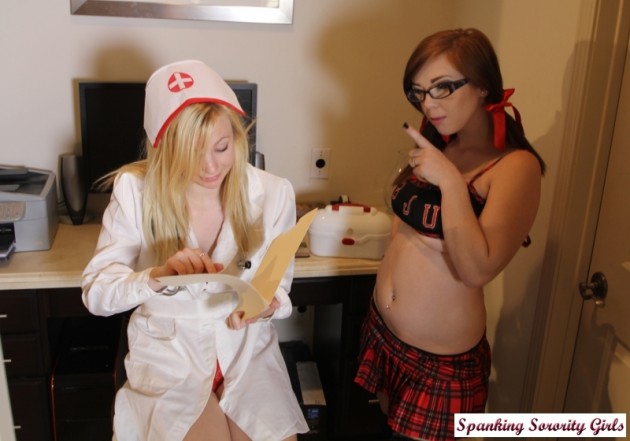 Check out this lovely raunchy spanko naughtiness as a student is caught impersonating a nurse – after she took a rectal temp taking! Surely there are easier ways to perv on the sorority girls??? LOL! I like this girl's style though! & even better, I like the way she is caught out and punished!
Sunny Day poses as a nurse who must give new student Mary Jane Mahem an exam. She takes Mary Jane's temperature rectally. When she becomes surly and uncooperative, Sunny spanks her. When Mary Jane figures out that Sunny was not a real nurse, she gives her a few spanks of her own. Sexy and mild spankings is the prescription in this one.
It's a sexy spanking which compliments the many harder, more severe butt blisterings also located at this site. I have to admit, I like sites that demonstrate "range" (and also not afraid to show that they can vary updates rather than wham! whack! bam! Yikes so hard etc – yawn!) so this week the update is a far more provocative, raunchy style. Check it out in full HERE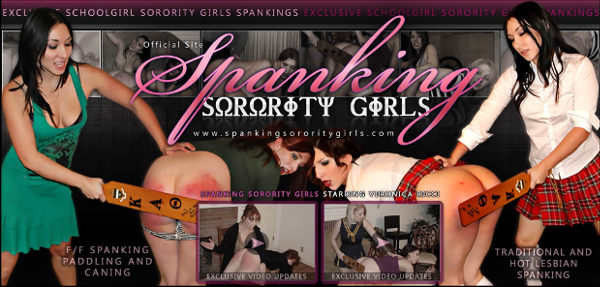 Or use the 5 site Clare Fonda Pass
– giving you access to 5 popular sites for a fraction of the combined cost –