"Oh Hai!" I'm sorry,  I had been a little busy elsewhere and also totally offline for several days with a dodgy net connection which was fixed earlier today… I just had my phone contract to check emails, customer support and sign ups etc which were all pretty smooth, luckily. Anyway, that meant I couldn't upload data or do work involving lots of research or blog posts and such. So I decided to take a few days off since the connection was an issue and did all those boring chores around the (outside) of the house I'd been neglecting and putting off, like getting a new picket fence replaced, getting it painted and doing other tedious jobs like sorting out my rusty front iron gate that is now fully refurbished and is now a gleaming metallic black as well as other fences and gates that needed wood staining – my, I had been busy (!) and the weather was glorious, which helped. I'm now all "chored out" and fed up… I had been also chasing sunsets recently since they were so stunning, I won't bore you with my sunset or fence pics (lol) – shall we just get on with the many spankings, and "schpaanking" shenanigans I know you are really here for…
Losing a dog costs Karen Hughes more than a bare bottom spanking
I could have done with someone like Karen Hughes – a "house sitter"… someone to help around the house and also spank when she didn't do the jobs properly… and  with a VERY spankable ass like hers, I'd be giving her difficult tasks to complete so I'd have an excuse… like Jonny Stockton (lucky man!)
With her jutting bottom already marked from Jonny Stockton's many spankings, Karen Hughes is reluctant to bend over for another licking after losing an owner's dog in House-sitter. "The strap hurt way more than I expected," says Karen.
See this latest film from the knockout House Sitter series HERE


Dance of the Heart (Painful Parting) with Joelle Barros & Bianca Rose
from Punishedbrats.com
Joelle discovered that Bianca was having an affair with a young man in town, behind her back. She decided that it was time to return to New York and end her time with the lovely red head. When informed of this, Bianca exclaimed "You bitch, you can't leave me!" Joelle then demonstrated what a bitch she could be and took her now former lover over her lap for a spanking. Using both hand and wooden paddle to make sure that this parting would be epically painful – Before casting Bianca out of her home, Joelle made Bianca apologize to her for being with the boy after each swat of the paddle. After her punishment was done, Bianca was made to pack her belongings and leave. Is this the end of this complicated affair?
This is just one of many Joelle/Bianca spanking films found HERE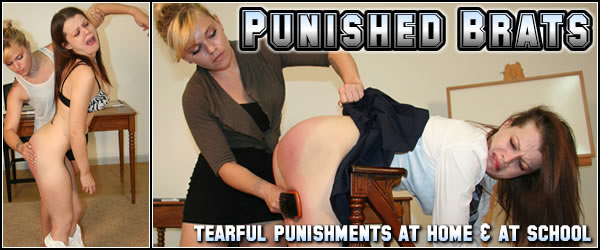 New Airline recruit Samantha forgets the Pre Flight Speech – at Spanked in Uniform
New Stewardess Samantha forgot some of the safety speech on the Madrid bound flight so she decided not to do it or get one of the other stewardesses to do it. Mr. Johnson found out, of course, and she was soon called to his office for some well needed old fashioned discipline. This involved a good scolding and a "schhound hand schpaanking", Dutch style, uncomfortably over his knee.
More excellent uniformed "schpaankings" HERE


Finally today… a very sexy girl spanking girl extravaganza!
In the final installment of the Life Coach series, Jenna Sativa has skipped class to go out with a girl. When Star finds out, she puts Jenna over her knee for a long, hard spanking with hand and hairbrush, even though Jenna's friend could show up at any minute. Then Star uses a vibrator on Jenna, just as her friend does arrive… Jenna is so angry that she spanks Star, too. It's a hot girl on girl, very sexy spanking finale with these hotties in the Life Coach series.
Girl Spanks Girl is MASSIVE in its own right and will more than keep your hard drive busy getting filled with HOT female spanking content, however, it's also part of the massive Clare Fonda Pass – 5 sites for a fraction of the combined cost – See MORE on this HERE


Check this out… I will be featuring more from this service soon!
A modern, robust, fast web-mail client with user-friendly encryption and privacy features
Who we are…
We are YOU, the people of our nation who have been hijacked and spied on by our very own government. We decided to change the game and eliminate the threat of big corporation data mining.
Fact: Many free or low cost email solutions are fronts for the marketing of their providers. That is how they can afford to provide you a free service. They scan and index your emails looking for ways to target you with marketing.
Our solution doesn't need to do this. We protect your privacy because our system is not open to being scanned. No one needs to know what you are writing, or based on what you receive, what you might be interested in purchasing.
This is YOUR life, and you deserve the ability to take your power back. Let Hide My Email Account help you.