Nothing wrong with some sexy girl on girl spankings… is there? God knows, right now I needed cheering up, with family matters overseas that I am unable to help with close to my "heart" – I had a really stressful day returning from our latest vacation spot to discover a good 90 minutes into the journey that I had left my passport and large amount of cash in our hotel room. Sarah was there for me as I envisaged worst case scenarios of Housekeeping discovering the cash/passport etc and not being honest or the room cleaned and new people checked in – doing the same etc… at the same time we were rushing back, I received really distressing news from home… which just compounded things at the time. Thankfully, I found my money and passport, the nasty French guy in the hotel was chastised by senior management for disbelieving our distress and causing us both more at a time I had received the awful news from afar! Thankfully "that news" (I won't elaborate anymore as this is, after all, a spanking blog but it affects how I feel and decide to write etc.) of back home may yet be good in the end so I am praying and being hopeful. I am sorry to unload on you like this, but needed to do it somewhere and this was the only place I could. My head feels like exploding at the moment (like the nasty Martian – left) so I need a few days to chill out, recoup and start again.
Ok, here are some new spanking updates from a group of my fave sites you will know so please do check them out and give them your support in the links to discover more about the sites if you like what you see.
From the Erotic Spanking Section of GirlSpanksGirl.com – Sexy Tub Spanking
Veronica Ricci plays a Russian school ballet instructor who catches two American students (Lana Lopez and Amelea Dark) making out in the tub. Veronica gives them each a sound hand spanking, then some with a wooden bath brush, and even makes them spank each other while kissing.
Click here to view more of this hot erotic girl on girl video


At Spankedcallgirls.com you'll see sexy callgirl Lana given her hardest butt blistering spanking by Veronica (who also got a good return whacking) in the latest episode of "Hoes spanking Hoes" and such!
Lana and Veronica smack each other hard fast and all over their butts!The girls really give it to eachother really darn hard!!! Resulting in 2 throbbing bright red and very sore bottoms. Lana Lopez is now living in her mom's green house. Veronica Ricci visits her home with the intention of bringing Lana back to the callgirl business. Lots of hard spanking goes down before it is determined if it was a successful recruitment mission or not. This is Lana's hardest spanking yet!


Veronica again features at Spanking Sorority Girls and this is a good hard humiliating and mean punishment by a nurse who doesn't believe she is faking an injury!
Veronica tries to fake an injury and must visit the strict nurse (played by Asphyxia Noir), who takes her temperature anally, then spanks Veronica hard when she decides she's faking it. The nurse puts Veronica over her knee for a hairbrush spanking, then bends her over for the strap. After, Veronica goes back to the sorority house where she secretly cams, doing some sexy posing.
Click here to view the latest film in a sorority setting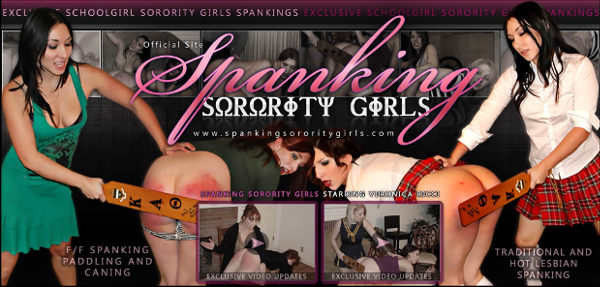 Finally today… I thought I'd finish on a recent classic OTK spanking with Whitney Morgan (who I had the pleasure of meeting at Fetishcon and will be appearing at the SG sites very soon!) and… of course, Veronica Ricci at Spanked Sweeties – the 1st time and growing up spanking site that features true life stories and events re-enacted for our benefit!
Whitney Morgan was spanked often growing up, including her teacher with a ruler (Veronica Ricci) – Whitney gives an outstanding, candid interview with some excellent re-enactments.
This site and all the others featured above can also be viewed as part of the best value Clare Fonda Pass – giving you access withthe same codes to all the sites for a fraction of the combined cost! Check it out for yourselves HERE


Have a good weekend wherever you are and enjoy life, it can sometimes be shorter than you think to do those things you want to! Say NO to procrastination and go do what you have been putting off!