I am sorry I wasn't back here sooner, this update was partially prepared so I will get it out as it contains news of the latest 15 minute hard spanking video to come from AAAspanking.com – it features a welcome return of Melody Nore. Sarah had just filmed with her for all the SG sites and there is some amazing content to come, as I mentioned previously… but first, this interesting video deserves its time in the limelight. The storyline was a little fun to make but that was where the joviality ended as the role play became quite serious once the filming had begun. Which was perfect… as Melody wanted to get into the headspace of this scenario quickly. She was told to imagine she was one of those old school nurses that still dressed like one from the 1950's… doing her rounds and she was basically a "Home help" so had keys to the houses if needed. A position of trust, right? So why did she insist on trying to take temperatures of all her patients and those in her care each and everytime… rectally!
Poor unsuspecting Melody was about to meet her match when (unknown to her), John Osborne was visiting his twin brother (Jack) and after a long flight took a nap on the sofa only for nurse Melody to let herself in and this is where the film starts… with John sleeping and the nurse thinking that this is Jack… so she is preparing herself with latex gloves and wielding the thermometer and a small tub of vaseline… this isn't going to end well is it? Melody played this role perfectly, almost too well, I hasten to add the look of concentration on her face was frightening…. when I viewed this for the first time after an edit (this was made over a year ago at the Crimson Moon Spanking party in Chicago) I laughed as she was so serious… creeping up on me… my eyes were shut and I had no idea!!! (heh heh)
There is a free preview of an early part to her spanking before a 2nd clip later with her taking a much harder hairbrush spanking!
[jwplayer mediaid="43088″]
& so the mistaken identity, her mistake… and the revelation of what she had been doing to make John's brother uneasy was all revealed. Time for this madam to get a taste of her own medicine. I remember at the time we had discussed temperature taking, but (believe it or not) I preferred to have it as a "threat" – it got wielded on several occasions and I much preferred that this film be about physical retribution… with a good hard no nonsense spanking and implement punishment. Melody can take a lot of punishment so the hairbrush and bathbrush, both used with thuddy and stinging force REALLY got the message across… as you'll see! Redhead Melody's bottom started to mark up from the hand spanking but this was just the warm up… as I said, much worse was to come and (fair play to Melody, being the pain slut that was was… took it all rather well!)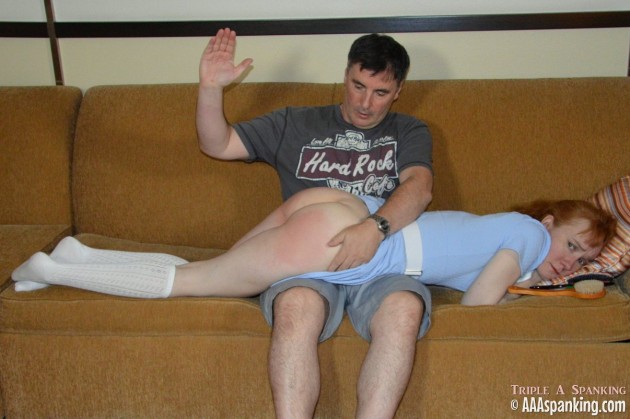 Check out more images and a free clip of what is available this week for members at the site – as well as 2 download options for immediate viewing via the 2 Clips Stores… links for all that are at the bottom of this post.
John was visiting his twin brother, Jack, whilst on a long overseas trip… Jack wasn't too well and had said some worrying things to tell John about his new home help nurse, Melody. John was tired so took a nap on the couch but was rudely awoken a little later with the home help nurse, Melody, trying to take his temperature rectally. Now John knew what his brother was worried about, she was obsessed with this medical procedure! Melody didn't realize her mistake, thinking it was Jack until John pulled her over his lap and gave her a damned good spanking. Jack never did that! He wasn't happy at all and used a couple of brushes on Melody's cute, pert bouncing bare bottom. She protested but John threatened to take her temperature "that way" too if she didn't accept her discipline punishment… by the time it was over, Melody's ass was an angry shameful red. This video will appeal to those that like to see a hard hand, hair & bath brush spanking of a girl in a delightful retro style nursing uniform!
Check out the FREE Clip of Melody's punishment (below)
[jwplayer mediaid="43087″]

Or try the downloads from the AAA Clips Stores (below)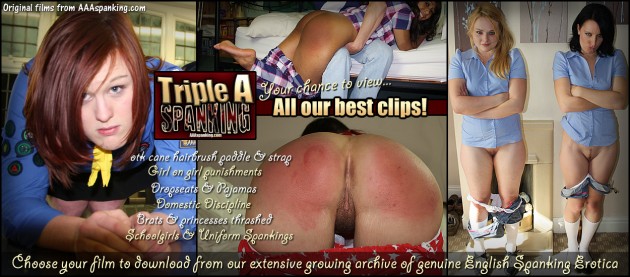 I promise to be back tomorrow with update news across a multitude of sites and updates at more of my blogs, it's gonna be a busy day!!!