This was a post taken from over 2 years ago when Alex made her first visit to the UK – seeing as I have spent time with both Paul and Alex at the Shadowlane Party this weekend, I thought this quick reminder post about a great schoolgirl film made for AAA Spanking might ease any non appearance from me. As you can imagine I have been rather busy spanking bottoms at the party 🙂
"Exemplary Detention"  it's about 18-19 minutes long and is part of a short series that has a fantastic twist in the 2nd part… I won't let on for now, but when you see part 2… you – WILL – LOVE IT!
Some behind the scenes info on this film: The classroom set was quite cold, despite us having the use of a massive heater, the setting loses heat very quickly (like the schools of old as I recall). Alex… and pretty much most of us (I am never that bothered by the cold, that's just my quirk, I guess) hurried their lines to get the spanking part done so at least Alex could feel some part of her body warming up!!! Zoe didn't play in this film, she was an observer… watching and taking notes as to how to properly punish a girl in detention… so have a thought for poor Zoe who was rather skimpily dressed, as you will see! Below are some images taken from the film followed by some actual screen shots of the film so you can clearly see what will happen to the naughty exchange student  (Alex).
Wondering what the wine bottles, cigar humidor (and there are also several LARGE chocolate bars) as well as all those nasty implements are doing there? The official blurb doesn't state why they are there but the reason is because Alex had stolen these items from the staff room as the teachers had a party planned (apart from the implements, they are there for "educational" purposes for Zoe) – I won't tell you how they found out…. needless to say, Alex was well and truly rumbled and had what was coming for all her lies!
Some screen shots below of the action too… I really liked the way this film came out in the end and it was one of my faves of the day… I guess Alex just "loves" to play bad bratty schoolgirls!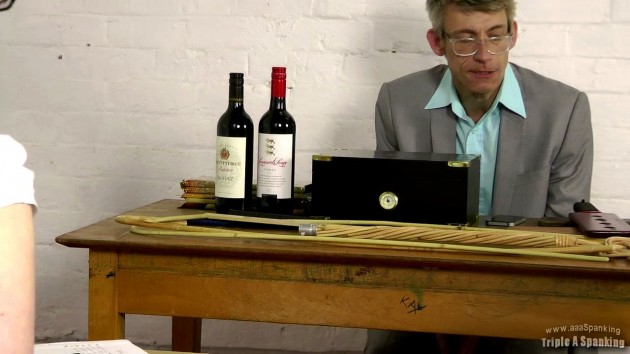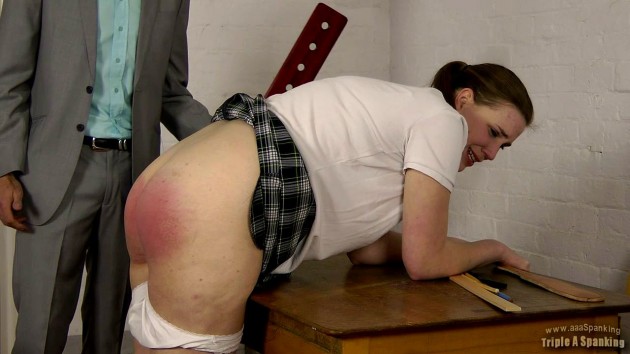 The official storyline: Alex Reynolds was the subject for prefect Zoe Page's study on how to carry out the perfect detention as shown by Mr Kennedy. This was needed in the absence of teaching staff due to ongoing Education cuts to teacher funding at the school. Alex was a complex subject for Zoe to observe as this American Exchange Student tried every trick in the book to wriggle out of her guilt until confronted with overwhelming evidence! This would be no simple spanking punishment, as Zoe had secretly hoped it wouldn't be… Miss Reynolds' lies & her refusal to own up when she had the chance saw to that! So her regulation panties were removed then she received various tried & tested methods of discipline on her bare, quivering bottom in the cold austere classroom. This would include the heavy punishment hairbrush, a thick leather strap & a painful wooden paddle (to make her feel at home). Zoe watched eagerly taking notes as the punishment unfolded so she could step in if needed whenever Mr Kennedy decided to leave the room. This is a special long play 2 part detention series of student Alex Reynolds & we know you will enjoy this! See what happened in this schoolgirl spanking film with a true authentic, depressing classroom setting!
You can see the full Hd film from the AAA site HERE
****************************************************
This post is untouched and from over 2 years ago – POV has come so far since those early days!
At POVspanking.com there are some more film clips, but I promised to show you what we were doing so you get the idea… here is a clip of Alex, in her dropseats pleading and then accepting her punishment in a purely POV style. then you'll see the action later ion clip 2, just click on the images and the files should play, I didn't have time to turn them into flash/HTML5 movies for now and they won't play on mobile devices using Android anyway!
Clips are reduced in size/quality from original HD-MP4 versions but still play well at wmv 960×540…
See all the latest films at POVspanking.com
**************
Back soon with Shadowlane news, film updates and gossip! 🙂