My apologies for the delay in getting this news update out. Sarah Gregory had given me the all clear about this film, she wanted to share this one with you. I think it may have been earmarked for her main site but she decided that AAA Spanking needed some very hot sexy spankings and "some range" since there have been some very hard, painful and emotional videos released there recently! Sarah knows how uncomfortable I am when a group of girls will play up and become incredibly bratty… it's not something I'm good at dealing with so she tested me out. What better case than this video with not just her, but incredible Christy Cutie and Casey Calvert. What's more, they were dressed in VERY CUTE PJs… the ones I rather like! You'll know that is one of my core kinks, uniforms in general and cute "jim-jams" always do it for me – period! My only stipulation when I filmed this was no underwear underneath their PJ's (it's probably why it ended up on AAA – LOL!). Anyway, there is a full image set as well as an extensive screen grab gallery that accompanies this new video for AAA Members. I'll also give you a link where you can check out a free clip of these cute girls later!
This would be my reward… the sight of these reddened bouncing bottoms!
So… did I handle the uber brattiness of these young ladies? It was hard to call, as usually if I do get frustrated by this sort of behavior I will "explode" and be real mean to stop it (as Sarah has found out!) … but she is teaching me how to deal with this in other ways: Letting the girls brat, letting them think they are winning and then use their poor behavior as an example to further, punish and humiliate them etc. etc…
"No sticks?" I asked… "Sticks do an effective job!"
"Not if you want to have sex tonight it's not!"
*silence* "Understood!" *damn!*
Here is the latest new release available for members at AAAspanking.com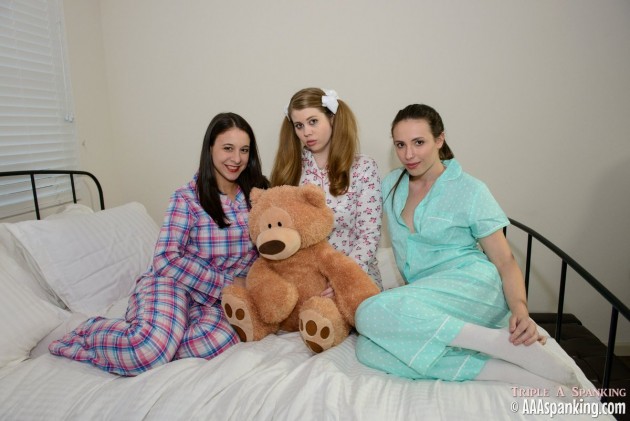 Sometimes we just want another excuse to punish 3 very cute, sexy, bratty girls. This all star line up featured Sarah Gregory, Christy Cutie & Casey Calvert, wearing the cutest PJs imaginable. These naughty brats were waiting for their punishment together on the bed. They didn't have very long to wait! Each girl had her PJ bottoms pulled down and her bare bottom spanked then strapped with various leather implements. They were sassy little minxes and the Housemaster relished the challenge of spanking them, especially when they were lined up over the bed, cheek to cheek, to receive yet more punishments. In this delightfully sexy spanking video, who could resist such inviting targets?
See a FREE Clip of these gorgeous girls getting their spankings – CLICK HERE
AAAspanking.com – HTML5 playback for Mobile/Tablet friendly viewing now as standard – HD1080 films at very high resolution in MP4 & Wmv formats. Extensive zipped full size 1920×1080 resolution screen grab sets and HQ 1800×1200 image sets as well as the promise of at least one new film delivered each and every week with nearly 5 years of archives. There are currently 277 full length films and more bonus features for members. All available from $12.50/month (taking the Annual Option with a no rebill guarantee for your peace of mind – the best deal anywhere!)
If you want to just download this HD movie as a one time download then there are 2 options for this… click on either banner which will take you to either Clips4sale or the Spanking Library – both files are the same price and same quality… you decide 🙂