Just a selection of some outstanding updates for y'all today. This is my way of catching up a little and it covers a lot of what is currently being watched and downloaded by members of the respective sites I am featuring here… let's check out what is out there in the wonderful kinky world of spanking – which is why you're here, right?
Syrena is Embarrassed & Spanked –  RealSpankingsInstitute.com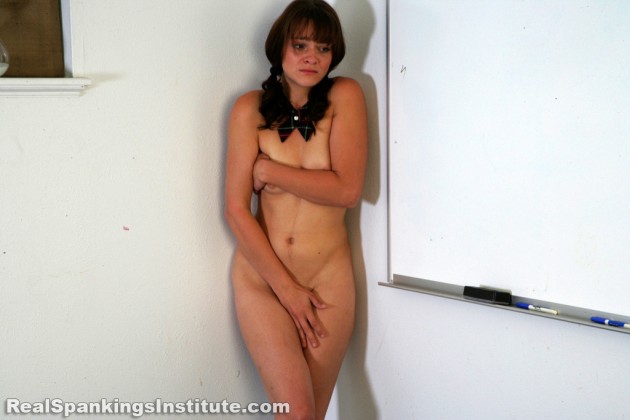 The Dean left Syrena in a specific position, which she had now gotten out of because she was embarrassed to be like that on full display. The Dean quickly put an end to that, and instructed her to bend over and spread her cheeks and wait. When he finally returned, Syrena was taken OTK and spanked hard on her bare bottom. She was then left in time out, just as exposed as before but with more on display plus a very sore red bottom!
Check out this awesome new lesson in humiliation & Spanking HERE
This site is part of the RS Network – multiple sites for a fraction of the cost…


Return to the Manor (A helping hand) – SpankingSarah.com
This is another episode in our amazing spanking soap Unladylike Manor. These are the poverty years and the inhabitants of the manor have to earn money the best way they can, Lola is the new maid, fresh from prison she earns money the only way she knows how but in this film we see her repentance and penance at the hands of mad preacher Lord Stern. A  spanking good addition to the series
Check out sexy naughty Lola Marie & her archived content HERE


A love rekindled (Joelle Barros & Bianca Rose) – Punishedbrats.com
It has been several months since Joelle sent Bianca packing during a snow storm. She has regretted that ever since. She felt that her book and life were now incomplete. Against the advice of Audrey, her editor, Joelle departed New York for the secluded house in the woods. Upon encountering the lovely red head in town one night, they resumed their passionate and combustible relationship. After spending the night together, Bianca asked if Joelle would spank her. She hoped that this would absolve her of the guilt she has carried since that snowy day several months ago and this would show that Joelle still loved her. Once Joelle finished punishing her lover, she led Bianca to the corner by the bed where she could admire her handiwork and satisfy her carnal desires.
Check out this hot film, part of a really cool series these girls made together! Click HERE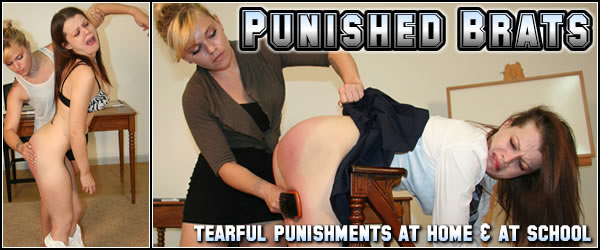 A really HOT update next from NorthernSpanking.com – this is how you do a "cheer girl and female coach" film. (Honestly the only other site that really gets this uniform niche along with myself and Sarah!) – man… Alex Reynolds is smoking in this and new girl Nuna in that dark cheergirl outfit looks adorable (especially panties down) when the punishment begins! Well done Alex & Paul… I loved this!
Nuna is a promising young cheerleader attending her first convention. Excited at being away from home and no doubt encouraged by others, Nuna consumed alcohol the night before a qualifying round and woke with a hangover. That was far from her only problem; Coach Reynolds had heard all about it. Coach Reynolds had a reputation as a strict disciplinarian, and a huge wooden paddle…
Click here to see more cheer style films and new girl Nuna's debut film

A new long play series called "Bad Plumber" has just started and it looks.. um, sexy 🙂
This film is courtesy of GirlSpanksGirl.com
Amelea Dark is a plumber with no answers, though she blames Angela Sommers because her pipes are old. In the first episode of this series, Angela spanks Amela right in her kitchen for doing the bad job. But when Amelea threatens to tell Angela's landlord about the bad pipes, the blonde beauty finds herself over Amelea's knee.
Click HERE to download this latest hot spanking film
This site is part of the Clare Fonda Pass – all site access for a fraction of the cost


Finally… Not the most recent, but I am catching up with Bars and Stripes and I missed this one – but oh my… that Chessie Kay is such a naughty girl, isn't she? I know Officer Zoe page would have enjoyed a bit of playtime with her too! The "Screws" in this prison are bored too!
Officer Zoe Page caught inmate Chessie playing with herself and being a naughty girl. Zoe decided to play some naughty games with her which involved spanking her delightful tight little bum and paddling Chessie while she played with herself. They both ended up having a lot of private naughty fun that both need sometimes!
Prisoners and guards, Punishments and Discipline – Check out the new look site HERE

Before I go… I know those in the southern hemisphere are laughing at us poor people stuck up here facing the looming winter (well, okay… those in Texas, Nevada, California & Florida etc might disagree) but please enjoy the LAST of what was Summer here up north… and ENJOY the rather gratuitous booty shots in Calvin Harris' "Summer" video – I approve. Play it loud and watch your spanking vids! 🙂