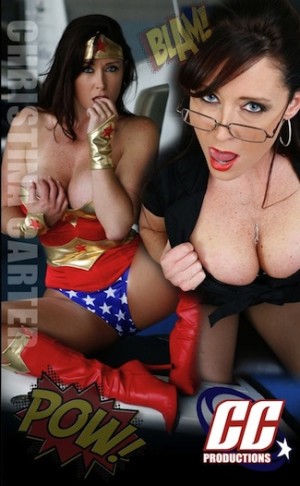 There is a hot new spanking film available to download at AAAspanking.com and it's a special OTK spanking feature with popular and renowned fetish/cosplay and glamour model/producer, Christina Carter. She is a very busy lady and of course you may have seen her in her trademark cosplay superheroine parody costume of Wonder Woman. I met Christina again tearlier this year at Fetishcon and we found some time to film a few things with her when our schedules were clear… I'm so glad we did, she is a blast to work with, naturally… and we had a lot of fun making some films. You may remember that Sarah did a great F/F video with Christina… you can see a FREE gallery of that sexy spanking fun film HERE
Anyhoo… Christina also happened to be good friends with our roomie, Johnny Lake so we naturally asked them if they'd film an equally sexy M/F film… and this sure was… you'll see Christina genuinely get off to her spanking and ask, no BEG Johnny to spank her some more! Christina is known as a Fetish and Bondage model but she still loves to be spanked by the right people!
Just so you are aware of who Christina is… her website is ChristinaBound.com – I do suggest you go check it out and see they types of naughtiness she gets up to, it's a popular site and she is one of the best at very naughty, rude parody cosplay scenes! Before I show you some images from the film and a link to a cool free clip… I found these images below of myself, Sarah & Johnny on what looked to me like one of our warm up sessions before getting delightfully drunk (by the looks of it). Ah…. Fetcon, that was a fun few days! 🙂
As we were in a hotel, we easily made the plot believable as you'll see below… and Christina was naked too… win/win all round! 🙂
Wonder Booty Spanking – starring Christina Carter & Johnny Lake
Or if you prefer to watch this as a one time download/keep option then this will become available later today at the AAA Clips Stores (below)
& that's not all… earlier this week at the POV Clips Store there was another awesome teasing & scolding film with some great interaction with YOU (this is your perspective as the sub) as the desperate guy who turns up for his session. You really need a good hard spanking over her lap…. you'll do anything and even show a little disrespect by trying to grab at Christina before she puts you in your place! "Naughty Boy!" Check out some screen grabs and a link of where you can find this!
POV – Are you a naughty Boy? Starring Christina Carter
Christina Carter is the stunning fetish model who you meet for a special session. However, you didn't request her to be in her trademark "Wonder Woman" costume… you are a naughty little boy that wanted to see what she was like underneath all that clothing. My my… you are naughty, aren't you? She scolds and teases you at first, you asked for her to use and abuse you… you want to be punished by this strong woman…. but she won't make it easy for you, oh no… she is going to tell you exactly what will happen before you deserve to go over her naked lap! You only make things worse for yourself by trying to paw at Christina carter's ample breasts… such a disrespectful young man…. aren't you? This film doesn't contain any actual POV spanking or scenes of spanking, but it does contain some fantastic scenes of scolding, humiliation and femdom POV material from your submissive point of view… and of course, it stars the fantastic Christina Carter in this one time exclusive film here at POV Spanking
Check out a FREE Preview clip of this video (below)
[jwplayer mediaid="44796″]
Have a good one… oh, & don't forget to put in your nominations for the #SpankingAwards