It's Xmas week… and I have resisted tempatation to start showing Xmas videos… you'll get those closer to the day… but for now, let us view some of the most recent films and updates to appear at some of the following quality spanking sites thsi month that I have not covered so far due to the ongoing Spanking Awards taking up my time!
From Punishedbrats.com – Audrey Sugarsmak's delightful round bubble butt is spanked by Ami Mercury in this new film called "Return to Service". I have a thing for Audrey's rounded butt curves and love seeing her bottom given a good spanking and you will like this video too!
After her conflict with her stepdaughter Ami, Audrey thought it best if the brat moved out. There was no way that Ami was going to move into a college dorm while Audrey lived in the lap of luxury. Ami let it be known the she was aware that she and Mr. Jones "got a thing going on." Audrey did not want her husband to find out, so she allowed her stepdaughter to spank her. The punishment started over her tight black skirt, then upon her cute purple panties and then, much to Audrey's mortification, her bare bottom.

After Ami finished spanking her stepmother, Audrey was made to bend over the back of the sofa and her bare bottom was punished with the paddle. With each blow, Audrey was made to profess her love for Mr. Adam's (Ami's boss) large dark phallus.
See Audrey's glorious bubble butt given a sound spanking and paddling

The full update featuring Maddy Marks spanked OTK and with a hairbrush by Alex Reynolds is now available at Northernspanking.com – Maddy is a good friend of Alex's and they have worked together plenty of times (first, I think at AAAspanking.com a few years back) but never realeased at Northern… until now.
"Introducing Maddy" – with Alex Reynolds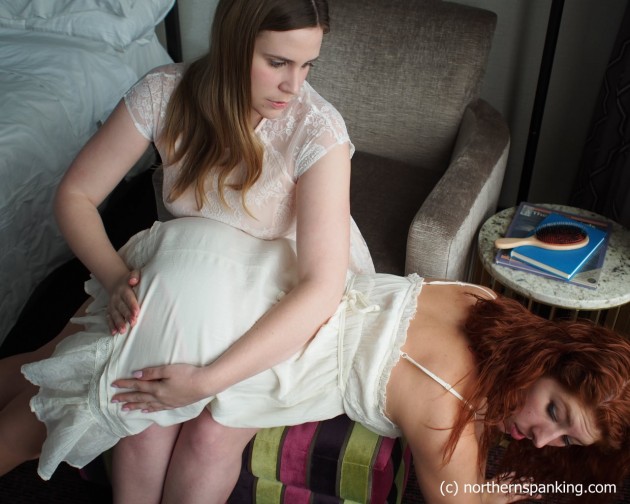 Maddy was actually one of the first girls that was filmed by Northern upon moving their productions to America, although they only introduced her recently. She is also one of their closest personal friends, a wonderful model and very active in the LA fetish scene as an event organizer and bringer-together of kinky people. Maddy has been modeling for several years now, and is a lifestyle player as well.

The story: "Maddy is just trying to relax and read when her older sister, Alex, comes to have a talk with her. Maddy has been borrowing an awful lot of her things while they have been on vacation, including the book she is now reading! Instead of telling their parents, Alex decides to take things into her own capable hands. After all, as the elder sister, she is entitled to maintain a little discipline, isnt she? She puts her younger sister across her lap, lifting the hem of her flowing dress and smacking her bottom soundly across her white cotton knickers. Soon, Alex pulls these down in order to give Maddy a bare bottom punishment, and a hard dose of the wooden hairbrush. Poor Maddy! Hopefully the walls in the hotel are thick enough that no one else heard her whining and pleading as the hard brush made contact with her shapely bottom!"
Alex & Maddy will feature in many more films together at Northernspanking.com

From SarahGregorySpanking.com – another all girl OTK and hairbrush spanking from the new HD video released this weekend. It stars redhead Melody Nore as the flirt getting her ass tanned by a very pissed off Angel Lee! (I loved Angel's emotion in this!) Check out the images and a link to view a free clip of this video (below) from "The Flirt"
Melody and Angel are best friends. They spent the night out clubbing, and Melody spent the night flirting with the guy that Angel has her eyes on. This is not cool and Angel decides she is going to deal with this right when they get home. She spanks her friend hard on her bare bottom and then takes the hairbrush to her to teach her a valuable lesson in friendship.
You can see many more films with both these hot ladies featured here at SpankingSarahGregory.com
Or view this site as part of the 2 site better value SG Pass (incl. Momma Spankings)



Next from Goodspanking.com is a current update with a very sexy lady I have seen a few times and enjoyed talking to in the past at Fetishcon, of all places… Miss Jewell Marceau. I forgot just what a cracking body she had and "dat ass!" – oh my… this is a hot spanking film! It's called "Entrepreneur In Training." Featuring Jewell Marceau with Chelsea Pfeiffer.
As a professional advisor to clients who wish to discover the path to entrepreneurship, Chelsea's methods are a bit different. After Chelsea's enthusiastic explanation of the certain methods and Jewell having received glowing reviews after checking around the decision to proceed seems like a no-brainer. Jewell's first session includes a thorough OTK hand spanking, and none to light either! Jewell's bottom reddens up brightly almost from the start!
Jewell comes up with a brilliant business idea – a brilliantly BAD business idea. Chelsea, as Jewell's entrepreneurial motivator has not choice. Jewell has agreed to Chelsea's method, in fact, she's bought in all the way. Therefore, Chelsea proceeds to motivate the leggy brunette with a good hard spanking, followed by a stinging red bottomed paddling!

Next is an update I must have missed, I just watched it earlier today and ran out of time elsewhere but wanted to let you know about it. It stars my favorite Dutch girl, Leandra, getting a good hard spanking in a very sexy Maid's uniform – there's not much else to say except that it is Leandra, getting spanked, looking HOT 🙂 – courtesy of Spanked-in-Uniform.com
No Granny Knickers – starring Leandra & Mike
Sexy maid Leandra was sent out to give a striptease but the next day the agency got a phonecall from the client saying that she wore unsexy Granny knickers and that spoiled the whole striptease. Leandra was called and she got a good scolding followed by a sound OTK spanking. She was then told to go back to the client and this time, with no knickers on, she was to play the naughty spanked maid.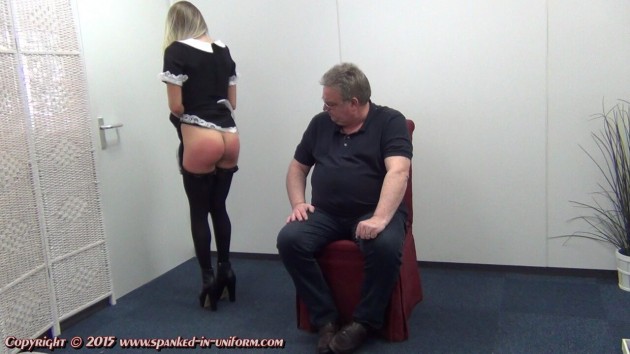 Finally today… from RealSpankings.com – one of the resident spankees, the lovely Kiki is spanked OTK in her PJs by Michael Masterson in this hard hitting no nonsense bedtime punishment film!
Kiki is taken over Mr M's knee for a bare bottom OTK spanking. then she is placed in his "Time out" position with her PJ bottoms still pulled down, facing the wall with her nose touching it! That gives her time to reflect on her spanking punishment!

Oh, before I go, here's a little treat from AAA Spanking – some F/F Spanking Galleries… just click on the image which leads to the full preview gallery.
Check out the special offer available via the long term Loyalty Reward Membership