Here are some reminders of those who are no longer active in The Scene but are still available to check out in copious detail at the following sites mentioned. Gone but never forgotten, I guess. I'll start with the beautiful and unforgettable Amber "Pixie" Wells – who was most synonymous with Punishedbrats.com
Check out this classic called "Insurance payment" taken from the PB Archives
Pixie was supposed to put Susan's car insurance payment in the mail for her, but it slipped her mind. When Susan gets a ticket for no insurance, Pixie's bottom has to pay more than the premium's price. Pixie suddenly sees the importance of getting the bills in the mail on time and is begging Susan to be allowed to run to the post office. This features a good hard leather paddling across Pixie's bare enticing bottom, typical of many of her classic videos you can download in full from this website!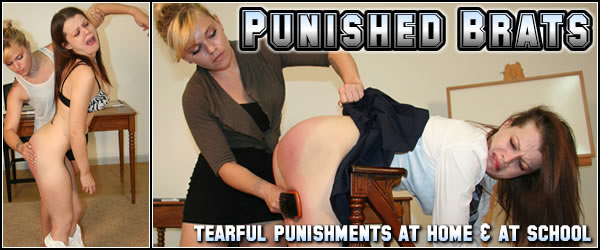 I don't see a lot of new stuff with Lila anymore, but she featured strongly for a long time across the RSN sites and this scene below from around 3 years ago was typical of her many embarrassing and painful punishments she endured, often stoically but with an addictive yelp she's often make too!. I loved watching her take her spankings! Let's hope she hasn't left the scene altogether!
Lila's Surprise Uniform Inspection at RSI
Mr Masterson springs a surprise uniform inspection on Frankie and Lila. Both girls seem to have everything in order, until he gets to their panties. Frankie has her correct one on, but Lila does not. Lila is told to remove her clothing and get on all fours on the study table. The Dean hand spanks her in front of Frankie and then tells her she will finish the day without her clothing!
RSI is also part of the 8 site Realspankings Pass Network


& something from a few years back as the uber gorgeous Ela Darling quite literally gets a "good spanking" from Chelsea Pfeiffer at her goodspanking.com website – This is HAAAAAWT!
This is what Chelsea had to say about her time spanking Ela: Ela is another gorgeous, nice, genuine and super-smart young woman. Seriously, with Ela, I have a real girl-crush! She is leggy, has a shapely body and perfect bottom which are just icing on the cake. Ela also begins with a nice hand spanking warm up, where we work the lovely layers of her pretty dress and panties. Then, sassy Ela takes off all her clothes (except her cowboy boots!) and takes more hand spanking ( a little harder this time). The hairbrush, a flogger and a strap all help to makes Ela's bottom beautifully red, glowing to perfection and oh so hot!

In other news… Watch out for a NEW HD video of stunning Lola Marie tomorrow with a full stills set and screen grabs (as standard) in the next update "Personal Trainer's Punishment" coming from AAAspanking.com
As well as this… there will be the next result of the Best Facial Expression in a spanking – so if you haven't already… make your votes count  and go to the link as I can tell you it is really tight at the top with at least half the girls in with taking the honors! Exciting stuff! (I'm making it sound like X Factor, lol!)