Girl Spanks Girl is a Clare Fonda inspired & exclusive all F/F spanking website which offers traditional OTK as well as erotic spanking. there are now well over 4,000 video clips of girls spanking girls in the Members section and updates with a new video clip every day. This site is best known for their long schoolgirl spanking video series Exclusive Education and other full length films which feature lots of hand spankings, hairbush, leather & wooden paddles, straps and caning of the young girls bare bottoms. By joining you get access to all the previous nine years of spanked schoolgirl videos with the entire Exclusive Education series and all the other long play videos from the Discipline, Sensual and Erotic sections. All nine previous schoolgirl spanking dramas can be seen in their entirety already on this website (as will #10 once it has been uploaded in full and this is why I am announcing that teh start of this epic has begun!) – both in clip form and as long videos: They are all easily downloadable. Every scene is girls spanking girls, no men at all which appeals to some… if you are one of those… check out what I have in this bumper update today!
WANT TO SEE WHO THE CAST ARE THIS YEAR? Check them all out (below)
ALL images below taken from part one of the series can be enlarged!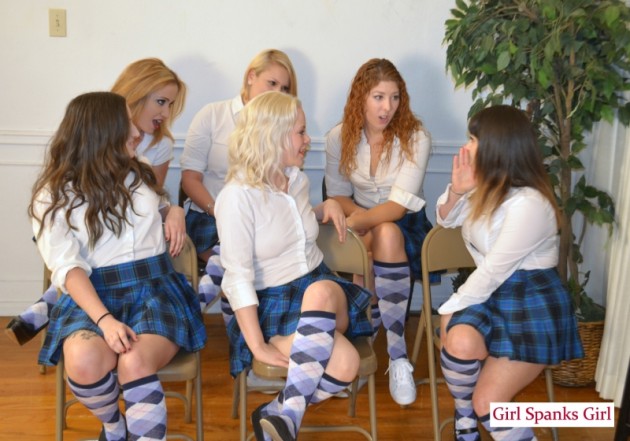 It has been 10 years since the beginning of this annual big school girl shoot – and EE10 is one of the best ever. Teacher Bella is leading detention with 6 naughty girls who are just begging for an over-the-knee hand spanking from this powerful (and beautiful) lady. They each get a firm hand spanking from from her, then she has the girls spank each other with a hairbrush. And finally, the instigator gets 15 with a large paddle from Miss Bella. Total length for this film is 60 minutes.
Don't forget that there is also a PART 2 to this long play epic
a sneak preview of this can be seen below!
YOU CAN ALSO VIEW ALL THE EXCLUSIVE EDUCATION SERIES WITH…
THE CLARE FONDA PASS

Giving you up to 5 sites for a fraction of the combined cost!