Here are the Final Spanking Awards to vote on… I thought I had other producers but this is it. If you're a producer that is missing (you know who you are as I wrote to you all privately) then send me a mail ASAP and the film description, 5 images (I will resize them to 800 pixels wide to be fair to everyone) and your film name, description and why it should be voted for.
Anyway… here you go, check out the descriptions and images and decide for yourselves! Voting and results will end in approx 2 weeks along with the full recap of the Spanking Awards Winners and Runners Up.
Voting for the remaining categories ends in a few days so ensure your votes are in… check the top of the blog for all open categories at the time of writing.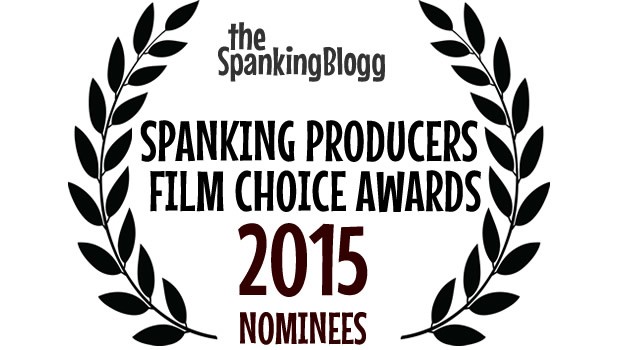 PRODUCERS FILM CHOICE
The following chosen films are from the Spanking Producers
in alphabetical order and in no order of preference.
Chessie's Silent Desires: This 22 minute long video features the lovely and incredibly sexy Chessie Kay who masturbates and orgasms while fantasizing about different Officers and implements turning her luscious little bum a fiery red. A sexy fantasy sequence looking inside the mind of an incarcerated hottie!
Why should you vote for this? This film is a little different in terms of the usual scenarios, in that it is an attempt to provide a more surreal look, dynamic edit and cuts with post production effects to enhance the sexy atmosphere.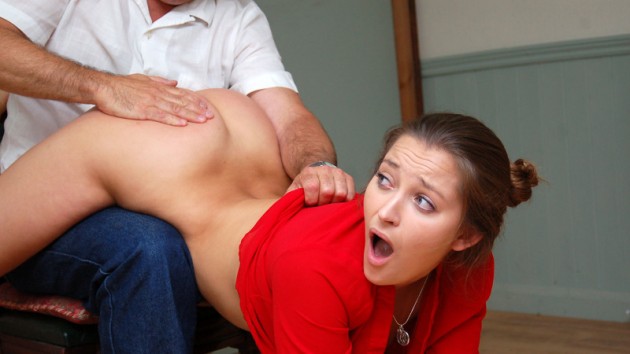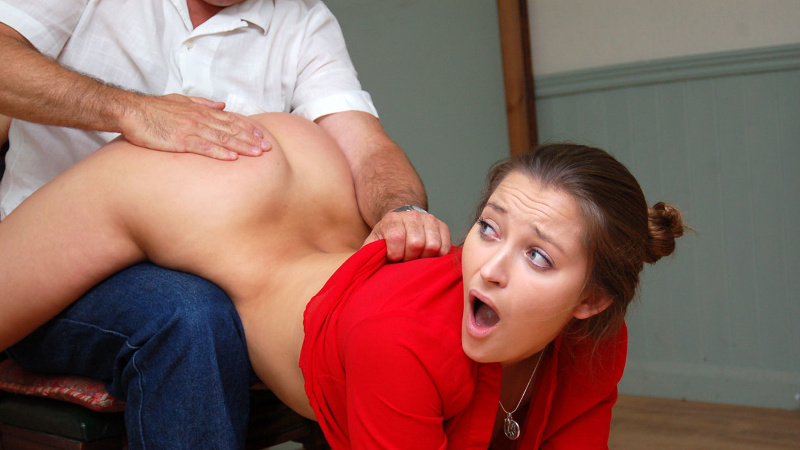 Dani Daniels Legal Penalties series: There's only one Dani Daniels and you can see her soundly spanked right here! In her super-hot Legal Penalties series, Dani's ready to accept her mentor Richard Anderson's leather paddle on her bare bottom, first bent over then lying topless on her back as he spanks her long and hard until she achieves what she really wants. Watch and find out!
Why should you vote for this? You've waited expectantly and now we've delivered! Dani Daniels takes her first spanking from a male, exclusively at Firm Hand. And what a spanking! Dani is a successful, powerful young lawyer who craves just one thing: spanking discipline. Who better to deliver that desire than Richard Anderson? Dramatic Reaction Cam footage in the all-new series Legal Penalties!

Top Domme: Mistress Bella Bathory makes the mistake of believing that she is the top dominatrix in town. Mistress Snow Mercy decides to show who the real top domme is. She punishes Bella long and hard, using her hand, a hairbrush, a crop, a wooden paddle, a whip and a cane, leaving Bella marked for weeks and whailing and squirming in pain. A real and intense scene from two great dominatrixes, and our introduction to the sites for Mistress Bella.
 Why should you vote for this? This is a classic battle for the Top Domme, with two great dominatrix's in one scene, with the powerful Snow Mercy topping Mistress Bella Bathory. It is long, hard and shows how one domme can bend the will of the other through strict mental and physical discipline.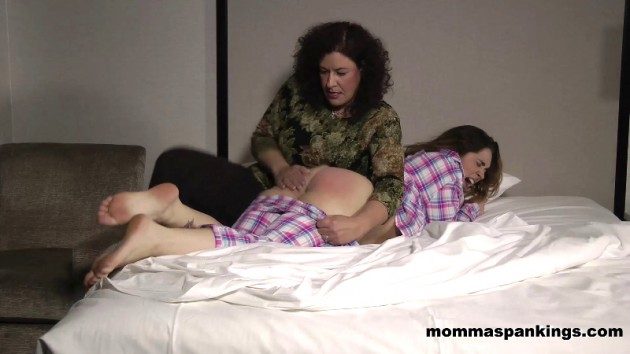 I Don't Want to Go to School: Adriana plays the defiant daughter who doesn't want to go to school. Adriana is a real brat, talking back to the point where she not only earns herself a spanking, but also a mouth soaping. Mom deals with her naughty daughter by spanking her bare bottom with hand and hairbrush. When Adriana still doesn't learn after tons of punishments, mom puts her in a diaper. If she is going to act like a child, she will be treated like one.
Why should you vote for this? Well not only has it been my #1 selling video, it also touches upon many aspects of spanking and humiliation, or shall I say kinks within the spanking realm. As far as emotions and attitudes of the spankee, we have defiance, anger, bratting, contrition, and embarrassment. There are so many things included in the film that so many spankos love;  Pajamas, over the knee, wooden hairbrush spanking, scolding, real tears, fighting back, mouth soaping, and even spanking over a diaper for added humiliation. This is an all around fabulous long play film running 39 min.

For the Good of the Team: Alex and Harley are friends who are on the same riding team. The girls decided to make a deal with one another: whoever scored the most points for the team during the next competition will get to spank the other. Alex came out on top, by a wide margin, so once everything was over, she lead Harley to the back porch of one of the buildings. Reminding her friend that a deal is a deal, she pulled Harley over her lap. Feeling quite pleased with herself, and giggling at her friends prediciment, she soundly smacked Harelys bottom over her tight jodhpurs, being a bit generous with her soothing rubs. Harley protested and whined, but Alex got her to admit she did not hate it. At least not until Alex stood Harley up and pulled down her jodhpurs to expose her soft, white cotton knickers. Alex then used her riding crop to drive home the point that she was trying to make: that it was in everyones best interest for both of them to do well and earn more points for the team. Really, using the crop hard across Harleys panties, and then pulling them down to punish her bare bottom was entirely to provide inspiration for both girls to do their best! Just how lovely Harley looked as her bottom turned red was a coincidental side effect. Besides, next time, if Harley did her best, it could be her holding the crop. Fair is fair!
Why should you vote for this? This was Harley's first ever appearance on screen as a spanking model.  The story (written by Alex) is nicely original, which is hard to do nowadays and the photography is excellent, probably among our very best.  Outdoor films are unusual, the girls are wearing tight johdpurs and Harley is horsewhipped- what's not to like?!  Its a light-hearted film with a credible plot and some good, hard spanking.  We are really proud of this one, not just as a film but as an example of how Northern Spanking has stayed true to its values while adopting something of the culture of our new home in the United States.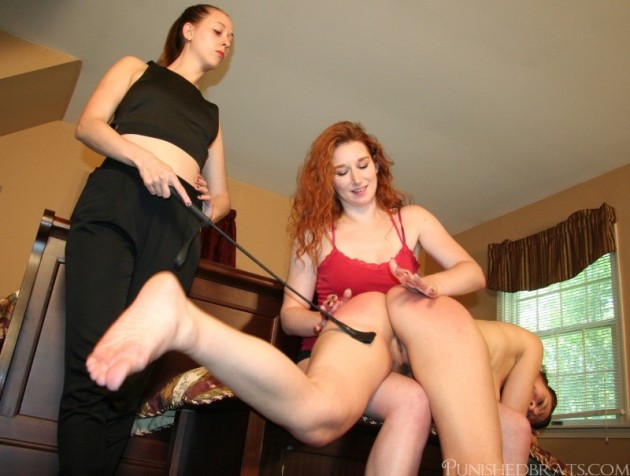 From The Dark Dance of the Heart Series "The Audrey Complication" 

Audrey had come into Joelle's retreat house in the woods unannounced only to find Bianca resting in bed. The tall redheaded told Audrey to leave or she'd hit her. She made a half-hearted attempt at striking the powerful editor from New York and soon found herself pushed onto the bed with Audrey on top. Soon the two were exchanging passionate kisses when Joelle came into the room wielding her crop. Joelle was aware of the attraction between Bianca and Audrey and felt that the best way to break that spell was to thoroughly humiliate her dear friend and editor. It is clear that Joelle and Audrey have a complicated relationship, and it is also clear that relationships of this kind are the only sort that Joelle has. In front of Bianca, Audrey was made to slowly remove all of her clothes, allowed to cover nothing. Audrey protested when she was made to go over Bianca's lap for a spanking. She protested even more when she was instructed to spread her legs while being spanked, for Joelle's pleasure. Then Audrey screamed when she felt the powerful hands of Bianca descend upon her. As Audrey screamed from the pain of her humiliating punishment at the hands of the tall redhead, she also felt lost. Joelle told her that she was suffering for the good of their relationship and this helped center her. At the end of her very painful punishment, Audrey was put on display as Joelle and Bianca admired her well punished bottom and tormented her further by rubbing their sharp nails into her tender flesh and exposing her most private of places.
Why should you vote for this? This is something of a Dark Series featuring  Bianca Rose, Joelle Barros and Audrey.  We see all eight scenes as part of one movie. It begins with Joelle in voice over.
"When you are young you believe that you and those you love will live forever. This illusion was forever erased for me when my lovely Maria died. Struck by a car just outside of our apartment. I loved her so much. Some nights I'd just grab one of her shirts to smell any remnant of her. Faded cologne ..anything. Before this loss I always considered myself fortunate. I'm a writer and a photographer and a successful one at that. One problem with being a writer, you actually need to write to be one.  How does one write when it feels as if the world should just stop rotating , time should stop so that you have time to recover. Unfortunately, days go by, pulling you in into the future. After the loss of Maria I couldn't write anything. I needed to escape from New York to get back on track. I found this lovely place in the woods near New Hope Pennsylvania. Civilized enough with museums, shops and terrific restaurants and it wasn't New York. One day I was sitting in this lovely wine bar, just reading and that's when I met Bianca".

Sorority Slut Shaming: (Part of The Sorority Series) Mandie has shamed the sorority house with her promiscuous behavior. She is having sex with as many as 10 men per night. Head sister Sarah has sent Mandie to the punishment room to wait. When Sarah arrives she gives Mandie a very humiliating punishment. She chastises her for being a dirty little slut, and then forces her to strip. Next she gives her a hard otk bare bottom spanking followed by forced masturbation. Sarah stands over Mandie and forces her to get herself off before taking the Sorority Paddle to her sore spanked behind.
Why should you vote for this? This is another one of my top selling clips and part of the Sorority Series I am filming. I think this is the first time I ever slut shamed someone and I quite enjoyed it. Not only is there really hard bare bottom spanking and paddling in this film, there is also the added humiliation of forced masturbation and forced stripping. Mandie plays the humiliated slut so well. And to top it off, being slut shamed was on her "bucket list" and boy did we ever fulfill this for her. She said it was her favorite film of the day. There is nothing like a naked, slut shamed, sobbing girl with a very red ass.

The Unladylike Manor series – the Poverty Years (description from the producer below)
Where do you go with the world's longest running spanking soap? Well you go from riches to poverty, yes that's where Unladylike Manor now finds itself. The Poverty Years. Only a story folks! The original idea conceived by the amazing Sarah Stern and her partner Rem in 2010 featured a wealthy gentleman, later to be made a Lord and his rather nasty scheming wife. They were both into the spanking scene and conceived a novel way to find a continuing stream of nubile young bottoms to spank. They soon became notorious in their village, if you go and work at the manor you will end up getting your bottom spanked or far worse. Things were going quite well at the manor and the best known spanking models in the UK featured in the series, almost every one you can think of as well as some of the very best first time spankees.

Things changed when Lord Stern met Lady Suzanne, a sexy lady who would "ride to hounds" (for our more civilized friends, that's an English upper-class way of saying chasing defenseless foxes with dogs and horses) well she had a penchant for laying over his knee, knickers round her ankles whilst he spanked her beautiful perfect bottom. Lady Stern did not like this turn of events and connived with her housekeeper, the redoubtable Katy Didit to murder Lord Stern and to get Lady Suzanne blamed for this deed. This is what happened and Lady Suzanne was imprisoned not for murder but for the attempt thereof. Whilst she was away in prison Lord Stern lost the balance of his mind, started dressing as some mad cleric and founded a home to protect and reform fallen women, mostly by spanking their bottoms.

They entered the poverty years which is where they are today. Still living together, Suzanne released from prison is now a maid at the poverty stricken Manor house and his lordship has a demented butler by the name of Kodders who is secretly in love with Lady Stern! They are still finding bottoms to spank and new plots are being hatched. The story continues with episode 39 in the production stage.  

Spank Club: An epic film that includes 9 very sexy and curvy ladies who get together to spank each other – as a secret club – with hands and a variety of implements and the winner is the one who doesn't tap out. Lots of hard punishment in the name of spanking power!
Why should you vote for this? I feel it deserves votes because it is the ultimate lovefest for spanking – with ladies who are into it, giving their all. The punishment is all real and the competitive spirit shines through in this novel idea (which was conceived of by Veronica Ricci for her site).