Hi there! As promised… MORE spanking site updates from this past week, now that I am fully caught up! The first is from Northern Spanking in a classic home schoolgirl punishment film with Rosie Ann in a delightfully authentic gingham school dress and matching bow, over the lap of a strict but very appealing Miss Jessica Wood!
Monty's Missing Dinner – starring Rosie Ann & Jessica Wood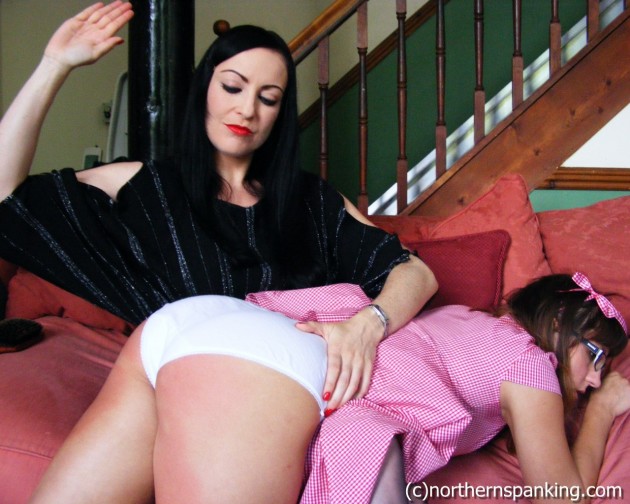 Rosie Ann has the mother from hell. More concerned with the impact on her social diary than Rosie or her little brother Monty's welfare, Jessica shows her frustration by smacking Rosie's bottom, followed by an application of the hairbrush in an embarassing legs-up position. Rosie wishes she were an orphan.

Another all girl domestic discipline (at home) video, this time from Punished Brats  -and this is super hot with Audrey Sugarsmak spanking the fullsome rounded cheeks of new girl Ami Mercury. I really liked this!
Ami was found with a gentleman in her room in a somewhat compromising position by her rival and stepmother, Audrey. Soon she found herself in another position, that being over Audrey's lap for a spanking. Her punishment started over her tight stretch pants, then proceeded to her panties and then, much to Ami's distress, her bare bottom.
After a hard hand spanking, Audrey made her stepdaughter lie on the bed with her bottom raised for a punishment with the wooden paddle. Afterwards, Ami stood and tried to rub the pain out while acknowledging that this round went to Audrey.

I've not seen anything of this girl called Marie Lavender… but I have now and she is in the latest full feature vid at Good Spanking – over the lap of Chelsea Pfeiffer. She has a perfect cute round spankable butt that just begs to get her into trouble, though she does that all by herself, as you'll see!
Something to Feel Sorry For – starring Marie Lavender & Chelsea Pfeiffer
Poor Marie botched her Chemistry Lab exam and now she's feeling mighty sorry for herself. She comes home and begins drinking a bit too much a bit too early. Chelsea catches Marie in the depths of her self-pity party and immediately takes steps to end this sad interlude. Marie goes over Chelsea's knee for a lesson in picking ones self up and getting back in the saddle…along with a stern scolding about the alcohol method Marie has chosen to hide from her problems. One hard OTK hand spanking ensues and continues until Marie's bottom is red hot and all lessons are thoroughly learned!

(My) Sarah had told me that the film we shot together of Adriana Evans & Johnny Lake not so long ago is now up at her Spanking Sarah Gregory site – this was an interesting and often severe film that had poor Adriana's butt burning by the end of this particular punishment! We told her to be extra sassy to ensure that she got the right painful response from Johnny! #many-ouchies
Punished for Public Indecency – starring Adriana Evans & Johnny Lake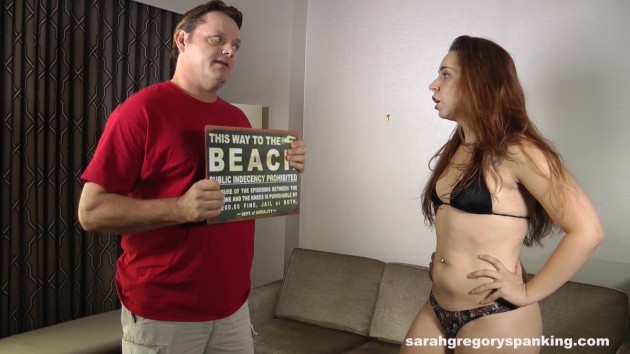 Adriana is staying at a beach resort and there are strict rules about nude sunbathing. She decides to the steal the sign prohibiting public indecency so she can do what she wants and claim she didn't see any rules posted. Lifeguard and beach guard, Johnny suspects her and goes to her hotel room to search for the missing property. When he finds it, he tells her he can call the authorities or handle this himself. She does't want the police involved so she let's him punish her the way he sees fit. She is not happy but that is just too bad. She is spanked on her bare bottom and then strapped.
Or view this site together with MommaSpankings.com for the better value SG Pass (see below)


It's so good to see my favorite cougar, Clare Fonda, back getting spanked by those she used to do it to for fun at Spanked Callgirls, payback for the torment she would put her young girls through! Young Kimberly Brix, a new girl at this site, takes no crap and turns Clare over her knee for a memorable spanking!
Kimberly Brix is a young hottie working in the office when Former Madam Clare comes in for an envelope. But Kimberly was instructed to spank Clare if she is to take the envelope. Clare is reluctant but submits and is quickly surprised by how hard this young lady can spank!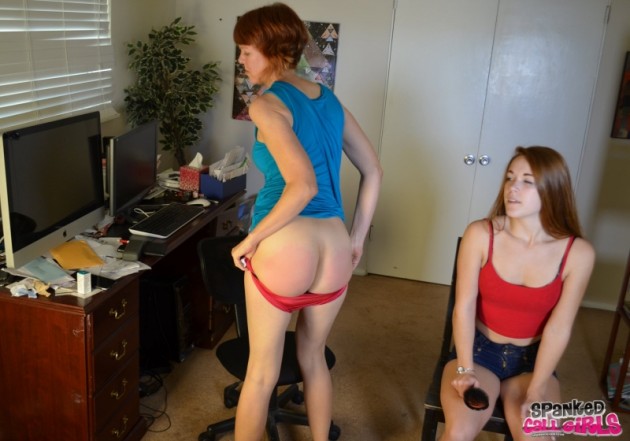 This site is part of the 5 Site Clare Fonda Pass network – giving you access for up to 5 sites of yoru choice for a fraction of their combined cost. This makes it consistently one of the best deals out there! CLICK HERE for more info

In other news, I'm excited to announce that Sarah has told me which film is next at AAA Spanking and it stars naughty Mandie Rae getting a memorable punishment for faking an illness. Only she should have been a little wiser to who she would do that, eh? A rectal temperature taking, a humiliating scolding and ensuing punishment for her lies would be the least she would expect if found out, right?
An already punished Mandie regrets lying about her "illness" when she refused to get out of bed!
This is the next video with extensive stills & video grabs out later this week at AAA Spanking
Mandie has starred in many hot spanking films at AAA already… click on the thumbnail which leads to a full free gallery showcasing that particular film she was in including the awesome Slut Shaming film!
Find more ways to view Mandie via the Membership or Clip Store options (below)