Our lovely drive today out in "The Sticks!" hardly got me in the mood for this early Valentine's Spanking post – but when you see who it is… then you'll understand!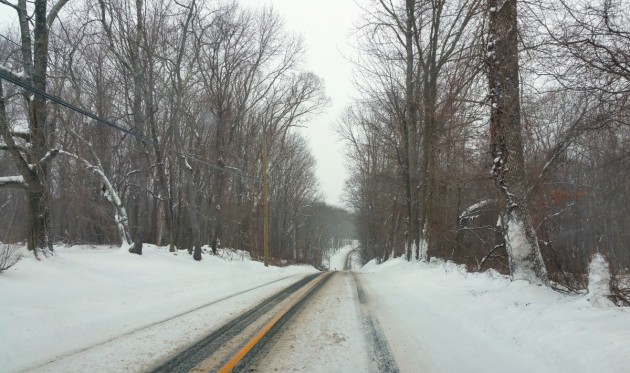 The weather in New England is rather "pants" here at the mo… more snowfall earlier in the day meant a planned road trip to Rhode Island was hard going, we took turns to drive there and back on the snow covered roads and avoided those fools that didn't have snow or all weather/all wheel drive cars that were slip sliding around in the extreme conditions (idiots!) – they really should have stayed at home. I was wishing we had too at times… but it meant we got to spend time together, which was always a bonus! With that in mind, here is the first of what I am sure will be plenty more "Valentine's" spanking style videos you'll be no doubt seeing soon enough! This will be hard to beat with such an incredible duo… Sarah had Amelia Jane Rutherford ask Joelle Barros for a good girl, sexy spanking…. and what you see below is the end result! It's a visual treat (oh yes!) and of course this pairing with some of my favorite ladies really is hard to beat! Yay for Joelle and Amelia!!! xoxo
Valentine's Day Spankings – from Sarah Gregory Spanking
This is a very light-hearted and sexy spanking film between two hot girls. It's Valentine's day and Amelia surprises her kinky girlfriend with a bunch of sensual spanking toys as she knows Joelle is into spanking. As Amelia has never been spanked before, this is her Valentine's Day gift. She presents her perfect and spankable bottom to her girlfriend. Joelle takes her time going through each implement. Some sting and some feel good. Amelia is seeing that there is pain and pleasure in spankings and enjoys this very much!
You can view this fantastic site in its own right (with about 250 full length spanking films) or as part of the better value Sarah Gregory Pass – giving you more content (about 1Tb currently!) for far less than the combined amount of both sites.